It's the most wonderful time of year once more, and so begins the last minute hunt for the perfect Christmas gift! Whether you're shopping for your spouse, mother or besties, it can sometimes feel like an overload of choices amongst the hustle and bustle of the end-of-year season and shopping aplenty. What if they don't like it? What if it's not trendy enough? What's in your budget? So many questions, so little time.
To help you unwrap the smoothest gifting experience with Christmas upon us, Buro. Singapore is bringing you our very own list of the coolest items you can give this festive period, that'll leave everyone from your friends to your family feeling the holiday cheer. Every day between Saturday December 18 and Tuesday December 21, we'll be revealing 3 new items you can grab and gift, even if you're strapped for a last-minute present!
Here's 12 things you should gift this holiday season:
Auchentoshan Single Malt Scotch Whisky Festive Box (18 years) – $120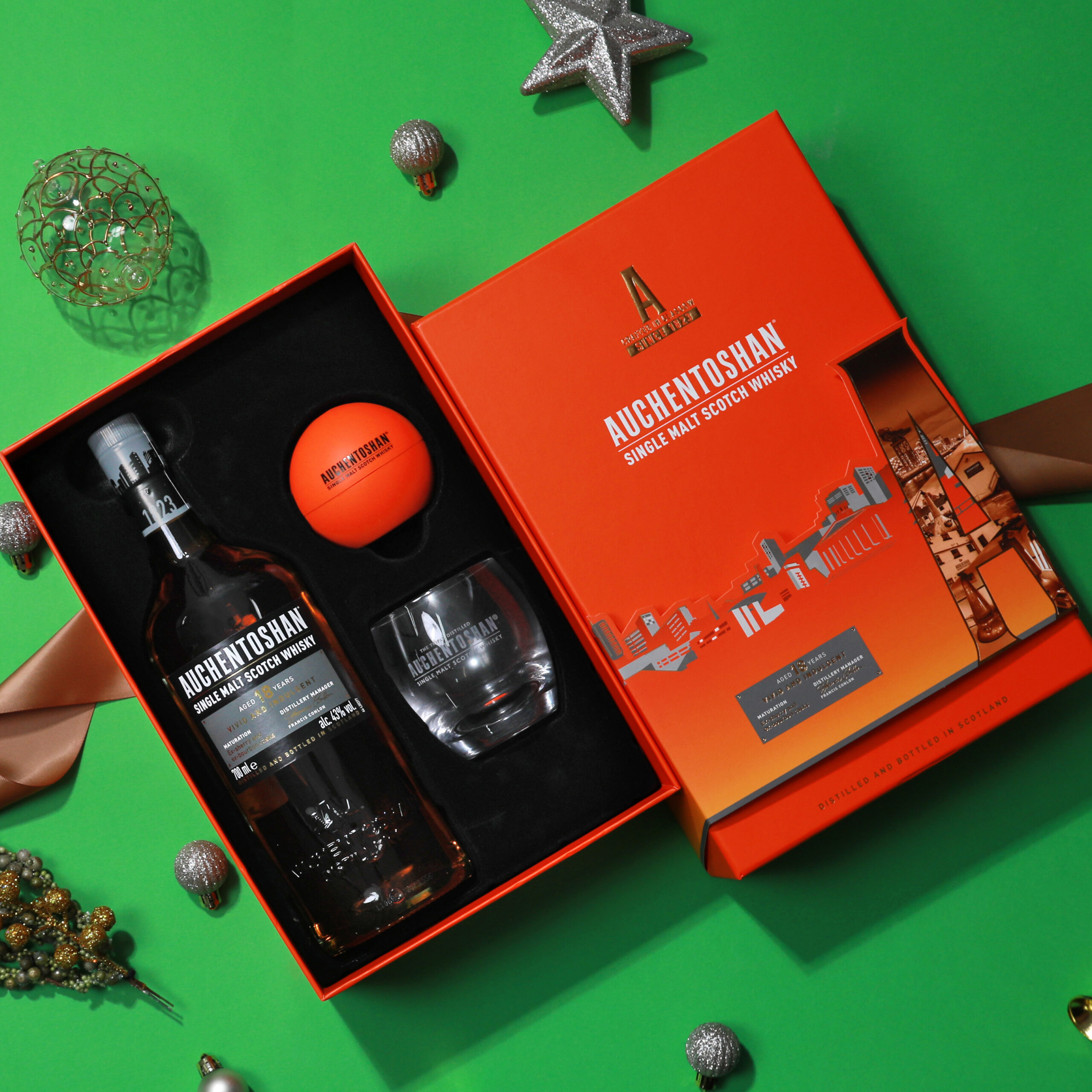 Poured to be celebrated at every season and for many reasons, Auchentoshan Single Malt Scotch is the ultimate gift for the care-free whisky lover in your life. Founded in 1823 on the outskirts of Glasgow, Auchentoshan is renowned for being triple-distilled to the last drop. It's also uniquely known for its smooth and easy-to-drink flavour, making it perfect for mixing and sharing this festive season! Think of a crisp golden honey hue, with an aroma of crème brûlée and a burst of citrus. This particular whisky also offers a gingery and slightly dry finish, with a pleasant and lingering nuttiness. We recommend the Festive Box for its extra limited-edition goodies, including an ice mould and whisky glass. Whether you're a novice or a connoisseur, this one's a gift any alcohol aficionado will adore. You can shop the Auchentoshan Festive Box (18 Years) here.
PUMA x MAISON KITSUNÉ Mirage Sport Trainers – $209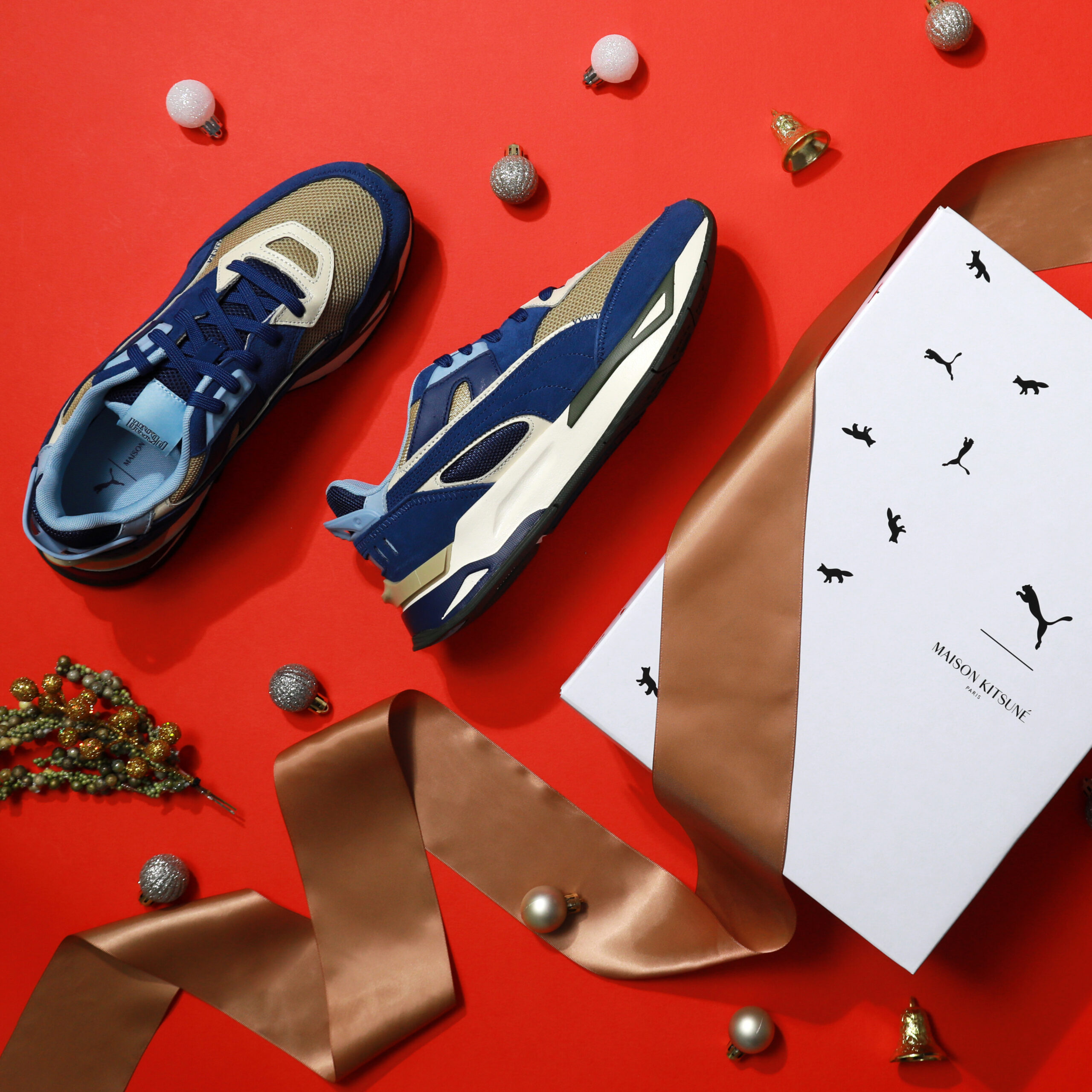 Who said style can't be comfortable? Celebrated fashion icons MAISON KITSUNÉ cultivates Art de Vivre in all that they do, and their latest iteration of PUMA x MAISON KITSUNÉ trainers draw inspiration from Japanese streetwear with a flair of French elegance. The collection's Mirage Sport is a combination of classic and futro, with bold lines, a plush suede construction and a fresh, city-ready palette. If you're shopping for a trendy, urban go-getter who's always on the move, we recommend these trainers as a must-have on your gift-list. You can shop the trainers here.
Shanghai Tang Chinese Tea-inspired Diffuser Sets – $245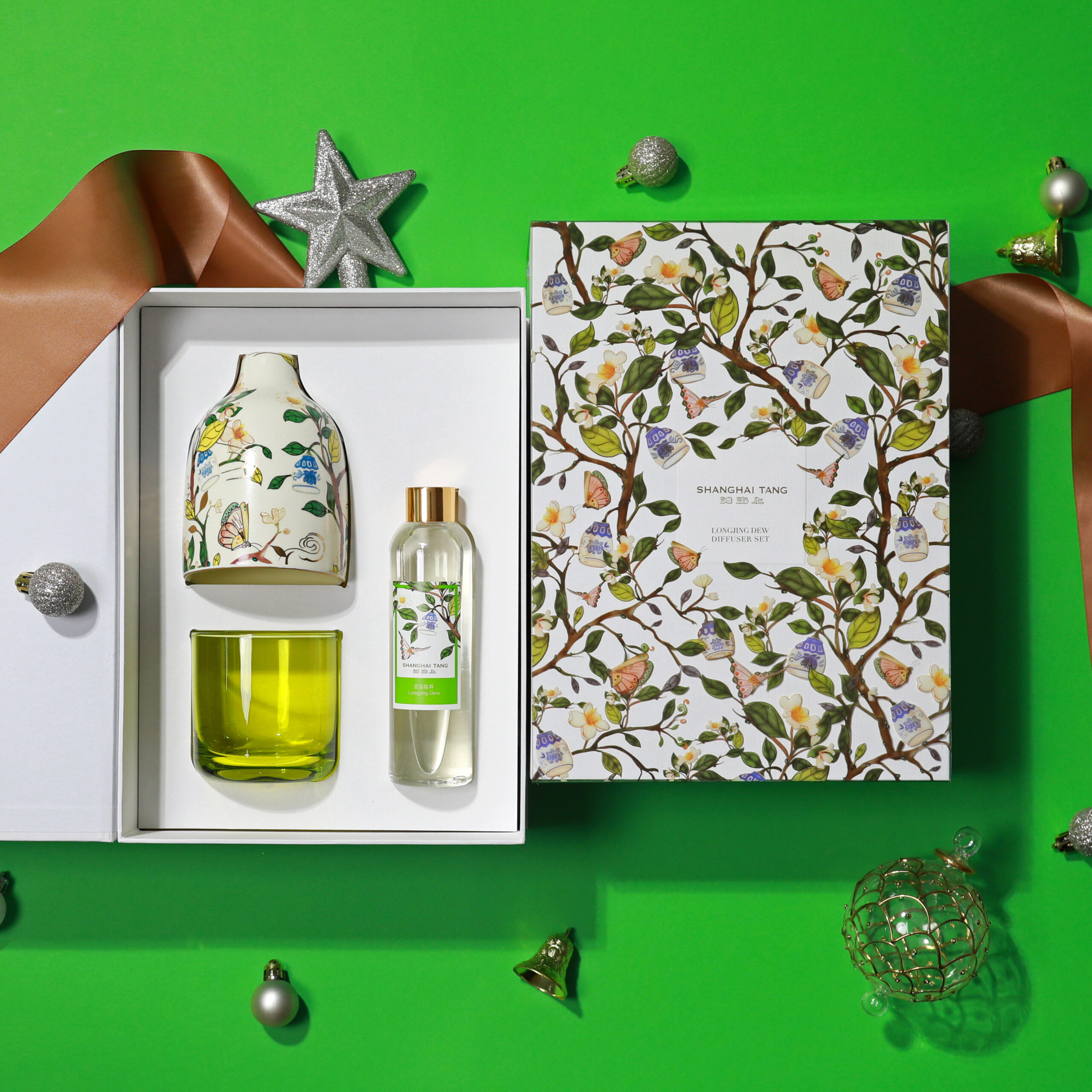 Home may be where the heart is, and it's also where the holidays often get spent. So this festive season, bring out the ultimate scent with Shanghai Tang's diffuser sets. Inspired by the spirit of the Chinese tea appreciation tradition, the products bring the aromatic and therapeutic qualities of tea, right into their new Chinese Tea Home Fragrance Collection. Debuting with two fresh scents – Longjing Dew and Oolong Glam, this is the perfect gift for anyone looking to elevate their at-home ambiance. Each box is presented in beautiful diffuser designs, handcrafted to be repurposed again and again – true to the brand's environmentally conscious ethos. Each porcelain cover is decorated with a special hand-painted 'Imperial Tea Garden' designer pattern, in elegant and muted colours. Our personal favourite? The Longjing Dew Set (pictured above) with refreshing green tea notes, and a crisp heart of jasmine and orange flower scent. It's topped off with notes of musk, wood and amber. For a more fruity, peachy and citrus-based scent that complements the oolong tea's qualities, we recommend opting for the Oolong Glam.
You can shop the diffuser sets at: Ngee Ann City – #03-05/06, Raffles City Shopping Centre – #01-27A or Marina Bay Sands – B2M-232.
Huawei WATCH FIT – $98 to $118 (models may vary)

This stylish watch comes with a multitude of strap variations and colours, making it the perfect gift for the self-expressionist in your life. Not only is it sophisticated and trendy in design, its polished stainless steel watch frame is sleek and super comfortable to wear. In addition to being able to take calls, check messages and track things such as calories, oxygen levels, sleep, menstrual cycles, workouts and personal training, this incredibly thin and lightweight watch packs a punch with an upgraded battery life. Featuring dual chipset architecture and power-saving algorithms, it can last for 10 days, and with the quick charge technology, can support you a whole day with a 5-minute charge. We highly recommend this one for anyone looking to create a wrist-worthy moment with their gifts this year. You can purchase the Huawei WATCH FIT here.
Baréskin Skincare Range – $15 – $80 (based on product packages)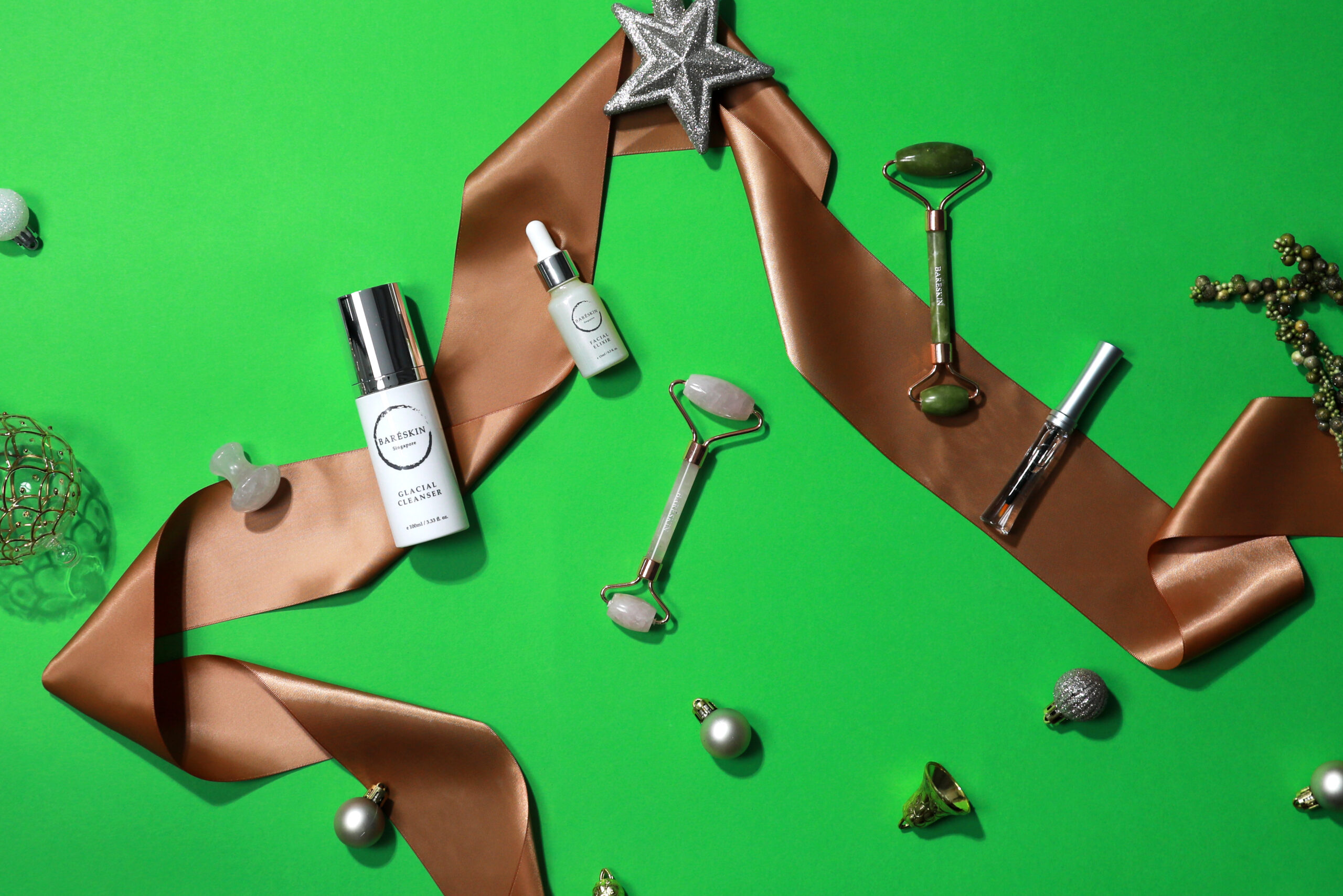 Born in Singapore, Baréskin is a skincare range made for island life – where the tropical weather can leave your skin thirsty for extra care. This locally grown brand has quickly taken over the market, and is the perfect companion to hydrate, treat and protect your skin. For the skincare and beauty junkie in your life, we highly recommend the Facial Rollers, made with both jade and rose quartz. Pair it with 'The Glow Duo'.  Featuring the Glacial Cleanser packed with the power of botanical extracts from the Swiss glaciers and antioxidants for luminous, even-toned skin; as well as the Facial Elixir, made with 100% jojoba oil helping to repair skin damage without a drop of residue. If your gift recipient is keeping their eye on the beauty prize, we recommend the Lash Essence for long, luscious lashes. This paraben and fragrance-free formula causes no irritation and boosts growth, while strengthening to protect against breakage. You can shop the Baréskin Singapore range here.
lululemon  Sportswear – prices vary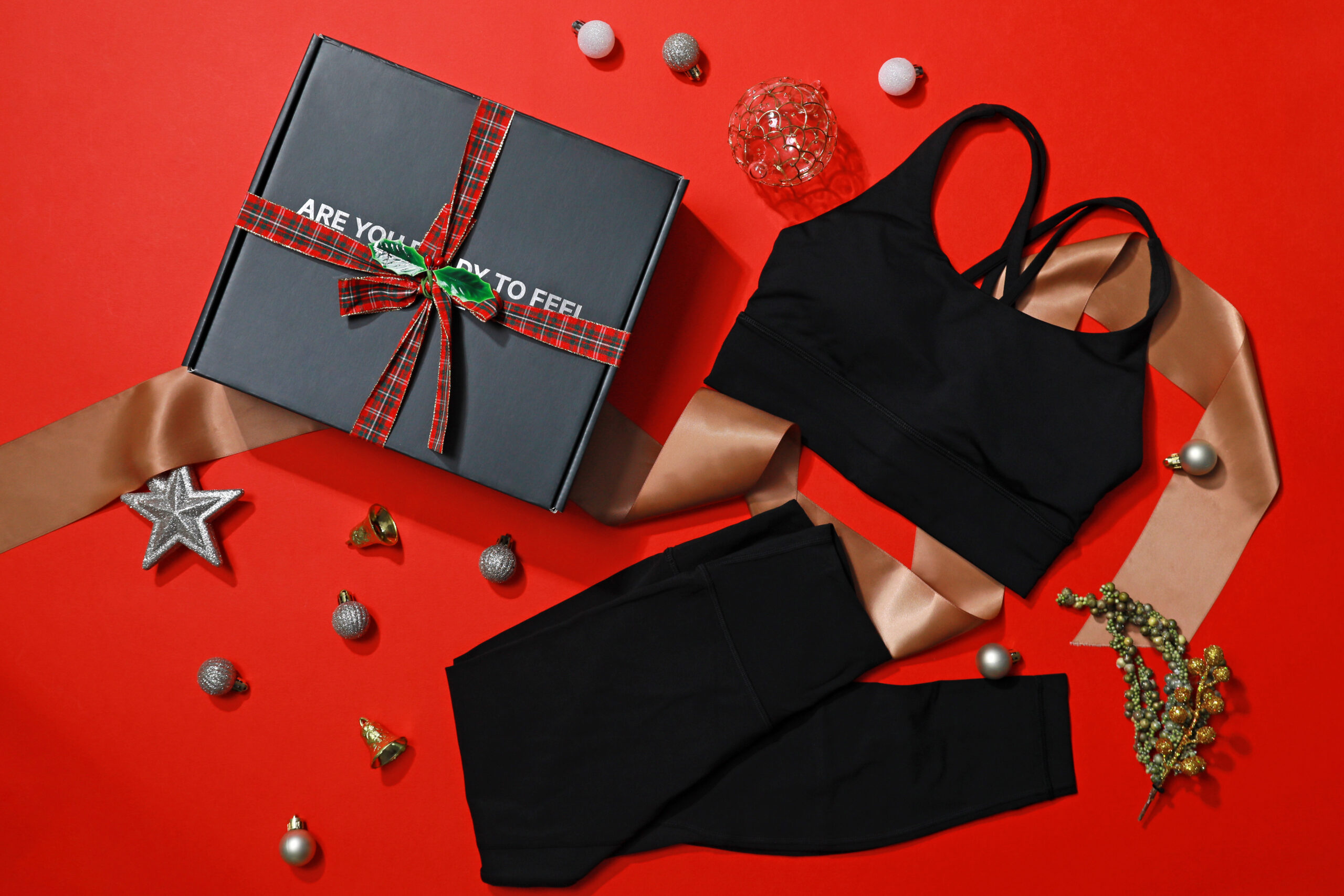 There's a reason lululemon is amongst the most coveted athleisure and sportswear brands in the world. Recently expanding to wider size inclusivity (they now going up to a US Size 20), their garments are smooth to the touch and glide on like a dream. Whether you're shopping for a yoga enthusiast or a runner, we can't go past a few of our favourites. The Nulu Cross Front Bra is both stylish and comfortable, providing light support for less strenuous exercise. For more support, we can't go past the Energy Longline Bra, made with lululemon's 'Luxstreme' performance fabric, developed to handle some serious sweat. Of course, you need pants! Our top two picks for gifting – the Fast and Free Tights that offer high-rise support and the same Nulux technology as the Nulu Cross Front Bra for the ultimate freedom to move. Or, you can opt for the Align Pant, cultivated for the perfect Asian fit and buttery smooth for all-day wear and more.
You can shop lululemon at ION – B1-11, Ngee Ann City – 03-12B/13,  Chinatown Point – 79 Duxton Rd and Marina Bay Sands – B2-42.
Furla 1927 Soft Mini Crossbody Bag – $660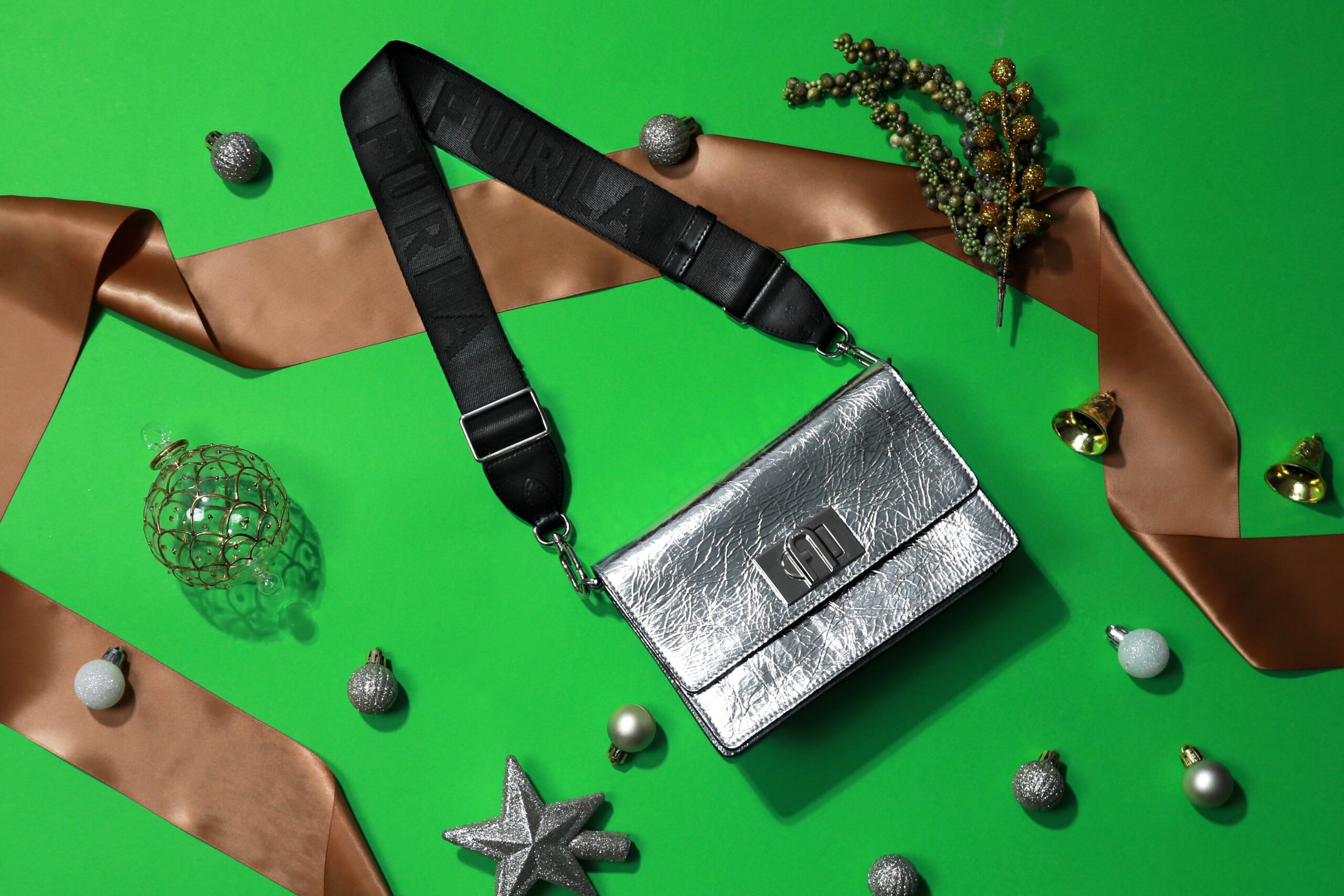 Shine, class and sass. Welcome to Furla's newest holiday-ready bag from its Resort Collection 2022. Building on the brand's classic styles, the Furla 1927 Soft Mini Crossbody in silver is equal parts glamour as it is functional. Made from soft calf leather, it  features the newly redesigned logo clasp in hues of disco-ball silver and a crossbody strap – for the practical glamourista in your life. This is our pick for THE 'It' bag of the holiday season. You can purchase the bag here. 
Marc Jacobs Accessories – $150 – $180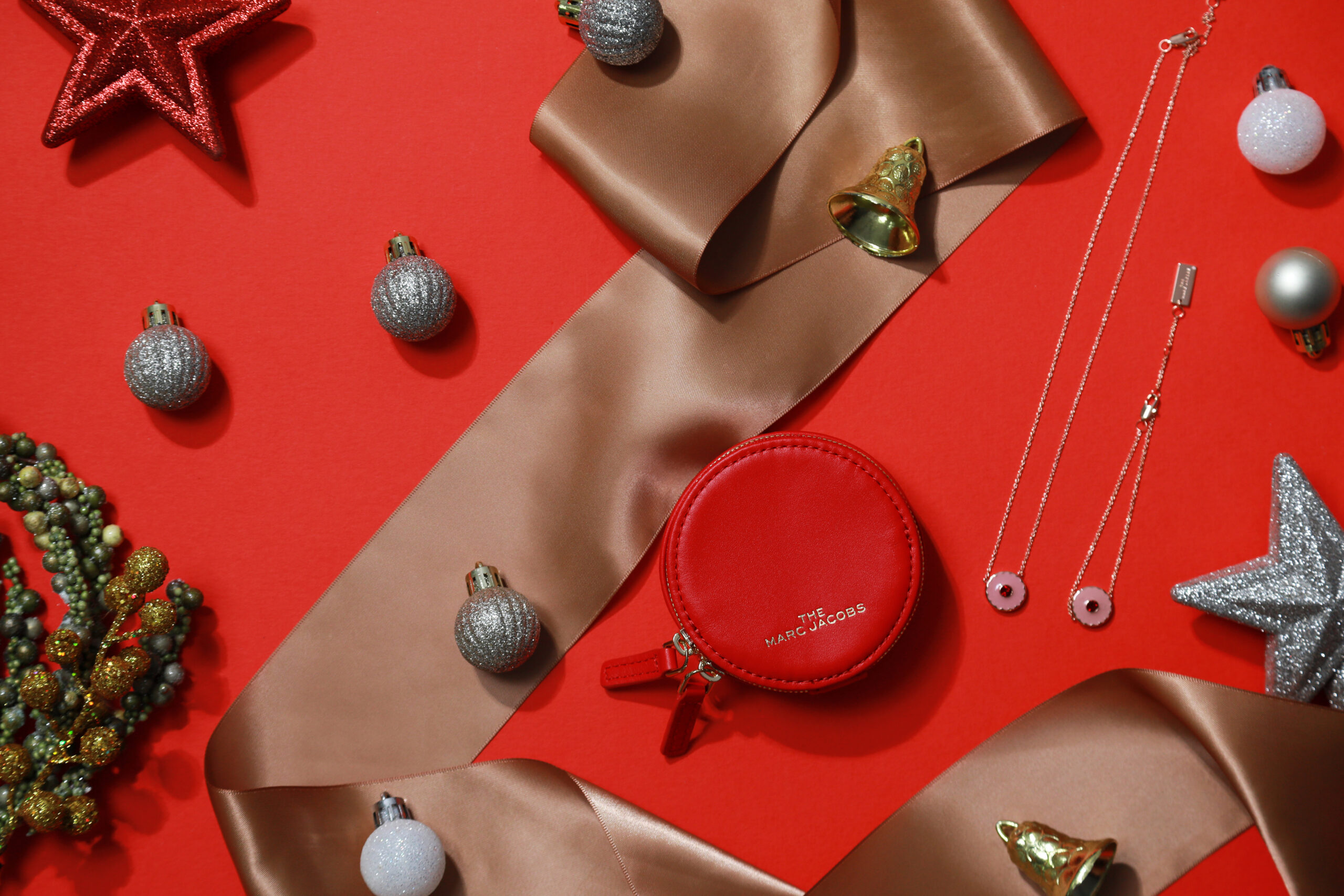 Marc Jacobs has always been famous for their iconic line of quirky and artistic bags, but what's a good outfit without the right accessories? If you're looking to gift a little glamour without blowing the budget, then these are just the presents for you. The Marc Jacob's Sweet Spot Leather Case is ideal for a grab-and-go purse for the days when you don't feel like lugging around a big bag. If your recipient is less into handheld accessorises and more of jewellery lover, we recommend the Medallion Pendant and/or Bracelet. Both feature the iconic Marc Jacobs enamel medallion in striking colour combinations. Each medallion is reversible, showcasing their signature logo on one side and a scalloped edge-surrounded crystal on the other. Delicate and gorgeous.
You can shop Marc Jacobs at Takashimaya, Ngee Ann City, 391 Orchard Road, 238872.
Dior J'adore Gift Set – $190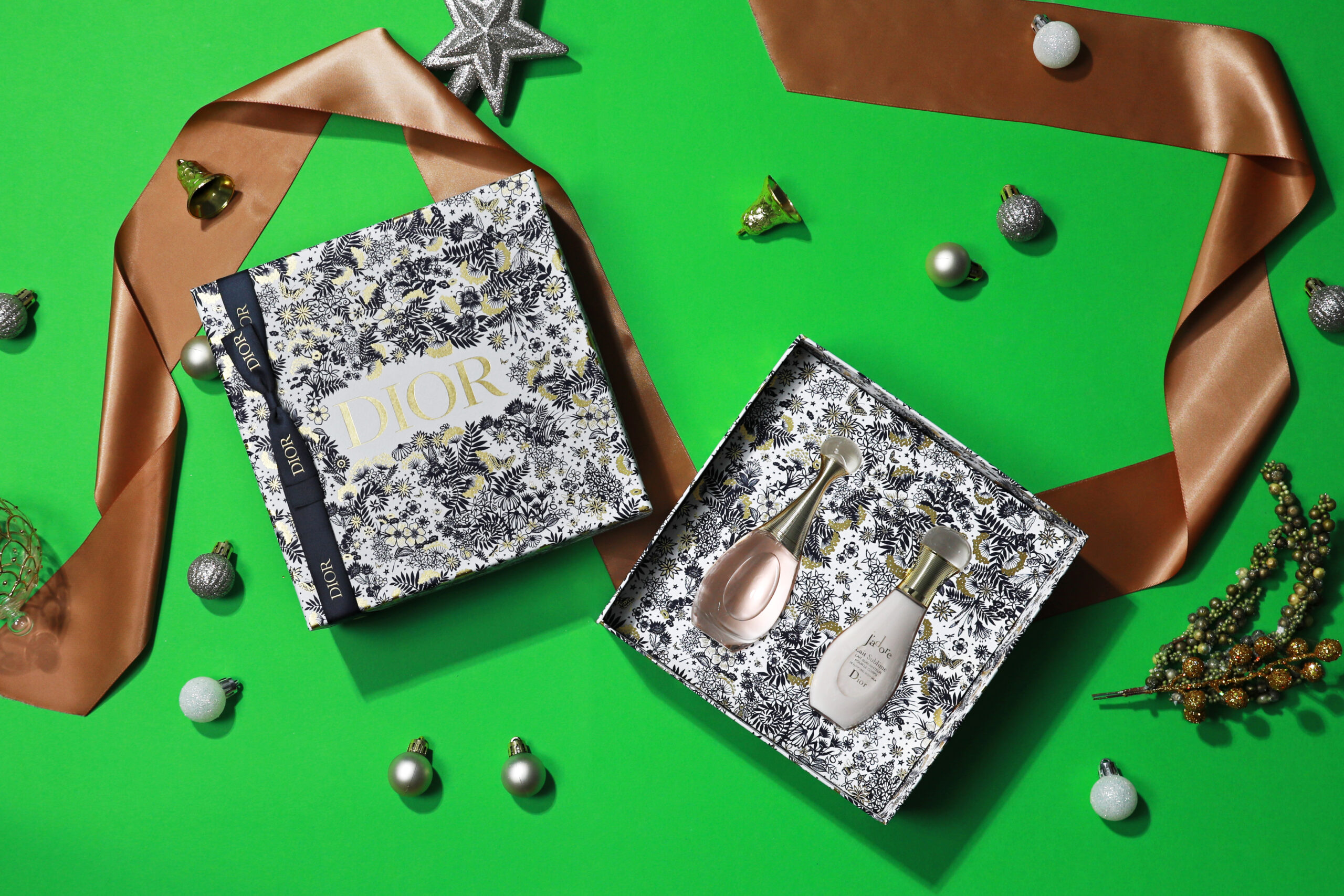 If you've been on Tik Tok lately, you'd be no stranger to the 'If you adore her, Dior her' sounds – and for good reason. The iconic J'adore is legendary on its own, but this enerous and refined Dior gift set is ideal for any perfume enthusiast. Nestled in a ready-to-present box, two J'adore creations reveal themselves to delight anyone unboxing this gorgeous gift. The set contains the sensual J'adore eau de parfum (50 ml). An iconic House of Dior creation – with its emblematic fragrance with a floral trail and curved amphora bottle. It also comes with the J'adore Lait Sublime beautifying body milk, (75 ml), an subtle and moisturising body milk, that'll leave your skin soft and smooth. 
You can shop the Dior J'adore Gift Set at Takashimaya, Ngee Ann City, 391 Orchard Road, 238872.