The line between art and beauty has always been blurred, and it's safe to say you can't have one without the other. SK-II pushes the boundaries even further with its latest exclusive range that encourages you to broadcast your beauty. This is SK-II's biggest art collaboration till date, with one of the most revered artists of our time.
Launched on 1 November, the Andy Warhol x SK-II PITERA™ Essence Limited Edition Collection highlights Warhol's unique philosophy and mindset. Available in three technicolour art prints, the designs pay homage to Andy Warhol T.V.; a broadcast medium he frequently utilised and experimented with. Beautiful from every angle and with a hard-hitting message to boot, let's dive into what makes this collection so special.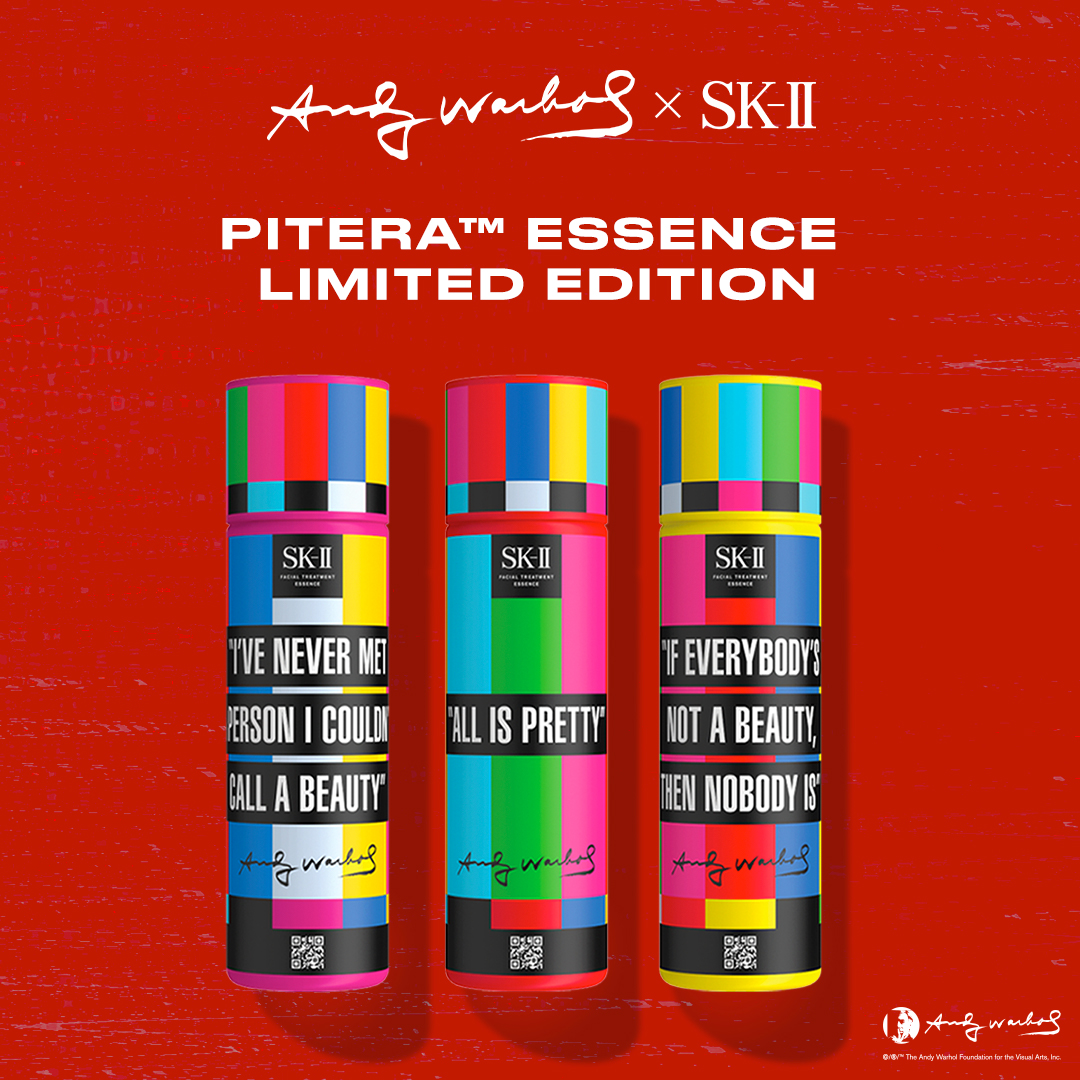 Limited edition beauty products are dropped so often these days but this, to us, is how it should always be done. When we first saw the bottles, we were stoked. SK-II has done a fair share of limited-edition launches but this goes beyond pure aesthetics to also deliver a strong message about the state of beauty. It's by far the boldest, and our favourite so far.
Each bottle is emblazoned with a quote that epitomises Warhol's stance on beauty: "I've never met a person I couldn't call a beauty"; "All is pretty"; and "If everybody's not a beauty, then nobody is." The spirit behind this collaboration is clear: There is magnificence and exquisiteness to be found in every being. Truly, a union that gives users the confidence to broadcast their beauty. Unbeknownst to most, this is an apt reflection of Warhol's philosophy on appearances and vanity, where he believed that beauty could be found in everyone.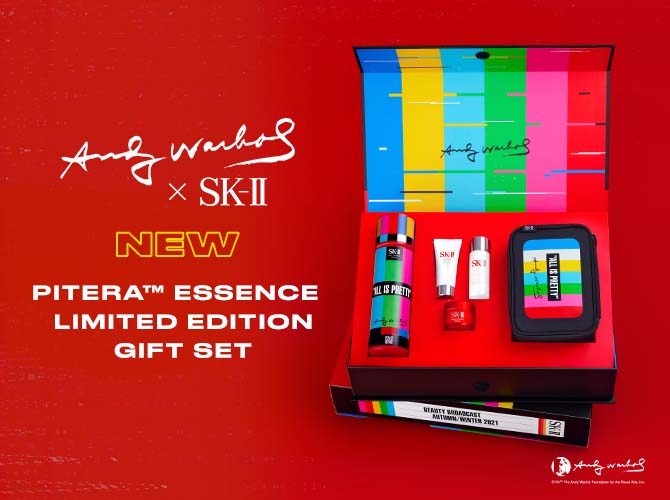 To sweeten the deal, each limited edition bottle comes as a gift set, which includes an exclusive pouch and a set of three complimentary SK-II products, packed in a box specially designed to resemble a cassette tape — yet another cheeky reference to Warhol's style and inspiration. Big on protecting the environment? You'll be happy to know that not only is the retro pouch beautiful. It's also sustainably produced using Econyl® regenerated nylon, an infinitely recyclable sustainable yarn made from ocean and landfill nylon waste like abandoned fishing nets; a bid by SK-II to encourage conscious living and practices.
Beyond the gift set, SK-II has also launched the Andy Warhol x SK-II Arcade; an online experience that allows you to explore and understand the collection through fun mini games. There's the three-stage mini "PITERA™ Quest", for instance, that allows users to find out all about this miracle ingredient and discover the secret to Crystal Clear Skin with the "Pat Pat Game". When you're through with this bottle of PITERA™ Essence, the "Recycle Master" has got you covered — learn to dispose and recycle your bottles responsibly before you move on to the next.
It's safe to say that there's nothing we don't love about the festive edition of SK-II's signature Facial Treatment Essence. Whether you're a fan of this signature PITERA™ essence and how it leaves your skin glowing and hydrated, or whether you're a believer in Warhol's non-conformist spirit, it's clear to see that this is an inspiring collection not to be missed. It stands to reason, too, that through this distinctive collaboration, SK-II gives us a timely reminder that we all have beauty in us, and we shouldn't be afraid to broadcast it to the world. In sum, it's a collection that transcends the narrow definitions of aesthetics and appearance. We expected nothing less from Warhol — or SK-II, for that matter.
About the SK-II PITERA™ Essence
Despite the new limited-edition look, the ingredient behind PITERA™ Essence from SK-II remains unchanged. Packed with 90% PITERA™ that protects your skin from dryness thanks to its Natural Mosturising Factors (NMF), the essence is absorbed quickly and easily into the skin.
It's time to add this to your skincare arsenal and broadcast your beauty with crystal clear skin. The limited-edition bottle is available from 1 November and can be purchased from SK-II and LazMall at the retail price of $289.