Swiping right to say yes can be more about just a good selfie now, because Tinder has upped their game and introduced their biggest update since swiping right.  This mid-October, the dating app is opening their virtual doors to Explore – a hub within the app that features brand new and interactive ways for you to navigate through more profiles than ever, which really opens those doors to all the other fishes in the sea.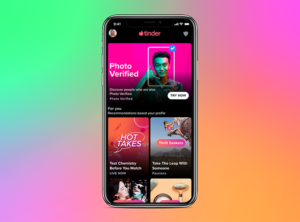 One of these features is Tinder's chat-first function named Hot Takes, where it's back to good ol flirting once more. You'll now be granted an opportunity to be your genuine authentic self, and use this chat time to find common topics or even the elusive spark before matching with another profile in a low stakes quiz on popular culture and opinions. If you like their flirty first impression, you can choose to pair off as a match or just let the timer expire to meet someone new. You can chat up new profiles daily from 6pm to midnight, cause you still gotta get some beauty sleep. 
In Explore, you'll have greater autonomy over the kind of profiles shown to you. Depending on what kind of mood you're in or activity you're looking to do, you can find a match in gaming, music lovers, social causes, and alot more interests that will be regularly launched so you can find someone new for whatever you're into. It basically gives you the possibility to direct the whole matching experience yourself, kinda like your own Tinder architect. Cool, right?
View this post on Instagram
Also, if you ever longed for a verified account – y'know the exclusive little blue checkmark next to your username – you can get it on Tinder! In fact, your matches will probably thank you for it. For those unfamiliar, Tinder has a popular Trust & Safety feature called Photo Verification which basically allows you to self-authenticate through a series of real-time posed selfies, which will then be compared to your profile photos using AI. So if you don't want a terrifying catfish experience, you'll now be able to choose to see only Photo Verified profiles in Explore.
There's also other exciting features within the hub that will be rolled out like Vibes and Swipe Night which promises exciting social experiences on Tinder. In Vibes, you'll be alerted when a session begins in your area. If you choose to join, you first start off with answering a series of questions, ranging from personality traits to pop culture. Don't worry though, this isn't a test of any sorts so give honest answers only! After all, these answers will give potential matches more insights into whether you'll ultimately vibe. Your answers will be displayed in the chat windows so that conversations can flow with more context, instead of having to self-intro, again. These sessions last for 48 hours only, but rest assured they won't just be one-time events.

And just when we were starting to lose hope in times of the coronavirus, Swipe Night comes in and provides some relief in a virtual night out, where users are immersed in a first-person, interactive event where you can swipe at key points in the experience to move the story forward and see where it leads you. Choose wisely, because your choices determine more than just the story; they also will impact who you'll match with and what you probably will be chatting about once the epic journey ends. Basically, think Black Mirror: Bandersnatch but less dark, and more flirty fun. 
Just when we thought we lost hope in these dire times of a pandemic…