How does one define Singaporean style? Well, there's no one answer. Singapore is truly a sum of unique and individual parts. Our style is constantly evolving, as are our local brands; each distinct and idiosyncratic in their own ways.
From local swimwear brands such as K.BLU Swim to well-crafted handbags for the everyday consumer by Gnome & Bow, Singapore has provided a stage for local creatives and designers looking to evolve their work and reach wider audiences, as well as enable the market to shop better and shop local.
Palola
No one knows the challenge of elevating local artisanship like renowned Singaporean footwear brand, Palola. "We operate with an obsession for craftsmanship, perfectly illustrated by an insistence on lasting shoes crafted by hand, a traditional shoemaking technique usually offered only by bespoke shoemakers, where the leather uppers are pulled and shaped over the lasts, to give shape to the shoes," explains Josh Leong, founder and bespoke shoemaker who honed his skills in Italy.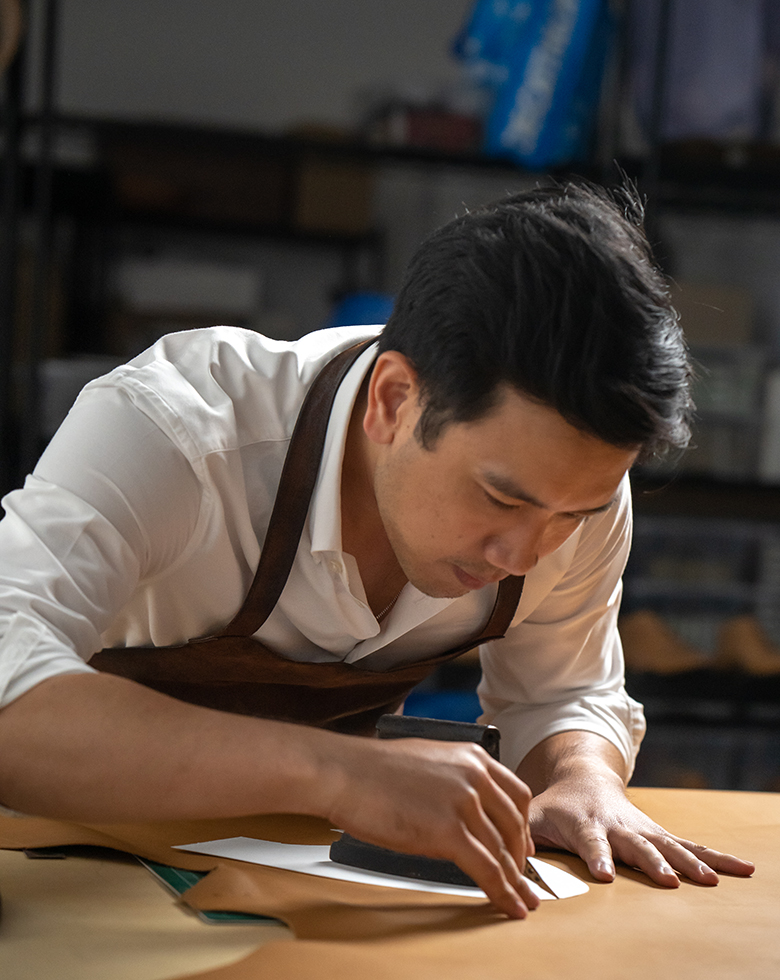 Palola founder, Josh Leong
Leong and his co-founder, Jeremiah Ang, set up Palola to fill a gap in the market between mass-produced footwear and luxury footwear. The duo noticed the demise of traditional shoemaking as processes started to be industrialized, being completed in an assembly line of factory workers instead of shoemakers, who truly understood the wearer's feet. Palola footwear is made to last, attributed to its luxury-grade materials imported from Europe. This endeavor truly addresses the opportunity in the market, as there is no ecosystem of shoemaking at the same quality in Singapore.
Their Yumi ballet flats are a best-seller for good reason. They feature a unique, hand-sewn bar-tack stitch called a "fermatura" in Italian. Leong mastered this stitching by hand when he was an apprentice in Italy, and wanted to pay homage to that with the Yumi design.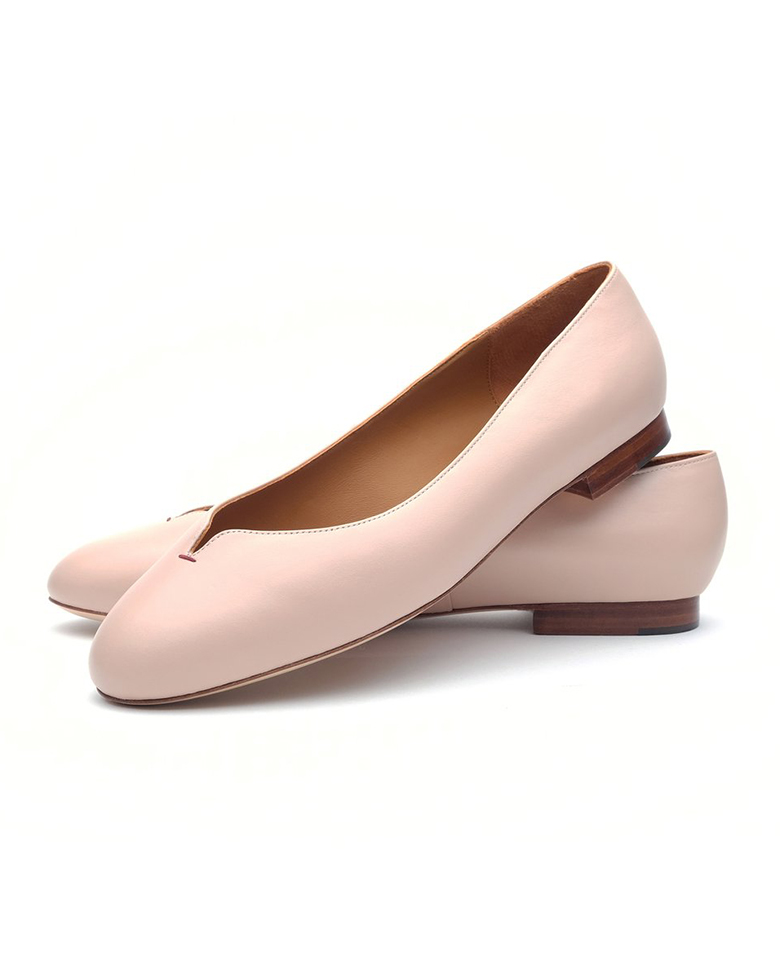 The Yumi Classic Flat from Palola
After reading an article about Palola in the papers, Ukrainian professional tennis player Elina Svitolina, reached out to the brand on Instagram before she came to Singapore for the Women's Tennis Association (WTA) Finals a couple of years ago. She won the tournament. Leong cheekily recounts: "So maybe we did give her lucky shoes!"
He adds: "Putting Singapore on the world map has always been something very close to my heart. We want our customers in Singapore and around the world to realize that it's more important how a pair of footwear is made, instead of just focusing solely on where it's made."
K.BLU Swim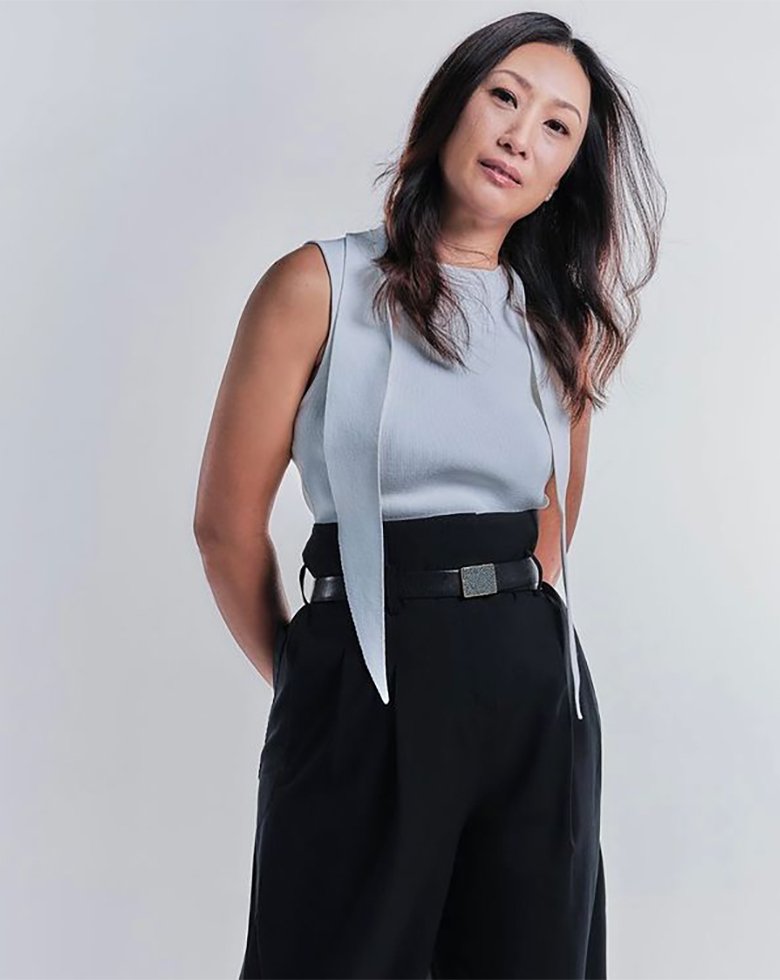 K.BLU Swim founder, Lyn Rosmarin
Catering to the market is something Lyn Rosmarin of K.BLU Swim has always had a vision for too. Her goal was to create swimwear for Asian women, realizing that not many existing brands could cater to Asian frames. An ironic discovery, considering the tropical climate here. Today, the luxury swim, active, and resort wear label flies the Singapore flag high with bright prints and nonya-inspired motifs that encapsulate our country's melting pot of cultures.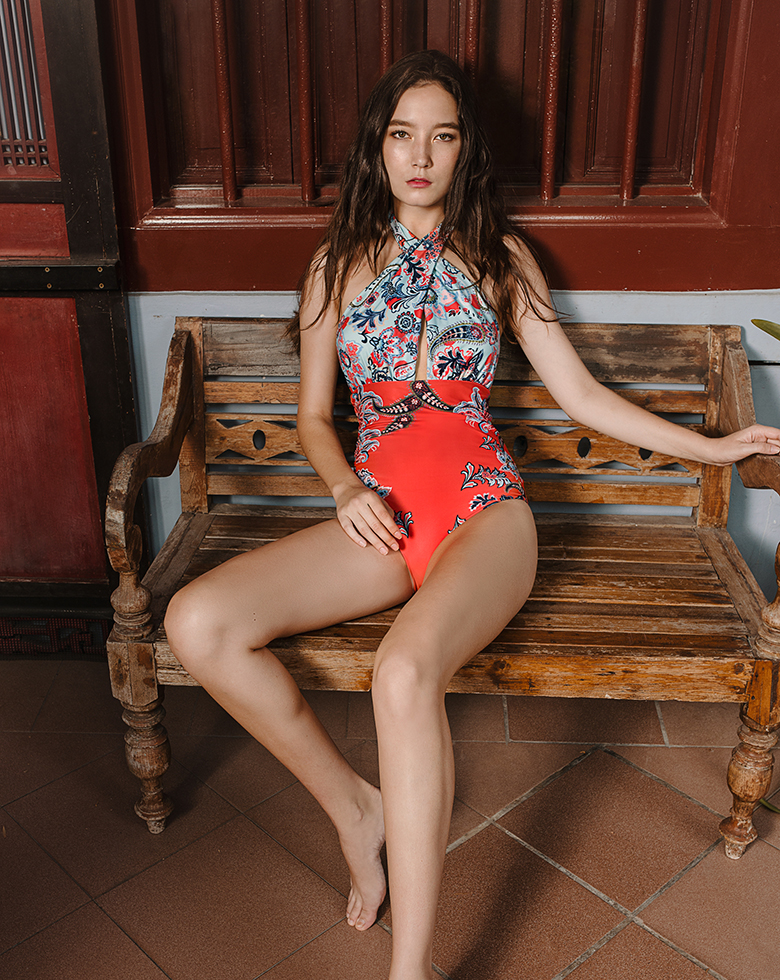 K.BLU Swim's Nonya Halter One-piece
Lyn's favourite collection is Indian Summer. "I love the colours and the campaign video for it. It was directed by Juffire, one of the most talented filmmakers in Singapore, and we made sure to capture the vibes of sun and summer." She believes in the importance of a Singaporean perspective. "Local designers are extremely important, as they create trademarks and brands that can attest to Singapore's unique minds in the way we approach design," Rosmarin says.
Gnome & Bow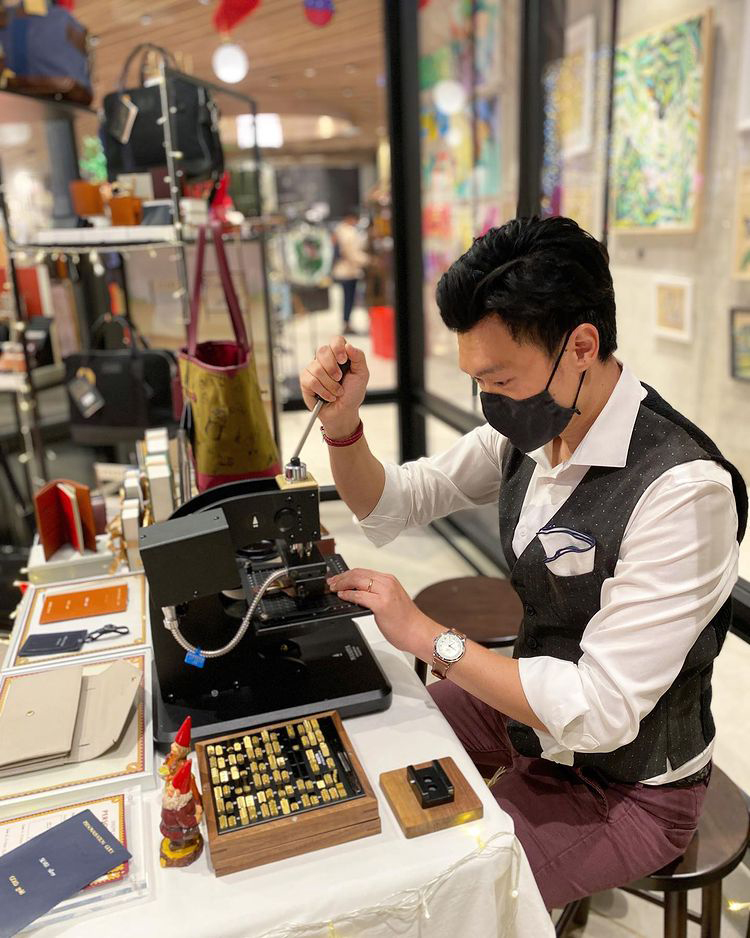 Gnome & Bow founder, Quanda Ong
Gnome & Bow, a leather goods brand that injects a whimsical spirit to a product that's predominantly known for function, shares the same philosophy. "Setting up my own fashion brand was a wild idea; subconsciously planted by my-then girlfriend, who was a great dresser," recalls founder Quanda Ong, who has an obsession with bags. "I was inspired to create bags with a story to tell. I was also inspired by the classic tales that let our imaginations run loose." Ong says Gnome & Bow is inspired by Singapore's kaleidoscope of cultures — blended together in a beautiful and meaningful way and similar to the local brand's combination of two seemingly disparate elements of fantasy and function to create something special.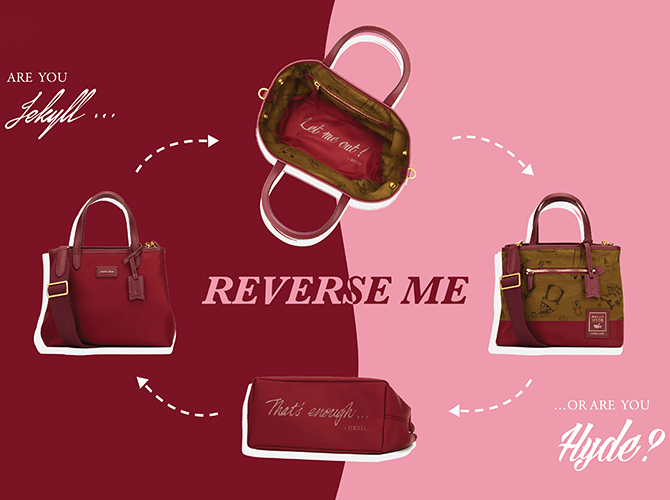 Gnome & Bow's Reversible Limited-edition Jekyll & Hyde Tote
You could call the bags at Gnome & Bow fantastical, with clever and quirky details inspired by storybooks, like their 'Jekyll & Hyde' collection — a series of reversible bags that has a classic side for work and a wild side for play. "The goal was to design a bag that could keep up with everyone's dual personality or lifestyle, which is our modern interpretation of the renowned Robert Louis Stevenson novel. After two years of prototyping and experimenting with materials, the end result turned out to be a wild success and has since become an iconic staple in our offerings," shares Ong. 
He feels excitement and pride when he sees his products worn — whether it be by common folk or global celebrities. He says: "It's a mark of affirmation that our products are well-loved and are adding value to someone's lives. Our hope is that they share the story behind our designs with those around them. That would be a true sign of our design and brand success."
What first started out as a brand for men's leather accessories is now evolving to include a women's line. It really does seem that the team behind Gnome & Bow is just getting started. Ong remarks,"In the next five years, we aim to become a solely direct-to-consumer, omni-channel brand, so that we can control and deliver the full Gnome & Bow experience of storytelling meets quality, classic design."
Triologie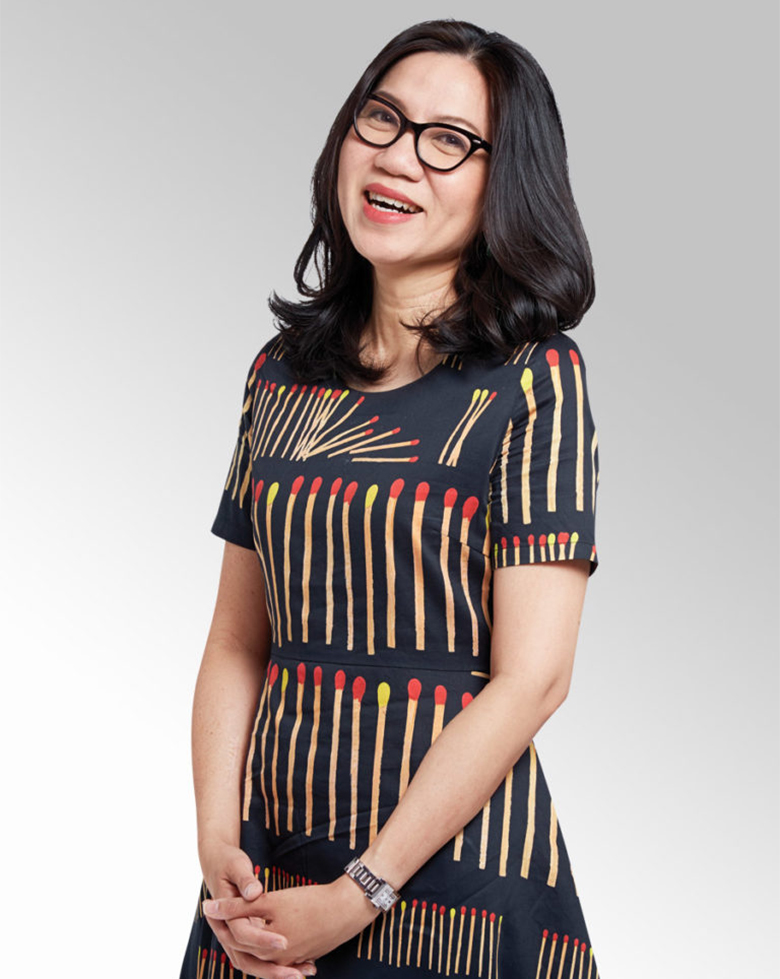 Triologie founder, Sylvia Lim
Sylvia Lim, founder of Triologie, bases her brand around the value of storytelling. "Since 2014, Triologie has been all about the art of telling stories through prints, inspired by the joys of wanderlust and stories that form part of our lives. The vision is dedicated to the happy, free-spirited and world-savvy woman. The idea was to create happy prints on happy dresses, and that has been the ethos behind the brand."
Things were difficult at the start for Triologie. There was no factory willing to take on the low production quantities, so they looked overseas for solutions. In the second year, Lim sought out quality European fabrics and negotiated for exclusivity. As demand increased for printed fabrics over the seasons, the team designed their own prints, which the fabric mill-printed. It took Lim five years to find a team of experienced seamstresses and sample makers, and their reliability has been instrumental to the brand's success. Today, the homegrown brand relies on a comprehensive network of factories from different ends of the world and for various minimum quantities. 
The brand has become  an emblem of national pride. Every year, Triologie can be spotted at the National Day Parade, worn by Members of Parliament – each in a specially designed Singapore story print. "The team takes pride in every piece of Triologie that we create. There is an equal sense of pride and excitement when we see someone in the story that we tell. Local customers are purchasing a piece of our Singapore story that they are familiar with, while non-Singaporeans take a piece of Singapore back to their own countries," shares Lim.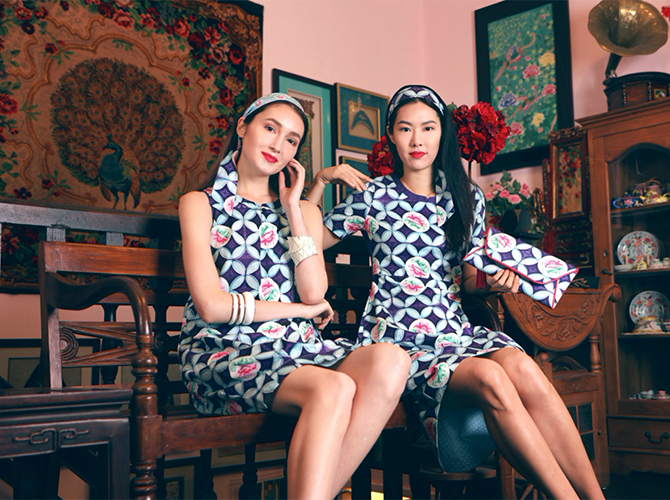 Triologie's 'Kueh Kuehs' Collection Dresses
Their Kuehs Kuehs collection, which they first created for the President's Exemplary Mother Award, were included in an auction to benefit mothers from challenging backgrounds. The dresses featured prints of kuehs kuehs or local cakes, all in bold hues. The collection was an instant hit. Everything sold out during that auction. Since then, Triologie has continued to produce the collection for their retail shops, as well as for distribution in China.
Our local entrepreneurs and brands encapsulate the Singapore spirit in creative and unique ways. They are truly representative of who we are, which makes us proud to support them.
Head over to KrisShop and Design Orchard now to discover more local brands that are similar to Palola, Gnome & Bow, K.BLU Swim and Triologie.