On the topic of sex, no one drives home the subject better than Netflix's Sex Education. And they've got its third season to prove it. Perhaps it's in the good vein of dry Brit humour: a functional marriage between complete tactlessness and joyful abandon or its stellar crop of rising young actors to thank for. It could also be the comedy-drama's merit of being unabashedly vulgar when it comes to "sex-ed", which contradicts most coming-of-age series with the notion to skirt around the issue.
Well, the head-on approach certainly fared swimmingly for Sex Education, and the series is very much, a global hit. Because apart from dishing out NSFW sequences, sex advice, and laugh-out-loud quips, the show often implies an underlying message in each episode. Whether it's about self-acceptance or inclusivity, there's always more to uncover.
Leading up to season 3, we caught up with Asa Butterfield (Otis Milburn) and Ncuti Gawa (Eric Effiong) and got to test the appropriate meter with Aimee Lou Wood (Aimee Gibbs) and Chinenye Ezeudu (Vivienne "Viv" Odesanya). 
Congratulations on the new season! What was it like returning back to set?
Asa Butterfield: It was a pleasure as always, especially this season, because it was a longer gap than usual. I think everyone was really just excited to be back and be in a social environment again, because obviously with the pandemic, none of us could work for a long time. So coming back to a show like this with the same team of people, we were so lucky.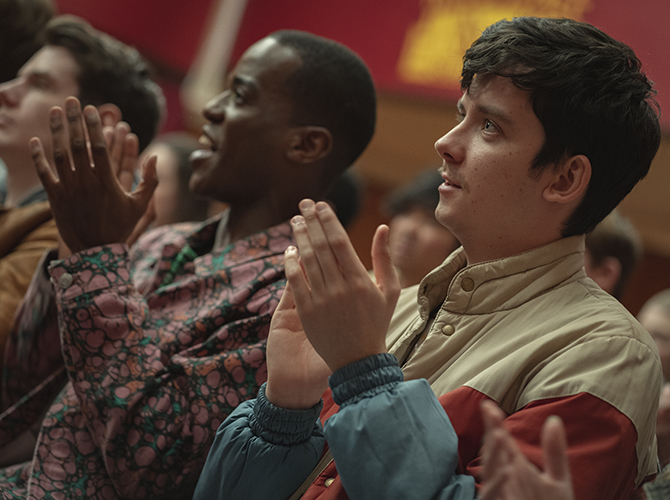 From your point of view, what can we expect from the students on Moordale High this season?

Ncuti Gatwa: We can definitely see the students of Moordale High as a collective and all the characters going through certain obstacles on their own. Obviously, they have a new head teacher (played by Jemima Kirke) this year, who comes and ruffles a lot of feathers. She has a conservative, sort of right-wing voice in the space of sex education. It was quite interesting to see how the students deal with that. And also they are on their own journeys of dealing with shame. That was like one of the strong themes this year. Still growing, and still learning lots of lessons while making mistakes.
Obviously the show has grown so much since the very first season especially with Otis, who is very different from where we first saw him in the first season. What was it like to portray those changes?
Asa Butterfield: It was fun. Yeah, this season I feel like Otis definitely grows up a lot. He's a lot more mature, especially seen with his mum, and that was nice to see in a season development. He's obviously got a lot more going on in his life romantically and the effects of that are quite clear. So it was fun for me as an actor to kind of play with his fruitier side — you might call it, yeah.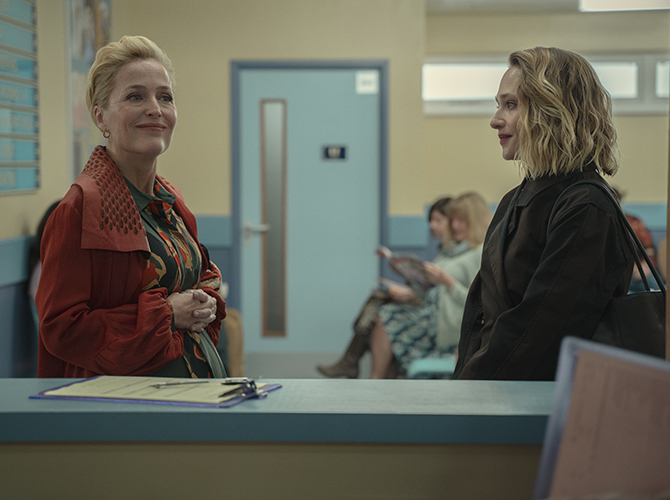 As far as Eric goes, I just love how he's always been so authentically himself throughout the entire series, with a really good head on his shoulders, more so than his fellow peers in school. What have you learned from playing a character like him?
Ncuti Gatwa: I think I've learned that I'm not like him and I don't have as much energy as Eric. The end of each day [on set], my knees tell me that very, very clearly. But it's really fun and it's really interesting to play such a brave character, who isn't afraid to embrace himself and is actually quite determined in doing so. He's very determined to live his most unapologetic life. And I think that is something that you can admire, whatever age you are. It is particularly fascinating to see it in a 16, 17 year old boy who is just so brave and ready to lead his own life. And, yeah, I think I've taken some aspects of that. I think he's taught me that it's okay to go for what you want. And it's definitely okay to be who you are.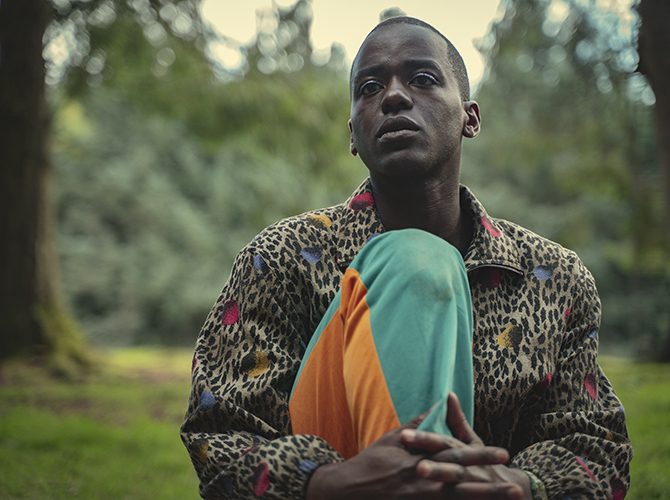 Another big thing about the show is the relationship that Eric and Otis has with each other. What's it like for both of you playing this solid bromance in the show?
Ncuti Gatwa: [Laughs] It's difficult, it's really really difficult working with Asa. He is very hard work. [laughs] No, you never know what to do with Asa, he is amazing. He's the best person to have a scene with because he's such a generous actor, such a talented actor as well. I could talk about it, I could go on…
Asa Butterfield: They really bring the best out of each other as characters, who really shine when they're with each other. We really see them being themselves and then we bring a lot of our own friendship into these parts, and just crank it up to the mountains, basically. A little river chaos, fun and games, and songs that come along with that.
Sex Education Season 3 premieres September 17 on Netflix.