The moment you're entrenched in the labrinyth that is Sentosa, you've surely come to seek out a hideaway. Especially in these times, when you're not quite sure if entering a crowded shopping complex is that safe. A new medium of escapism takes shape at Oasia Resort Sentosa, the coastal island's newest hotel, and it's certainly one to take on a slower pace. For starters, it is Far East Hospitality's inaugural spa destination.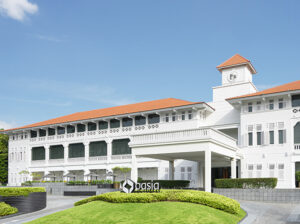 In a posh white conservation edifice tidily tucked away, sits the resort that might take you by surprise if you're all too familiar with its other address down at Tanjong Pagar. There's a great deal of space to waltz through, with the very first charming pitstop front and center — Bedrock Origin. Lights are dim and a lemongrass scent permeates through the air, a lethal combination to emit calm and serenity (no matter what the scorching sun outside might tell you).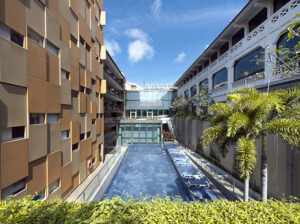 The check-in process eschews any clinical technology device, as we were amicably escorted to the registration table, christened with cold towels and the hotel's signature cold brew tea. Full disclosure: the hotel isn't quite fully opened, with a second wing holding more rooms and suites, and even a rooftop pied-à-terre to be revealed very soon.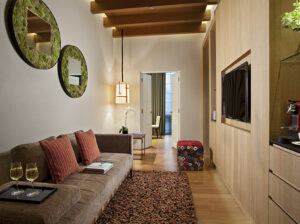 Our junior suite kept to the hotel's clever use of space, aligned with high ceiling beams, a little TV nook, a compact walk-in wardobe, and a bath that had the perfect ergonomic design, replete with bath salts. A small but noticeable detail fell on the refillable Nordaq waters — both still and sparkling — to further cement the hotel's efforts to reduce single-use plastic. You also won't find yourself listlessly flipping channels, especially with the two smart televisions in the suite. We can't stress enough about the importance of ChromeCast and AirPlay while on staycation, when pocket apps like Netflix and Youtube are all we consume these days.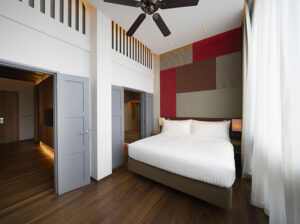 But just before you contemplate staying indoors, completely horizontal while binge-watching the latest season of You or attending the hotel's complimentary list of wellness sessions like Zumba or balm-making, make sure to book yourself at the Oasia Spa. It is after all, the crown jewel of the resort.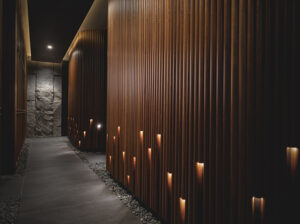 Grounded on Asian-inspired spa offerings, the spa is the first in Southeast Asia to carry Kotoshina products, a Japanese skincare line. Behind a sliding door, lies a soothing haven of stone and wood resembling a peaceful zen garden. The full body Oasia Signature Massage was the perfect remedy to worn-out muscles with our therapist carefully kneading out the knots over and over again. But beyond body treatments, the spa also offers facials, like a special one called Cryotherapy Facial. Post-treatment, your time in this serene bubble gets an extension in the lounge as you're left to lounge and sip on herbal tea and healthy snacks.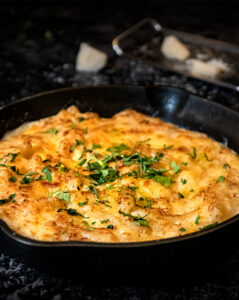 Breakfast time is where you can venture out of the typical Continental offerings (although it still remains an option on the menu), with other tantalising choices like Nasi Lemak and Barramundi Congee. Joining the moreish plates are two perfectly soft-boiled eggs, with toast to dip in. Despite the hotel not fully opened, the main restaurant Bedrock Origin still remains a reason to why you don't need to set foot out for a good meal. Don't miss out on their prime cuts, whole turbot, and last of all, a Mac & Cheese (baked with a crisp sheath) that you'll remember for a long time to come. Grub aside, their bar will also make sure you get your ideal night cap before retiring to your quarters.