The Mini Cooper S is rolling into 2019 fresh from a mid-life refresh (think of it as an aesthetic treatment for cars) looking, well, refreshed.
But unless you're the most die-hard of Mini spotters, it's likely you'll miss out on the reprofiled headlights whose LED daytime running light ring now makes a full ellipse, the super-bright LED headlights contained therein, the new taillights with their Union Jack motif, with the same pattern repeated in grey on its black fabric roof.
Suffice it to say, there's a good chance you'll also look past the new gear-selector lever, completely redesigned to reflect its new electronic linkage and seven-speed dual-clutch nature.
Add that to the car's ability to drop its top in 20 seconds at speeds of up to 30km/hr. Don't like being too exposed? Not to worry, because the Cooper S Convertible can open its fabric roof halfway, giving you a sunroof, of sorts.
Despite all of its good looks, the Cooper S Convertible is quite the charmer, too. Its compact size and punchy engine ensures that whenever you so desire, there's power on tap.
Now, don't get us wrong. That's great and all, but if you had to make us choose the thing we liked most about the updated Mini Cooper S Convertible, it would be the Mini Connected phone app.
And as with all useful apps, you'll never really know how useful it is until you actually start using it. And then you'll realise you now can't live without it, and indeed, how all cars should come with an app this handy.
Remote Services
If there ever was a contender for the title of most-boring-name-for-a-super-useful-feature-ever, the winner and eternal champion would surely be Remote Services. Sure, it may have a boring and wildly undescriptive name, but believe us when we tell you this function in the Mini Connected app will save your bacon.
We're sure you've been gripped with the raw naked terror of wondering whether or not you've locked your car's doors while having brunch at that new cafe you just discovered but nobody else has yet. Well, now you won't have to miss out on conversation or have your mocha get too cold, because you'll be able to lock your car's doors remotely from the app.
And when it is time to finally leave, you can activate the ventilation system remotely as well. Doesn't sound like too big a deal, but you get into an un-pre-ventilated car on a sweltering afternoon and you let us know how that goes.
If, on the off-chance, you forget where you parked the darn thing, you can look up its location on the in-app map (hey, that rhymes), so no getting even more lost looking for your car.
The app will also show you how long the car has to go before it needs to be refueled, which again, takes all the guesswork out of car ownership.
And yes, the car displayed prominently on the app's home page is the exact one you own. For example, it'll show an orange Cooper S, or an electric blue Cooper S Convertible, or a dark green Cooper S Clubman. How's that for attention to detail?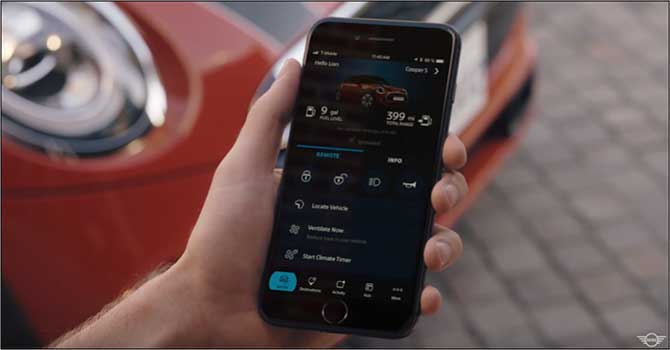 Spotify connectivity
There's nobody around that doesn't have Spotify installed on their phones. Well, actually there are people like that around, but they're not worth knowing, or for that matter, mentioning.
But since you're not one of those people, and are of the sort that can contemplate buying a Mini (specifically this Cooper S Convertible), you'll have Spotify, and you can connect it seamlessly to the car.
Once you've got a beat going, you'll never have to miss a beat thanks to natural-speech voice control. What this means is you won't have to speak like a machine to a machine, and instead speak to it as you would a regular person.
Asking it to play a radio station or a song by name is just the beginning of what we think is a long a fruitful relationship… with your car.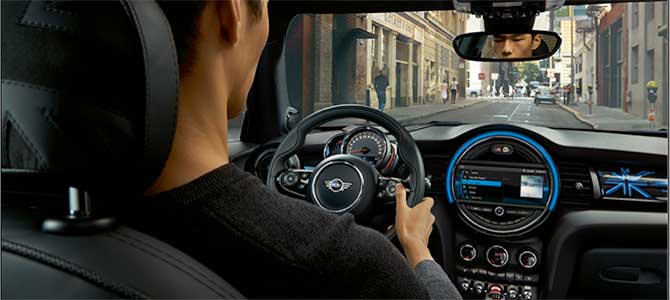 Schedule sync
If you sat down to think about it, the most amazing innovations take existing technologies and use them in new, fresh ways. The smartphone, for example. Touchscreens weren't a new idea when they rolled around, and the mobile phone even longer than that, but put them together and fireworks happen.
Similarly, these three elements of Mini Connected take existing technologies and fuse them in ways that will make you wonder how you managed to live so long without it. You have your phone's calendar, in-car navigation and real-time traffic information.
The app syncs up your calendar and uploads it to the car's navigation system so the moment you drive off, you'll have directions to your destination, but that's not all. In addition to the above, a notification will pop up on your phone alerting when you should leave, taking into account any traffic incidents/jams that might have occurred en route to your destination.
Again, none of those components are groundbreaking in any way, but when they're all put together. Yeah, magic.