Admittedly, mane maintenance might not have been on your list of priorities in the past year. A pandemic does that to you, alongside the stresses that come with it. Constantly changing regulations; renewed rulings on group sizes; and the outright closure of certain establishments mean that some of us have had to resort to DIY options. Or, in the case of others, tough it out until salons were fully back in business. Such is the case for one member of the Buro. Beauty Club, Joan, whose locks have gone untouched since the advent of COVID-19. And so — in the spirit of festive gifting — the team at You Are My Sunshine extended an invite for a full tress transformation. Read on for a full chronicle of her experience, below.
The premise
You Are My Sunshine is the latest iteration from the Leekaja group; a sprawling 8,000 square feet space harbouring an extensive menu of hair services, a café, as well as a boutique. Think over 100 stylists and staff running a tight ship, of which uses premium products in the vein of organic and all-natural goods. The salon area also comes with various improvements as compared to previous outlets, with You Are My Sunshine featuring two seats per cubicle area per stylist to allow for greater privacy and exclusivity.
The procedure
Joan was given the full works — a balayage dye job, trim, as well as treatment to get her locks under control. Her stylist, Isaac, recommended a darker hue for upkeep purposes, blending three hues of ash, brown, and chocolate to produce a seamless fade. Her dead-ends were trimmed away soon after, with vegan products used on her scalp to reduce its current sensitivity. Another notable point: Dyes used were halal, making this a perfect option for a wide variety of customers. Unlike her visits to other salons, she experienced no pain or burning sensations during the dyeing portion; a testament to You Are My Sunshine's expertise as well as product selection. By the end of it, she was also given a shampoo and conditioner set from Viege to keep her locks looking supple and smooth.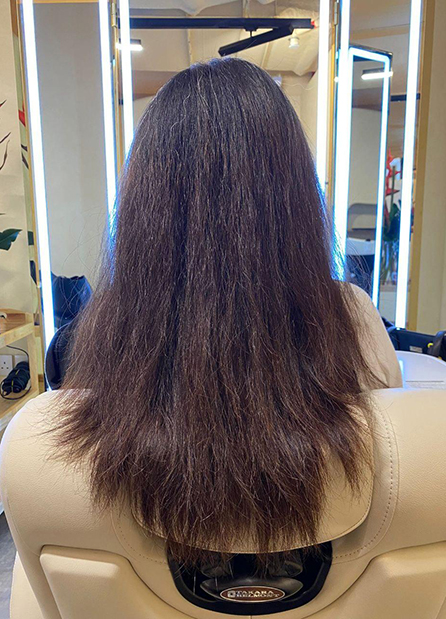 The payoff
Joan expressed astonishment at her new look, with its refreshed length and shade proving optimal for the heralding in of a new year. She also has a newfound appreciation for the artful layers Isaac had constructed for her, whereupon it has given her mane more shape and volume with minimal styling required. All in all: A timely Christmas miracle (courtesy of the team from You Are My Sunshine), indeed.