Heart-shaped jewellery get a bad rep but know this: Not all of them are treacly sweet trinkets clinging around the necks and wrists of lovestruck teens. These days, the trendiest jewellers are reaching far outside the proverbial box in putting their own spin on this true design classic, which, if done with the right twists, can even look downright cool and edgy – like pretty little heart tattoos. Try mixing different coloured stones, different gold finishes (consider brushed and hammered designs) or even layering several hearts together to create your signature look. And here's the best part: Because it is a classic, heart jewellery will never go out of style.
Check out Buro Singapore's edit of the latest heart jewellery to wear this Valentine's Day.
John Hardy X Adwoa Aboah Mad Love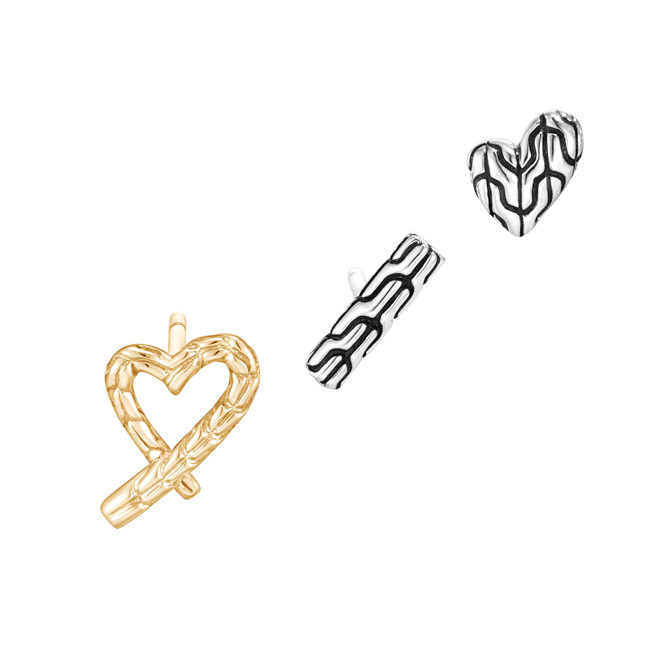 We are vibing hard with this capsule collection by John Hardy co-designed with British model Adwoa Aboah. Obviously because Aboah is such an inspirational feminist and activist who has amazing style, and also for the brilliant interpretation of the casual heart and all it represents. Mad Love celebrates all kinds of love, and wants to stir up a passionate acceptance of oneself and others – flaws and all. You get the signature John Hardy chain motif crafted in hearts that were hand-sketched by Aboah and inspired by her multiple tattoos. The necklaces are transformable, and earrings meant for mixing and matching.
Browse the full John Hardy X Adwoa Aboah collection here
Chopard Golden Hearts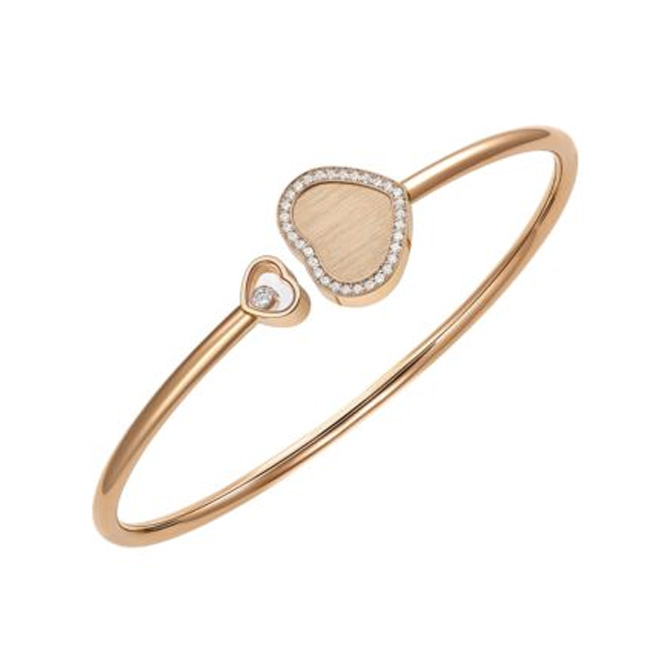 A perennial favourite, Chopard's Happy Hearts can be worn in so many ways, with the Chopard signature moving diamonds design being the most desirable of course. But so much more awaits as the maison has been known to include our favourite coloured stones in the collection. Think rich green malachite with its sensual swirls, pristine blue turquoise, fiery red carnelian, shimmery mother-of-pearl, white diamond pavé of course, and most recently, elegant brushed pink gold in the Golden Hearts line designed in collaboration with the James Bond franchise.
Browse the full Chopard Golden Hearts collection here
Van Cleef & Arpels Sweet Alhambra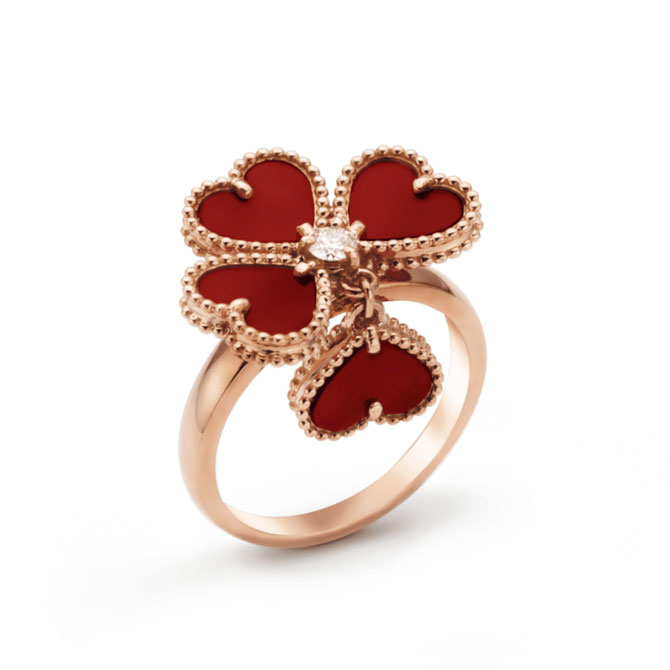 It is every girl's dream to own a piece of jewellery from this fabled maison, and the truth is, Sweet Alhambra is often the best place to begin. But instead of the clover design, the collection also offers a lovely heart motif that is just as iconic thanks to the millegrain finishing around the pendant. Although the choice of stones is not awfully wide - just red carnelian and white mother-of-pearl for now - you can be certain that Van Cleef & Arpels uses only the best quality stones to reflect the best iridescence and colour. The effeuillage ring is extra playful with one heart-shaped petal that moves.
Browse the full Van Cleef & Arpels Sweet Alhambra collection here
Tiffany & Co. micro heart signet ring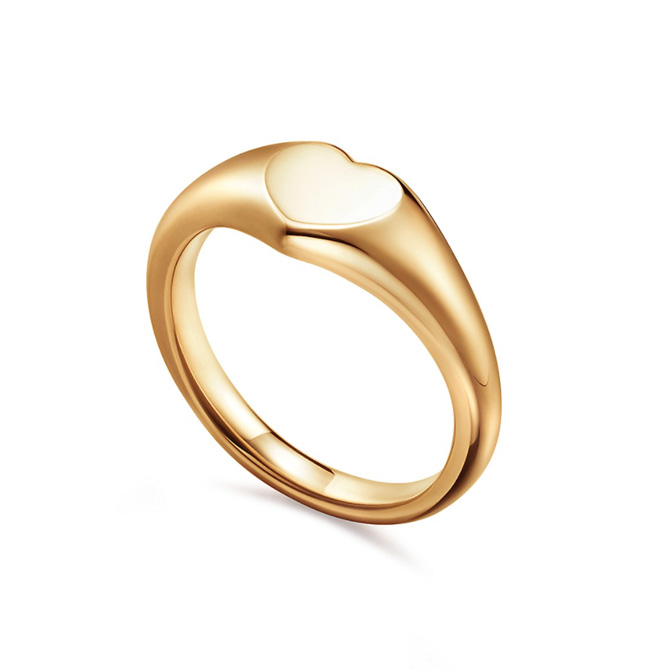 You could literally shop to your heart's content at Tiffany & Co.'s in search of heart jewellery of all shapes, sizes, and styles. Options include the classic Return To Tiffany tag pendants and love locks, eternally relevant designs Paloma Picasso and Elsa Peretti, as well as more under the radar pieces like this signet ring which is so pretty you'll want to wear it every day. Plus, here's the fun part: At the Tiffany store you could mark the piece with a secret message, as is tradition with signet rings. Doesn't have to be fancy, just your (or your SO/s) initials would look just as cool.
Browse the full Tiffany & Co. Valentine's Day collection here
State Property Utama heart ring
We just love this local jeweller for its sleek and ultra modern designs, and this is their take on the heart motif. A heart within a heart within a heart... and it's basically hearts all the way down. Sitting at the centre is a heart-shaped diamond surrounded by a river of white enamel, then more diamonds, and then yellow gold. Just the perfect message for your intended (or yourself!) and yet stylish enough as a statement ring on its own.
More information on State Property Utama heart ring
Revival Jewels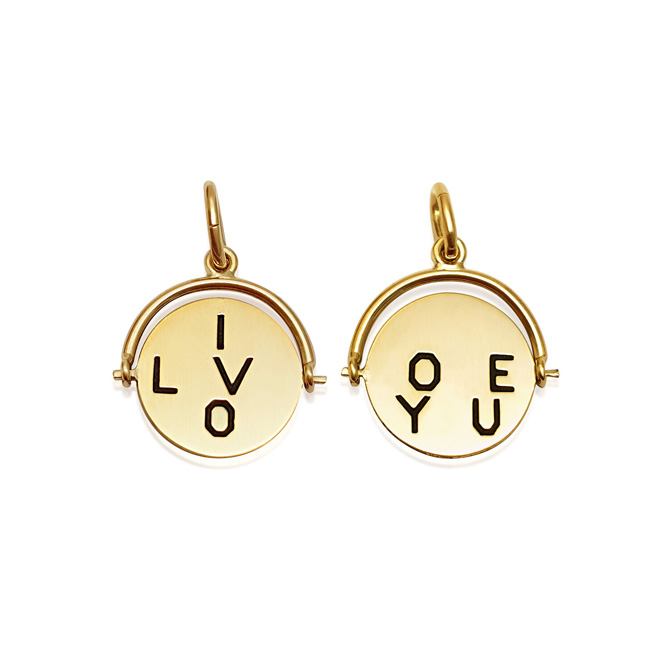 Thinking of vintage jewellery this Valentine's Day? Maybe you'll find something truly unique at this lovely gem hidden among the shops at Wheelock Place. Owner and jewellery specialist Brenda Kang stocks an eye-wateringly envious collection of rings, pendants, bracelets, earrings and brooches from almost every era. We've found this pair of spinner charms in yellow gold to be just right for the season.
Make an inquiry on Revival Jewels here
Jennifer Meyer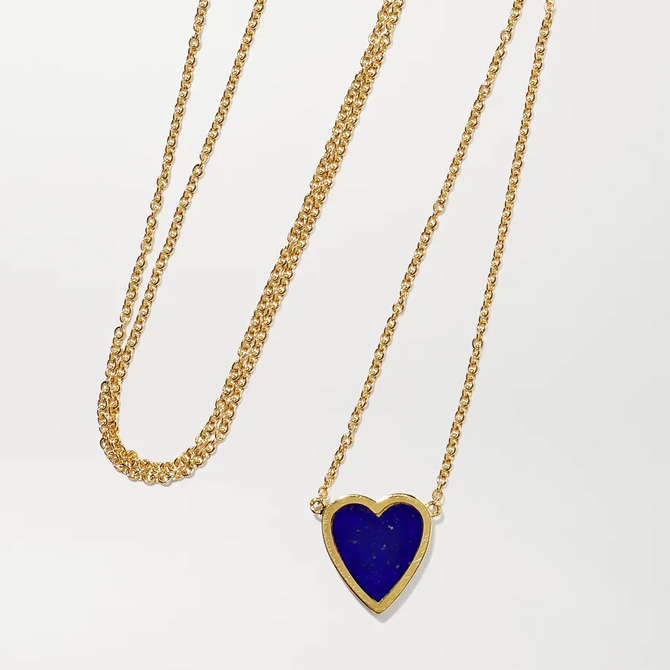 Hearts are this LA-based jewellery designer's stock in trade it seems. After all, love, celebration, and protection are the two main reasons why we wear any jewellery at all. Meyer's colourful creations use a great deal of ornamental stones such as turquoise, lapis lazuli, mother-of-pearl, and opal, in addition to gold in various finishes. This Valentine's Day we've got our eye on this one featuring lapis lazuli set in yellow gold.
Shop Jennifer Meyer on Net-a-Porter here
Alexander McQueen heart silver and gold tone ring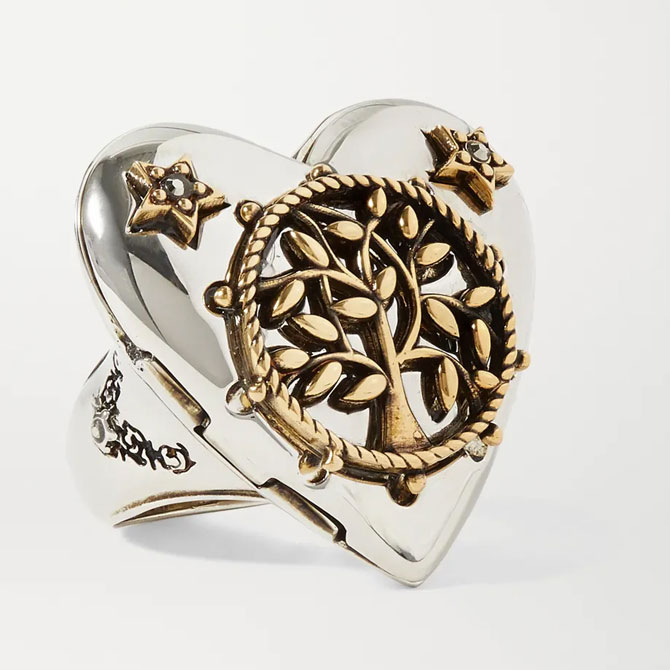 Trust Alexander McQueen to douse the heart motif with oodles of edgy charm. Brushed with an antiqued finish, this ring is perfect for vintage-loving fashionistas. Centred by a heart-shaped locket bearing two crystal-encrusted stars and a tree of life motif, you could hide a little secret letter inside or a tiny photograph, maybe a swatch of fabric... The tree of life as you may know symbolises personal growth and strength, which is all the more reason to wear this ring often.
Shop Alexander McQueen on Net-a-Porter here