A month into the Singapore circuit breaker, we've all revealed who we really are on the inside. Some of us spend the days in jammies. And our make-up and hair styling kits no longer take up prime position on the dressing table. A few have probably ditched their bras altogether.
Yet, others very valiantly believe in dressing well and putting their best faces forward, even if there's no one around but their cats.
Whether you're on Team Let-It-Go or Team Keep-It-Up, one regular weekly – or even daily – occurrence from work is keeping even the laziest girls on their toes.
We're talking about video calls. Doesn't matter if it's on Zoom, Facebook Messenger, Rooms, Google Hangouts... The point is, even though we're working from home, we still have to meet our bosses, colleagues and clients from time to time.
And if you're anything like us, you'd definitely like to maintain a certain level of professionalism when duty calls.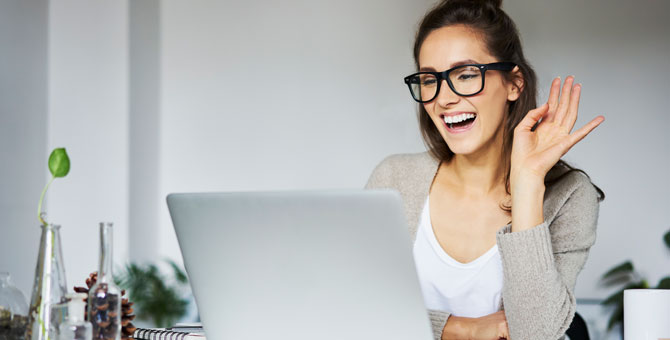 That said, appearing on video calls sans make-up or your usual perfectly coiffed 'do has become more acceptable these days. What with Covid-19 encouraging a less-is-more take on life and all. So there's no need to feel bad about it.
Also, nobody's going to notice your perfect eyeliner game since you'll literally be this small on the screen.
But this doesn't mean you want to look... washed out. You know what they say – the camera adds 10 years. Even the freshest new top is going to look ordinary at best. So, the best way to look smart (without putting in too much effort) is to dress just for the camera – and frame your look with the right accessories.
We think necklaces, earrings, and brooches are the most essential jewellery pieces right now. Here are some tips on pairing necklaces with work-appropriate necklines.
Round-neck
The most versatile of all necklines. Let colour palette guide the look. If you're in a solid colour, say black, you can play around with enamel or lacquer or just go monochrome. Pair prints or busy patterns with monochrome jewellery.
V-neck
Pendant necklaces are destined for v-shaped necklines. Don't be afraid to stack on two or three at a go. The key is to mix different shapes, lengths, and materials but try to keep them roughly the same size.
Boat-neck
Select a long sautoir or an oversized pendant on a long chain. You want that contrast which balances out the horizontal neckline with an elongated chain. Don't pick something too stark like a choker, neither should you be wearing a short necklace.
Collared shirt
Super work appropriate, collars goes well with these two main styles which we absolutely love. Fully buttoned up with a bib necklace, or an extra-long sautoir draped loosely around the neck several times and in varying lengths
Square-neck
We love wearing asymmetrical necklaces with this neckline – as long as the piece isn't too long. Avoid square shaped patterns and pendants. Experiment with rounded or more fluid forms instead.
Brooches and earrings
Apart from necklaces, a statement brooch would also instantly elevate your look, even if it's just a simple white or black t-shirt. The key is to pin it higher up, near the collarbone and not too low. Brooches are so much fun to wear and offer a great deal of mileage as well. They don't have to be huge in-your-face pieces; even small ones can do the trick.
Likewise, earrings can help you appear more dressed up than you really are. Especially when you're wearing your hair up, or have short hair. For work calls, we won't recommend anything too dangly or bedazzling. Yet there's no need to resign yourself to pearl studs. Think a full slicked back 'do, with statement ear clips, hoops or wilfully asymmetrical pieces.