Reducing your carbon footprint is now a time sensitive issue – literally
It's taken some time but green initiatives have finally reached the luxury watchmaking industry. But if nobody said anything, you might not even have noticed because these eco-friendly timepieces retain all the creature comforts of luxury haute horlogerie.
Panerai: Eco-Titanium
As a maker of diving instruments, Panerai is a major advocate of ocean protection. Together with its ambassador, the adventurer-environmentalist Mike Horn, Panerai has made two Submersible Mike Horn Editions, PAM984 and PAM985.
These sporty watches are made of recycled aviation-grade titanium which Panerai has trademarked Eco-Titanium.
And it's not just used for show, like on a small part of the watches. The entire thing – case, crown protector, rotating bezel and case back – are all fashioned from Eco-Titanium, a robust yet environmentally-friendly material.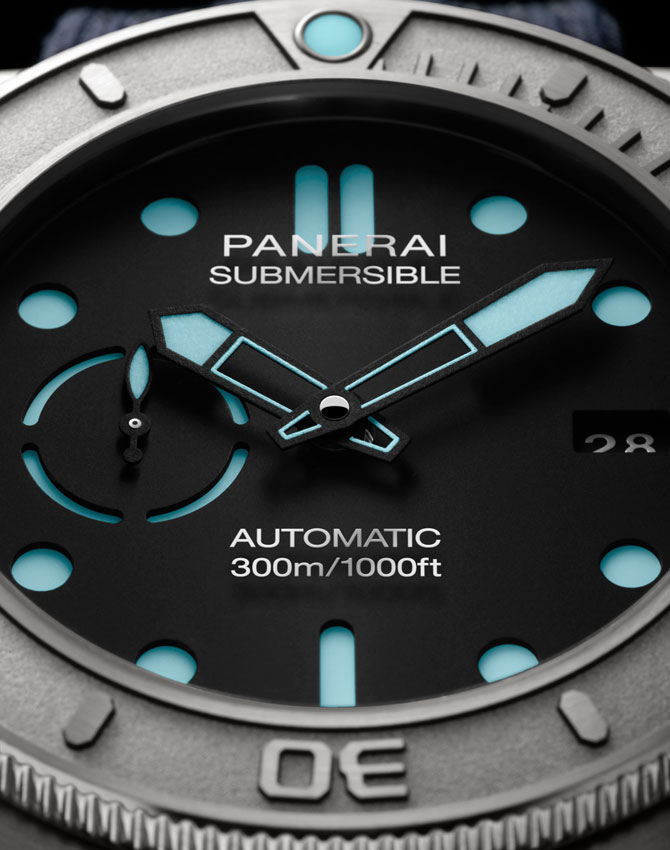 In addition, the straps are made of recycled PET plastic, further reducing its impact on the planet. Blue for PAM985 and black for PAM984. But that's not the only difference between the two pieces.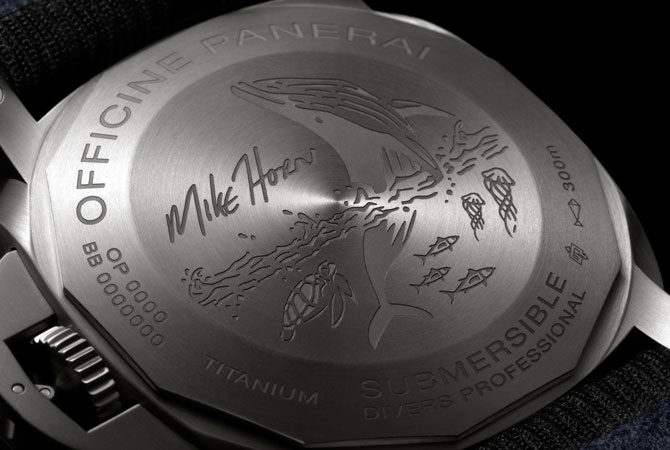 Priced at S$58,800, PAM985 isn't your average garden-variety Panerai – the 19-piece limited edition should be a big enough hint. With it comes a once-in-a-lifetime experience to join Mike Horn on an expedition to live among ice floes and witness the frigid beauty of the North Pole.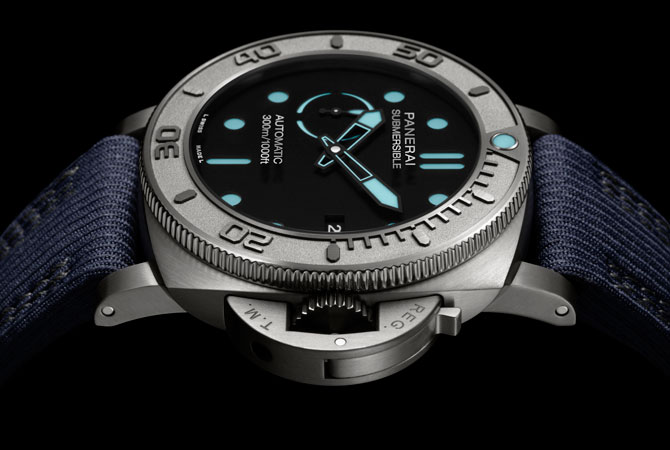 In other words, it's an opportunity to check something off your bucket list and get a watch for it. Not looking forward to getting your ass frozen off? Consider PAM984 then.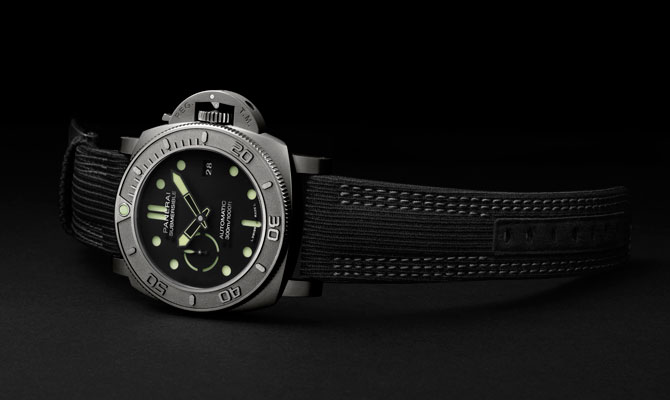 Priced at S$29,300, it still gives you bragging rights to one of the world's first Eco-Titanium watch – and it looks really cool too. The relief laser engraved bezel is a first in the Submersible line.
Breitling X Outerknown
Its partnership with world number one surfer Kelly Slater led to Breitling's collaboration with eco-apparel label Outerknown in a fight against ocean pollution. The Superocean Heritage II Chronograph 44 Outerknown is its horological ambassador of this noble crusade.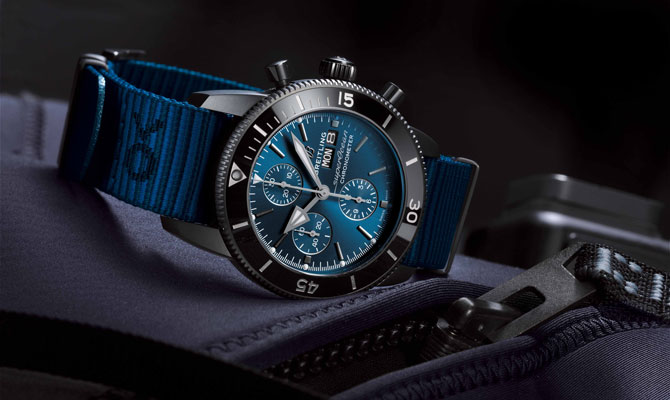 Using a material called ECONYL yarn for its strap, this sporty blue dive watch has a direct impact on ocean conservation thanks to Outerknown's innovative eco-mindedness.
Founded in 2014, Outerknown started out making surf shorts and bomber jackets using ECONYL yarn, which is made of discarded nylon sourced from ghost nets retrieved from the seabed.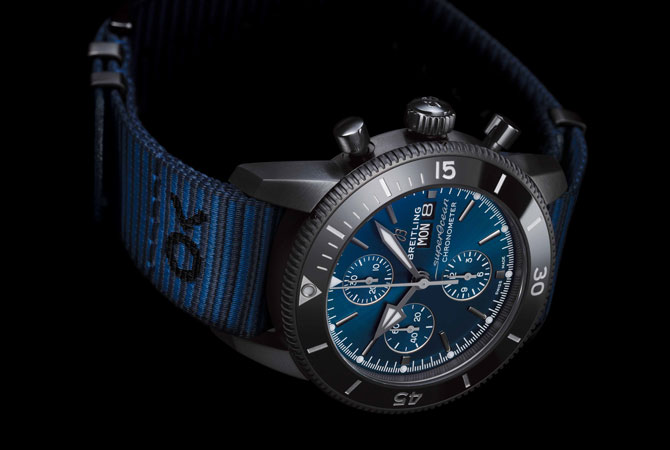 Ghost nets are fishing nets dumped or lost into the sea by trawlers. They are dangerous to marine life as fish and other animals get entangled in them and die of starvation or suffocation, further depleting the already diminishing populations.
Manufactured in the NATO style, the strap is not all that is made of sustainable materials. Superocean Heritage II Chronograph 44 Outerknown is delivered in a matching blue carrying case made of recycled materials.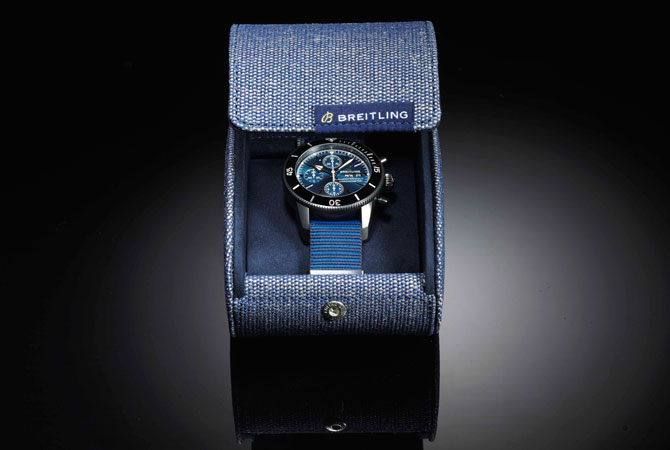 For S$9,800, you could be wearing a luxury mechanical chronograph – COSC certified to boot – that matches your dive or surf wear and do your part for the planet. A timely homage to sustainability indeed.
Oris: r-Radyarn
Here's a brand we don't hear about very much but Oris is very much a leader in its own field, particularly among the diving community. With its close affinity to the sea, the Swiss watch brand obviously wants to protect this environment. Its solution? An interesting nylon textile called r-Radyarn.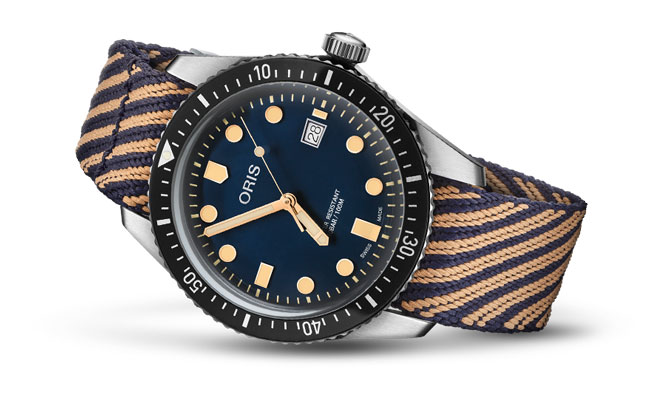 Made from recycled plastics for Oris by the Radici Group, this woven strap is offered with the Divers Sixty-Five 2018 timepiece (S$3,000), a classic time-only model water resistant to 100 metres. We like how the weaves are done in diagonal stripes alternating between khaki brown and navy blue – just like sandy beaches and blue oceans.
In addition, the processes that are used to manufacture the strap are also eco-friendly in that they emit less carbon dioxide and consume less water and energy overall.