They're not easy to pull off but emeralds always pack a certain je ne sais quoi other stones don't
Considered one of the big four in the jewellery world – the other three being rubies, sapphires and diamonds – the emerald is the only precious stone that has its own signature cut. There isn't a ruby cut, or a sapphire cut or a diamond cut, but there is the emerald cut, which is a stepped cut usually rectangular in shape.
The emerald cut is not exclusive to emeralds, as diamonds have also been known to feature this cut, but it was originally created for this gorgeous green gem.
Emeralds are typically cut in this style because of the stone's unique natural properties and grading criteria. They are prone to chipping and shattering, so the emerald cut helps protect the stone against damage where it comes in contact with the gold prongs, for instance.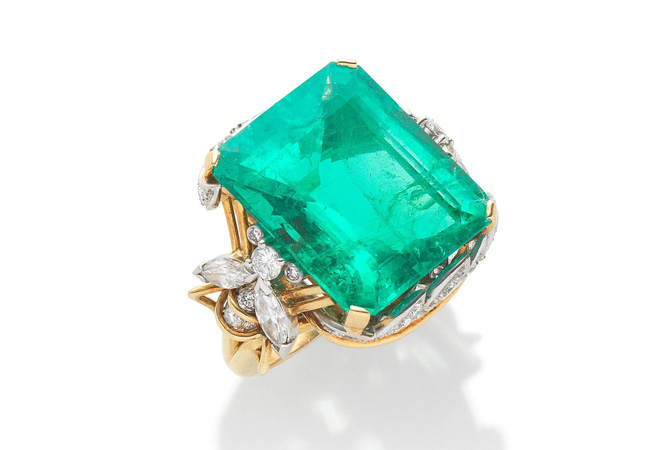 In addition, since colour is the main factor that establishes an emerald's value, the emerald cut allows us to see and fully appreciate the stone's hue, tone and saturation.
The emerald is the only precious stone that has its own signature cut.
Apart from the classic facetted emerald cut, jewellers also use smooth cabochon emeralds in a variety of shapes from round and pear to pillow and sugarloaf. Bulgari, a maison that loves coloured stones, often uses large cabochon emeralds in its high jewellery collections.
As the jeweller of choice for Elizabeth Taylor who famously played Cleopatra in 1963, Bulgari's obsession for this striking green beryl cannot be more apt. The Egyptian queen was known to adore emeralds so much she went out and bought her own mines.
Other stars known for their love for emeralds include Angelina Jolie, Cardi B, and Dita Von Teese. Jolie most memorably wore a knock-out pair of emerald earrings by Lorraine Schwartz on the Oscar red carpet in 2009, getting everyone else on the emerald trail.
Cartier as well, adores emeralds. To this day we're still trying to get over that 140.21-carat square cabochon emerald on that necklace which converts into a tiara from its Resonances de Cartier high jewellery collection from 2017. Not only is its size incredible but the beautiful inclusions around the stone makes it mesmerising beyond compare.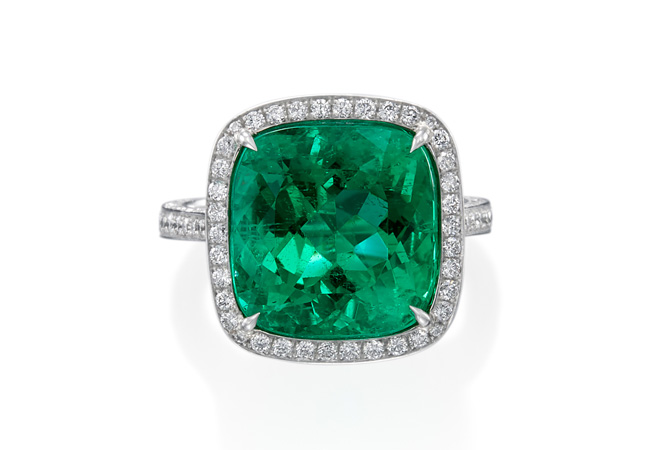 Hang on. Inclusions? Beautiful? Are we in some kind of parallel universe? 
Yes, when it comes to emeralds, inclusions – or flaws as some of us call it – are an acceptable, even desirable feature. Because it is so rare to find any emeralds of a reasonably good size without a single inclusion, these craggy streaky cloudy bits give each stone its unique character. It's like there's a little green garden inside every emerald waiting to be discovered.
No wonder it's so poetically called jardin, which is French for garden. But not any and all inclusions are universally loved and accepted. Eye-clean stones are of course the most highly prized. According to Christie's, it is so common for emeralds to be flawed that a clean stone is virtually unknown.
When it comes to emeralds, inclusions – or flaws as some of us call it – are a desirable feature.
Jardins should not impact the stone's inherent durability, neither should they be over-presented or too close to the surface. 99 per cent of all emeralds come with inclusions, which means you should be cautious about stones that are completely flawless.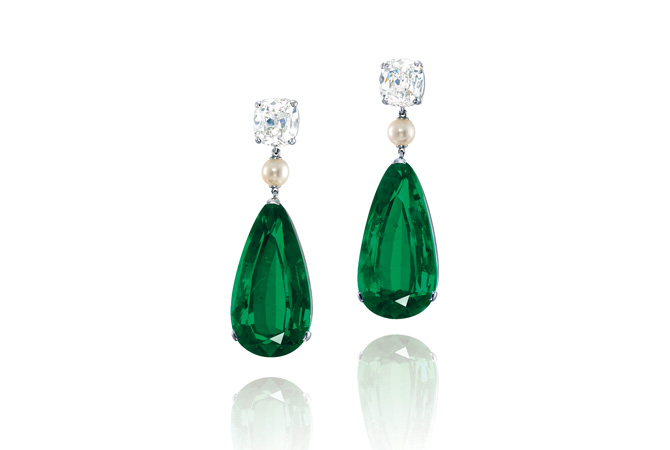 Emeralds are usually treated in some way. Jewellers use oils such as cedarwood oil and other polymers to fill surface-reaching cracks, and also to improve a stone's clarity and strength. Again, like inclusions, it is so common for emeralds to be treated that an untreated stone is extremely valuable. Obviously the more a stone is treated, the more its value diminishes.
Unlike heating sapphires, however, oiling emeralds isn't a permanent treatment. This means that over the years, an emerald will change in its appearance, so it may need to be re-oiled.
99 per cent of all emeralds come with inclusions
The best emeralds come from Colombia, specifically the Chivor Mine and the Muzo Mine. Colombia contributes 60 per cent of the world's emerald supply. Other sources include Brazil, Zambia and Zimbabwe.
Worn on their own or paired with diamonds and other stones, emeralds add a dazzling pop of green to any outfit. We suggest pairing emerald jewellery with an all-black ensemble or dark neutral colour tones. Avoid prints and patterns and go easy on the colour wheel if you don't want to end up looking like a Jackson Pollock painting.