These transformable pendants, colourful stones and secret watches promise a ball of a time
If you're running out of ways to wear beads, just turn to the Van Cleef & Arpels Perlée collection for styling ideas. Influenced by the French jewellery making technique called millegrain, which is a cherished feature of the vintage Alhambra line, Perlée combines glittery gold with a soft rounded aesthetic enhanced by tiny golden beads.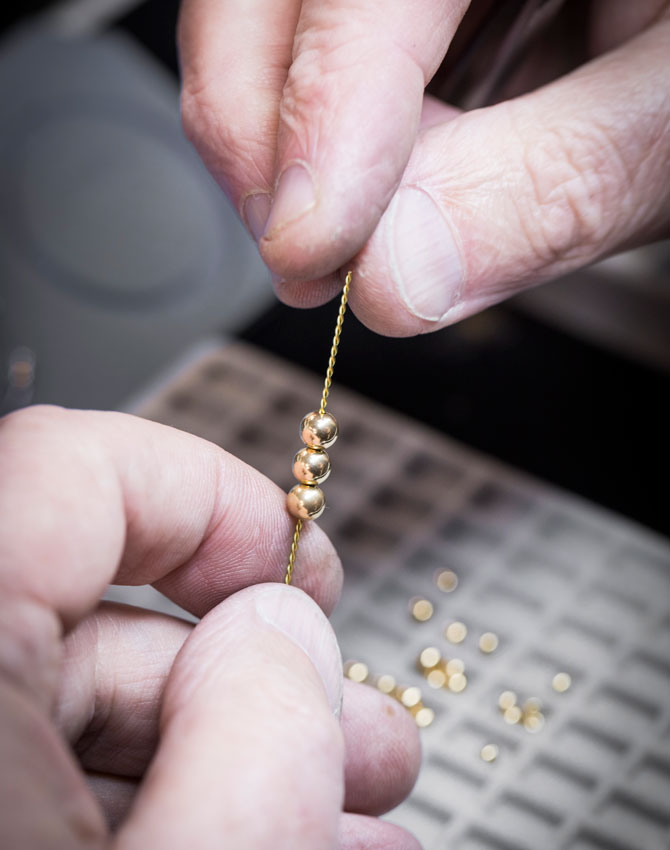 To bring out its distinctive shimmer, every bead has been shaped and polished by hand before being strung onto gold thread or soldered together to form a ring. An ode to elegance and modernity, the Perlée collection is loved for its tactile beauty and timeless allure.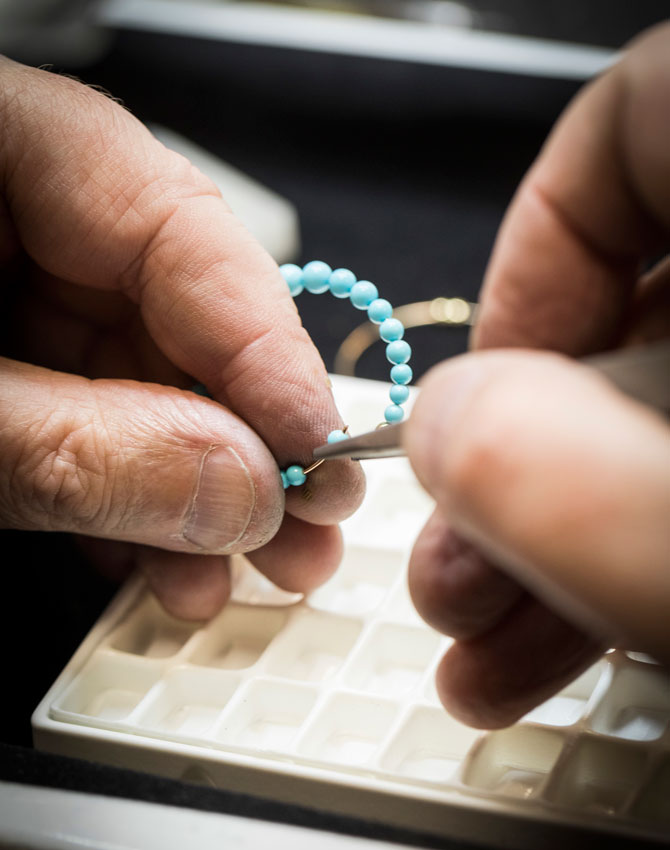 The pieces are as delicate as they are comfortable to wear, and the maison has recently introduced a new assortment that includes for the first time long necklaces and secret watches.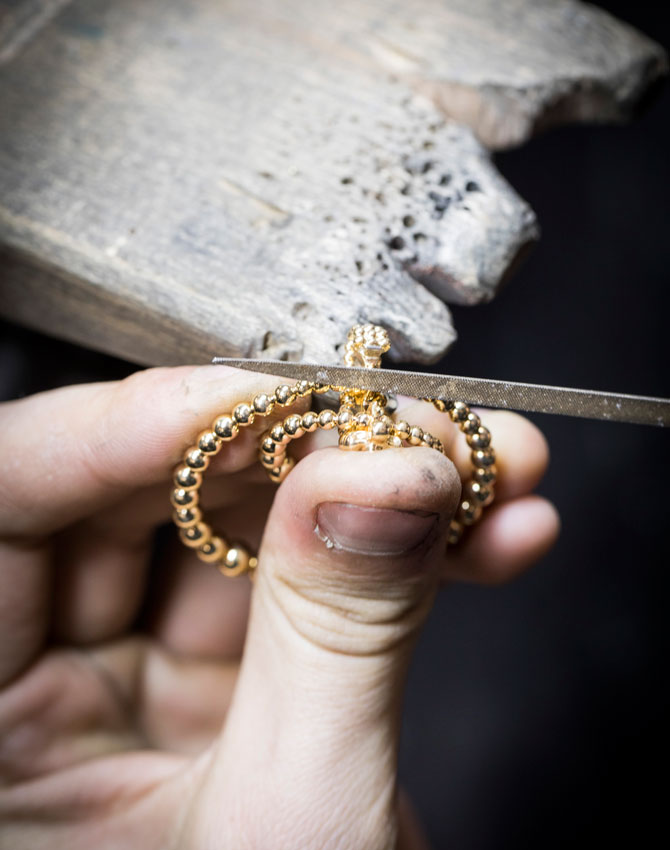 Stackable & Transformable
The Perlée collection highlights its playful spirit first with a long necklace in full yellow gold. But what sets it apart from other similar pieces is that the three-ring pendant it comes with a middle ring that can be removed.
And why would you do that? So that another ring, this time made of coloured hardstones such as turquoise, onyx and coral, can be swapped in for a pop of colour. How convenient!
You can wear this slinky piece in full gold when you're dressing up for a chi-chi evening soiree but play around with the stone ring while on holiday – or whenever the mood strikes tbh.
Likewise, the new Perlée diamond rings bank on the power of three. A single row of brilliant round diamonds gets sandwiched between two rows of precious golden beads. Crafted in yellow, pink or white gold, these pieces can be worn on its own or stacked up for three times the impact.
The unique open-worked gold structure allows light to pass through the diamonds, showing off their intense sparkle.
Coloured Stones & Secret Watches
Also new in the 2019 Perlée line are three jewellery sets which include earrings, a ring and a necklace. This time, the iconic Perlée millegrain motif is used to accentuate three types of cabochon hardstones: green malachite (delivered on yellow gold), carnelian (delivered on rose gold) and turquoise (delivered on white gold).
Wear them as a matching three-piece set or be a daredevil, mix and match the different stones and golds. As we've established in Buro Stack It On, there are absolutely no rules when it comes to jewellery stacking. So go ahead and get busy layering.
Don't neglect your wrists too! The Perlée collection debuts a new selection of secret watches that looks just like your garden variety bangle, only there's a little watch dial hiding in plain sight.
Inspired by the toi et moi jewellery style, these bracelet watches feature two perlée motifs on the ends of the bangle, one of which can be pivoted open to reveal the time on a mother-of-pearl dial surrounded by diamonds.
There are three variations to choose from: Green malachite and coral on pink gold, lapis lazuli and pavé diamonds on yellow gold, and full pavé diamonds on pink gold. While Van Cleef & Arpels's work with hardstones is unmatched in its field, this is the first time the maison has used lapis lazuli and coral in the Perlée collection.