Meet the new Patrimony Perpetual Calendar Ultra-Thin
As the world's oldest watchmaking company, Vacheron Constantin is good at a lot of things. It should be, given how much time it spent making those things. Tourbillons, repeaters, chronographs, perpetual calendars...
And sometimes, just to make things more difficult for itself, the manufacture makes an ultra thin version of these aforementioned complications. 
The Patrimony Perpetual Calendar Ultra-Thin is the latest addition to Vacheron Constantin's collection of ultra thin complications but looks as if it's been around all along. That's how discreet and harmonious it is to the overall picture at the Genevan maison.
In fact, it's a bit hard to believe that Vacheron Constantin never had an ultra thin perpetual calendar in the Patrimony line before this.
To be clear, there were lots of perpetuals. Just no ultra thin perpetuals.
So the good news is, the wait is over. This super elegant number in 18K pink gold dazzles with a sexy midnight blue dial. I believe we can all agree that the pink gold on dark blue combo is one of the least offensive colour pairings in the luxury universe.
Look at the finish as well. That subtle sunburst effect brings a soft warm glow that prevents it from being too muted.
Looking super svelte from the side, this watch doesn't need much convincing for those who are used to custom fit shirts. Legit, finding a watch that fits perfectly and comfortably under the cuff can be difficult.
If you've had the pleasure of ever owning an ultra thin timepiece, you're nodding your head right now.
An ultra thin watch is a challenge to make because of the space constraints. It's like you have all this furniture in your good class bungalow and then now you've got to make it all fit in a five-room flat.
But an ultra thin complication is even more of a challenge because now you have to add a tennis court and swimming pool in that five-room flat.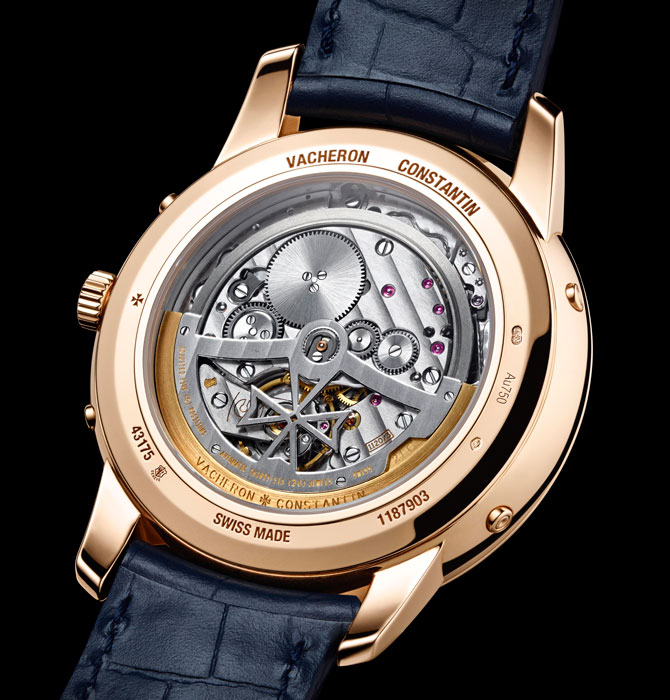 Of course the Patrimony Perpetual Calendar Ultra-Thin very deftly handles all of that. But there's more: Most ultra thin watches, complicated or otherwise, run on manually wound movements. This is so that there is no need for an oscillating rotor which adds height. 
The Patrimony Perpetual Calendar Ultra-Thin however offers a self-winding movement that's not only ultra-thin but also highly complicated. Measuring just 4.05mm in height, Calibre 1120 QP/1 was first used in the Overseas Perpetual Calendar Ultra-Thin.
Lastly, this is a boutique exclusive piece so if you're interested in finding out more, head on down to either of the two Vacheron Constantin stores in Ion Orchard and The Shoppes at Marina Bay Sands.