Everyone's crazy about Tudor these days, even pop musicians and soccer stars
There are so many reasons to get onto the Tudor bandwagon right now: Great design, great quality, great pricing, celebrities like Lady Gaga and David Beckham are on it... Okay maybe that's not a great reason, but make no mistake, this ain't no flash in the pan. Tudor had been rebuilding its brand identity and watch collections swiftly and steadily over the past seven years, beginning with the widely acclaimed Heritage Chrono in 2010.
From that point, it focused on vintage remakes, reaching deeply into its archives to combine unique heritage with a strong modern twist. In fact, when it released its watches paired with vintage style fabric straps, Tudor had essentially ignited the entire NATO strap craze that is a whole other gravy train. Then in 2012 it hit upon the runaway success that was the Heritage Black Bay, and the rest as the saying goes is history.
The Black Bay's success and popularity can be inferred from the many additional variations Tudor had recently launched. Now this watch exists in bronze, steel, and steel-and-gold, as well as in classic or sporty iterations. There is also a bi-compax chronograph model and an elegant 36mm version for smaller wrists.
Of course, they all feature the much-loved snowflake-shaped hour hand, which is the definitive feature here, but for many watch nerds and collectors, if you could have only one Black Bay, it would have to be the original model reference 7922R.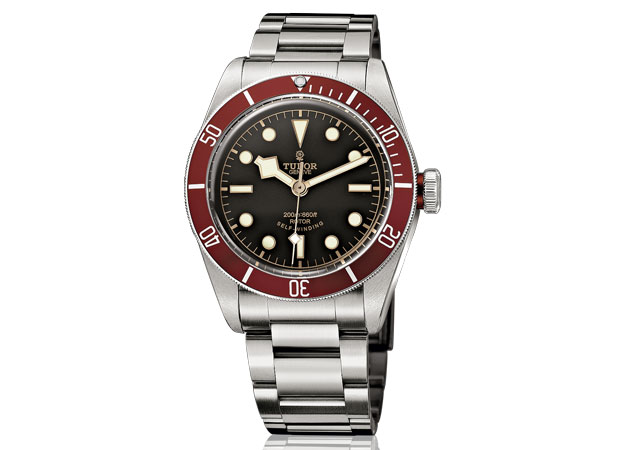 Like many iconic watches of our time, the Black Bay reference 7922R garnered as much praise as it did criticism at its debut. A hybrid of three different Tudor Oyster Prince Submariners, its bezel was inspired by a 1955 model while the snowflake hour hand came from a 1969 model, and the idea to pair it with a fabric strap came from a 1977 model – sounds weird on paper but works like a charm in reality.
The burgundy bezel stands out prominently, as very few watches come in this hue, and the oversized hour indexes and snowflake hand instantly catch the eye. Gilt typography on a matte black dial instantly gives it old fashioned good looks. Loads of throwbacks around the dial too, with a rose emblem above the Tudor insignia and the words ROTOR SELF-WINDING reminding us of the 70s style Tudor Oyster Prince models.
Whether with a steel bracelet, an aged leather strap or a vintage style fabric NATO strap, the Tudor Black Bay reference 7022R is the epitome of cool. The only problem is that you can't buy it anymore – at least not from the official distributors – because like so many of the coolest watches to have ever been made, it's gone out of production.
But it's not the end of the world; Tudor has replaced it with a new model, reference M79230R, which has its own strengths. For starters, this second-generation timepiece comes with an in-house movement, Calibre MT5602, which is COSC-certified, meaning it has a standard industry accuracy rating.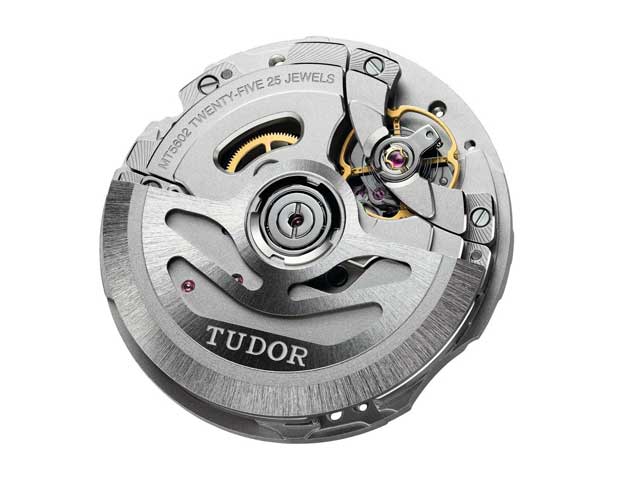 One quick way to distinguish between the two is to look at the brand emblem. Reference 7922R has a rose while M79230R has a shield, where the rose is Tudor's historical logo and the shield is its current one. The brand made this change sometime in the late 1960s when they transitioned to third-party movements from in-house ones manufactured by sister company Rolex.
Here's how the two watches stack up against each other.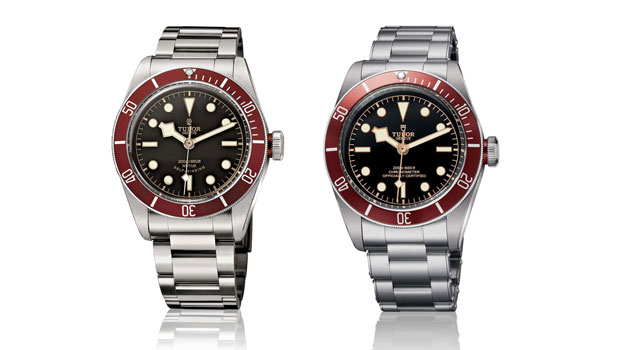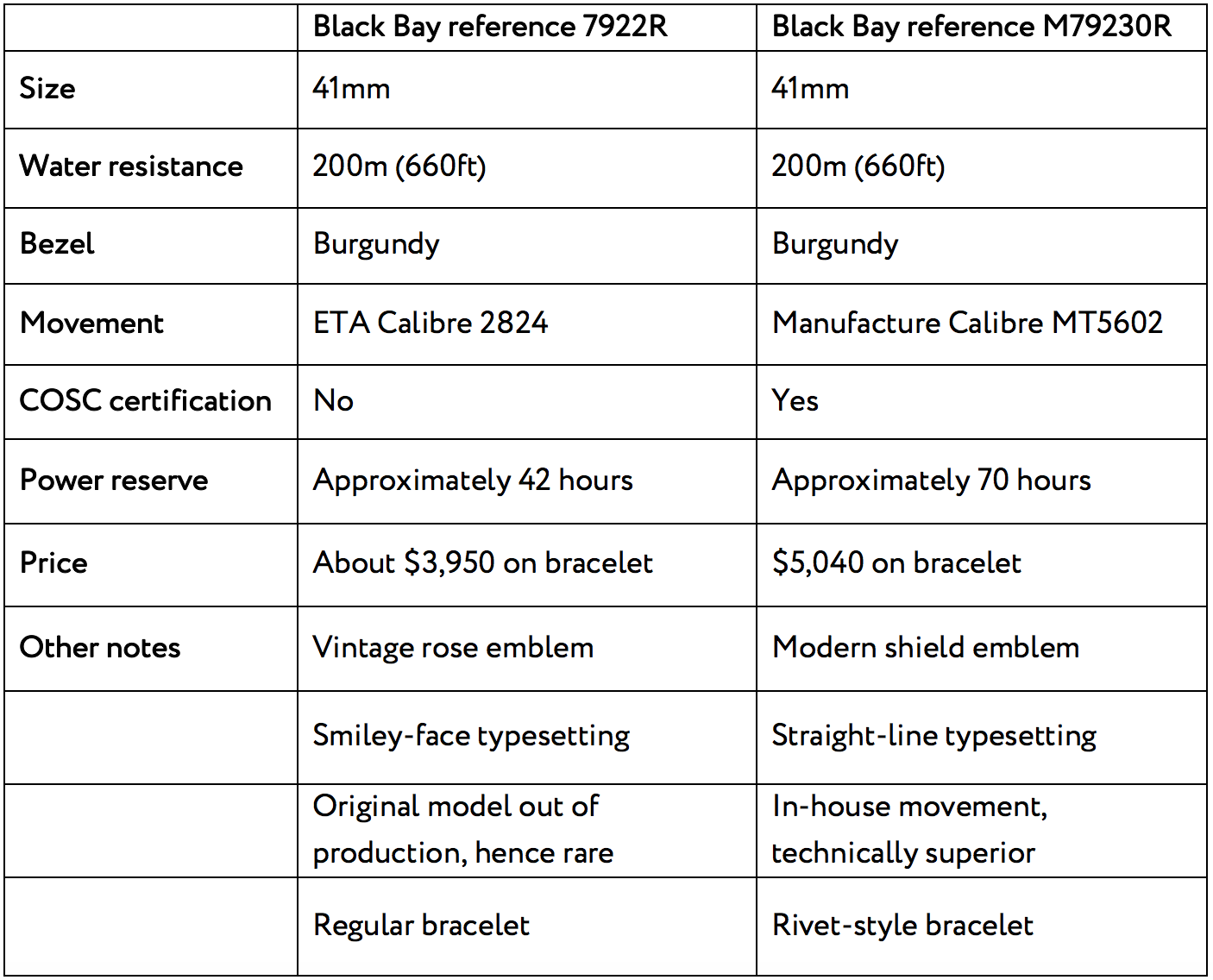 The Tudor Black Bay Ref M79230R is available at all Tudor boutiques and authorised retailers.