Chock full of good cheese, chocolates and wine, this cultural city was once the centre of the world – the watchmaking world
Completely bordered by France to the west, Geneva is said to be very French in its ways but look a little closer and you'll see where all the Swiss-ness comes in.
A charming and perfectly organised city with polite folk and clean fresh air, Geneva is an ideal destination for those who love wide open spaces, European history, fine chocolates, a staggering variety of cheese-based meals, and world peace.
Did we miss anything out? Oh of course, watches!
It is the centre of the watchmaking world. Many of the world's leading watch companies are headquartered in Geneva. Patek Philippe, Rolex, Vacheron Constantin, Chopard, Roger Dubuis, Harry Winston and more.
Watchmaking culture is said to be so strong in Geneva that two strangers meeting at a bar would not ask what each other did for a living, but for which watch company they worked. True story.
Indeed, horology is such a big part of Geneva that no visit would be complete without touching this centuries old craft. And it is everywhere! Spend one day here and take a jaunt around the city. We guarantee you will leave with even more respect and appreciation of the work of a watchmaker than ever before.
Where to learn about watches and horology
Patek Philippe Museum
Horology is the art of making clocks and watches. In Geneva, there's no better place to start than the Patek Philippe Museum. Located in an entirely restored Art Deco building, over five centuries of watchmaking history is packed into two collections: The Antiques Collection (16thto 19thcentury) and the Patek Philippe collection (1839 to the present).
Every Saturday, the Museum organises public guided tours in English at 2.30pm. Private guided tours are available only by appointment. Email [email protected].
From May to October, there is a cultural and didactic three-hour tour through the historic streets of Geneva in the era of cabinotiers, also known as bespoke watchmakers, ending with a "discovery" visit of the Patek Philippe Museum.
Rue des Vieux-Grenadiers 7, 1205 Geneva, Switzerland
Tel.: +41 22 707 30 10
Tickets:
Adults: CHF 10.00
Senior, disabled, unemployed, students aged 18-25: CHF 7.00
Groups of more than 10: CHF 5.00
Children under 18: Free
Opening hours:
Tuesday to Friday 14h00 to 18h00
Saturday 10h00 to 18h00
Closed on bank holidays
MB&F M.A.D. Gallery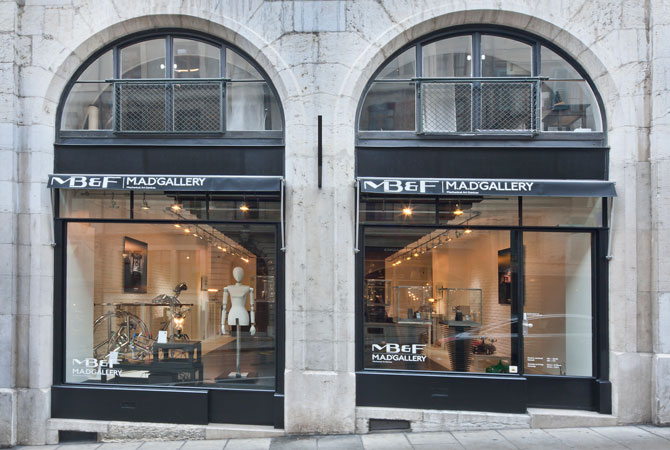 One of the earliest proponents of modern watchmaking art, MB&F is known for out-of-this-world three-dimensional timepieces that resemble spaceships, race cars and cassette tapes. Founder Max Büsser envisioned a collaborative process of watchmaking that celebrates individuality, sharing the spotlight with the createurs who've contributed to each timepiece.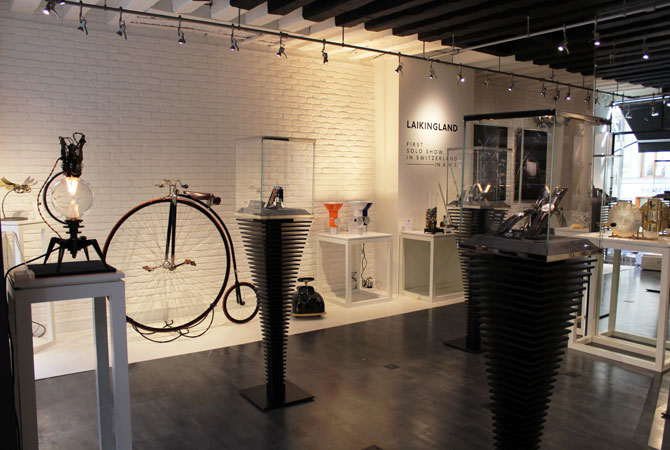 MB&F M.A.D Gallery is a one-of-a-kind creative space showcasing different interpretations of three-dimensional art. As passionate about watches as he is about art, Büsser personally curates the exhibits which are extraordinary to say the least. Think exploding cars, microcomponents forming a human body, mechanical singing boxes, and handcrafted motorcycles. Entry is free.
Rue Verdaine 11, 1204 Genève, Switzerland
Tel.: +41 22 508 10 38
Opening hours:
Tuesday to Friday: 10h00 to 6h30
Saturday: 10h00 to 5h00
Closed on Sundays, Mondays and bank holidays.
Tour de l'Île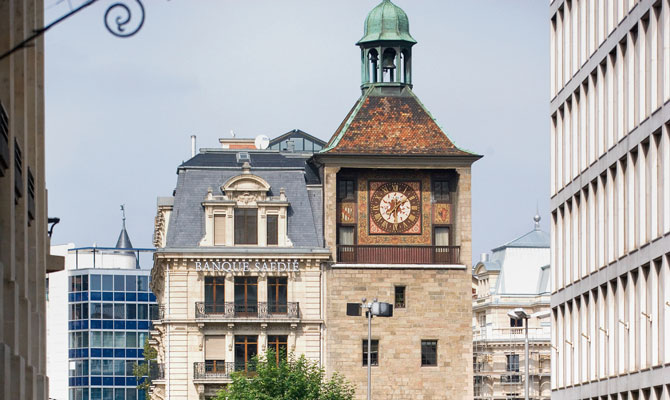 A little castle on an island at the mouth of the Rhône river leading into Lake Geneva, Tour de l'Île is also pretty close to another touristic site, the Bâtiment des Forces Motrices, so you could spot those two places at once.
If the name sounds familiar, you might have heard of it through Vacheron Constantin, whose Tour de l'Île grand complication made in 2005 was once the world's most complicated wristwatch.
That watch was named thusly because the Tour de l'Île (pronounced toor de leel) used to be the site of Vacheron Constantin's watchmaking atelier in the mid 1800s. The Vacheron family lived and worked there for several years before moving down the street to Quai des Moulins.
Today, the Vacheron Constantin heritage department occupies the tower's top floor, which offers access to the back of the tower clock to see its mechanism.
Jet d'Eau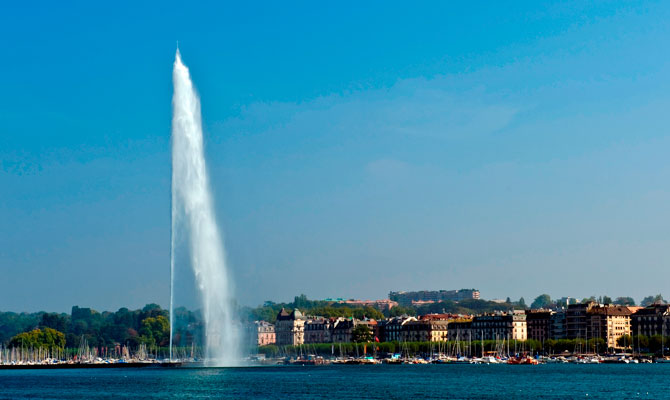 It's just a giant manmade water fountain so what has this iconic water feature got to do with watchmaking? Geneva's Jet d'Eau, which literally means water jet, was first built in 1886 as a solution to a problem that arose from the watchmaking trade.
After scores of watchmaking craftsmen descended around the Rhône, drawn here by the available hydraulic energy, they were able to use pressurised water to operate machines. By day's end, these cabinotiers would collectively turn off the taps, leading to over-pressure at the main pumps.
Eventually, one of the machinists hatched the brilliant plan to install a safety valve that redirects the water skywards. This valve was then moved to the lake and eventually because an institutionalised tourist attraction.
See the Jet d'Eau as you stroll along Quai du Mont-Blanc or whenever you cross Pont du Mont-Blanc to get into the Old Town.
Les Ambassadeurs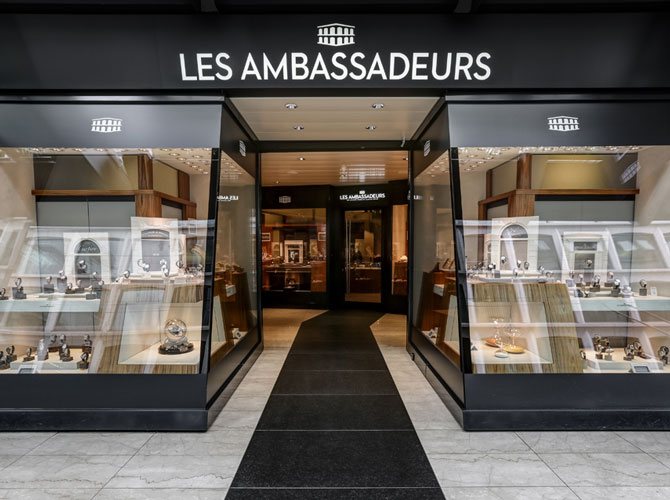 Lots of people come to Geneva to realise their dreams of a beautiful luxury watch. While there is no shortage of watch boutiques around town, Les Ambassadeurs is regarded as the best among equals. It has the widest selection and is staffed by a knowledgable and passionate team.
Address: Rue du Rhône 62, 1204 Genève, Switzerland
Tel.: +41 22 318 62 22
How to enjoy a quintessentially Swiss meal
There is no meal more quintessentially Swiss than cheese fondue. But did you know there are many different kinds of fondue? Other than cheese, there's fondue bourguignonne where cubes of raw beef are dipped into hot oil and fried, fondue chinoise where oil is replaced with broth just like Chinese hotpot, and of course there's chocolate fondue, where fruit and pastries are dipped into melted chocolate.
And even for cheese fondue there are so many different types. Fondue aux herbes (herbed fondue), fondue à la tomates (tomatoes), fondue aux bolets (mushrooms), fondue au paysanne (peasant fondue!) with bacon and mushrooms, champagne fondue where they replace white wine with champagne, goat's cheese fondue...
But in Geneva, the one that you absolutely must try first is the classic fondue moitié-moitié.
Moitié-moitié means half-half. Specifically, half and half of local cheeses Vacherin Fribourgeois and Gruyère in one bubbling caquelon. Served with cubed crusty bread and warm potatoes, you need to mop the base of the pot with your bread to prevent the cheese from burning.
Instead of cold drinks or water which will upset your tummy, remember to pair your meal with a glass (or bottle) of wine. Local Swiss whites like Chasselas goes especially well with fondue – and don't forget the religieuse at the end.
La religieuse is the crisp browned layer at the bottom of the pot after all the melted cheese has been eaten. Take your fork and scrape away to release it, hopefully in one piece, and give it a nibble. Trust us, it'll be the best cheese biscuit you've ever eaten in your life.
If you're dining as a group, order a platter of Swiss air-dried beef and cured hams (called assiette Valaisanne) to share. The restaurant will also provide cornichons and pickled pearl onions. These salty, sour notes will cut through the cheese's heavy flavours very nicely.
Where to find the best cheese fondue
Geneva offers several good places to hit up for a cheesy lunch or dinner, ranging from the mid-range to the straight up atas. Expect to pay upwards of CHF29 per person, excluding wine. If you're only in for the food and not a fine-dining ambiance, just pick somewhere mid-range because there's no such thing as bad fondue in Geneva.
Restaurant Les Armures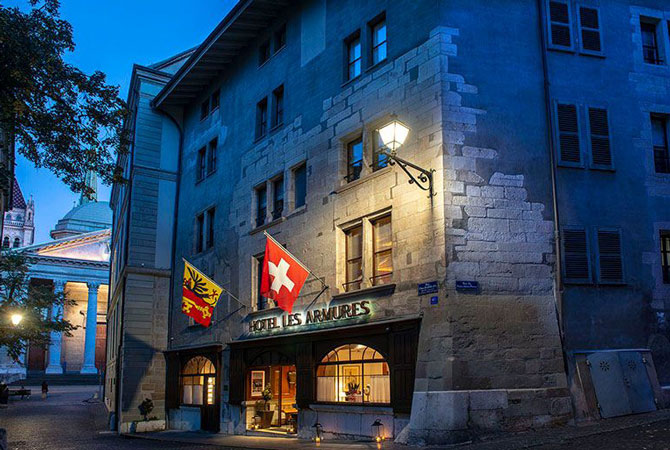 Located at the five-star Hôtel Les Armures, the prices are high at this classy stalwart and the service, commensurate. Providing flawless cuisine, it's located on the hilltop of the beautiful Geneva old town.
Address: Rue Otto Barban, 1204 Geneva, Switzerland
Tel.: +41 22 310 91 72
Café du Soleil
A favourite with the locals, this informal joint is situated in a 400-year-old space. The menu is small but very, very good. If you have space left after the meal, finish with a classic Swiss dessert, meringues with Gruyere double cream – it's life-changing.
Address: Place du Petit-Saconnex 6, 1209 Genève, Switzerland
Tel.: +41 22 733 34 17
La Buvette des Bains des Paquîs
For its unbeatable view, this lakeside restaurant is at its best during the day. The ambiance is convivial and suitable for large groups. Don't leave without a shot of Schnapps to help digest and warm up as you walk back to the hotel.
Address: Quai du Mont-Blanc 30, 1201 Genève, Switzerland
Tel.: +41 22 738 16 16
Restaurant Edelweiss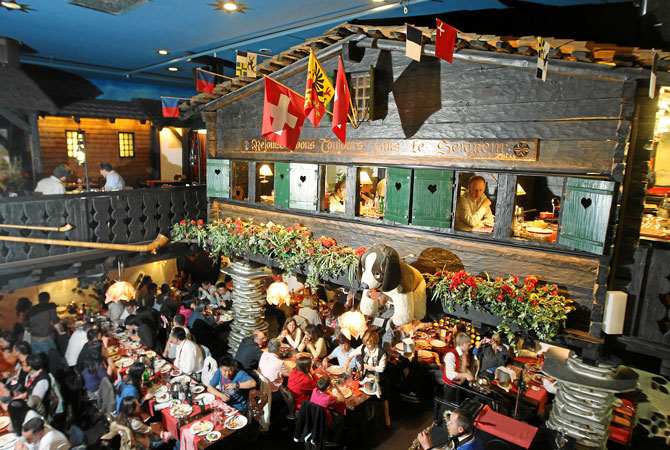 The deceptively calm exterior is betrayed the moment its doors open. Fumes of fondue, giant cuddly Bernese Mountain Dogs and the blare of the Alphorn welcome you to a boisterous Swiss experience par excellence. If it's your first time to Switzerland, make this your first dinner stop.
Address: Place de la Navigation 2, 1201 Genève, Switzerland
Tel.: +41 22 544 51 51
Bonus: Where to shop for chocolates
Like France and Belgium, Switzerland is famous for its chocolates. Why is Swiss chocolate famous? Some say it's because of the milk. Being an alpine country, Swiss cows live at a higher altitude than those elsewhere. Thus, the milk they produce, known as alpine milk, is richer, denser and less aerated.
Whatever the reason, it's not just us tourists who are crazy about Swiss chocolates; the locals love it as well. And they definitely have their favourites. Here are the four most renowned chocolatiers in the city.
Confiserie Sprüngli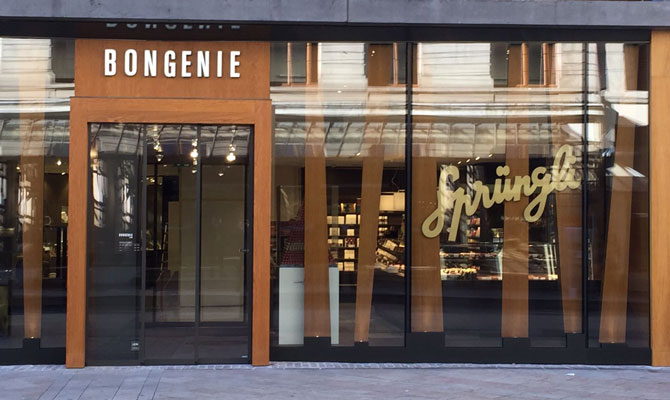 The Rolls-Royce of Swiss chocolates, Confiserie Sprüngli is great for handcrafted pralines and the little macarons they call Luxemburgeli. Located all over Switzerland, it is the brand to get if you want to leave the best impresh.
Läderach Swiss Chocolatier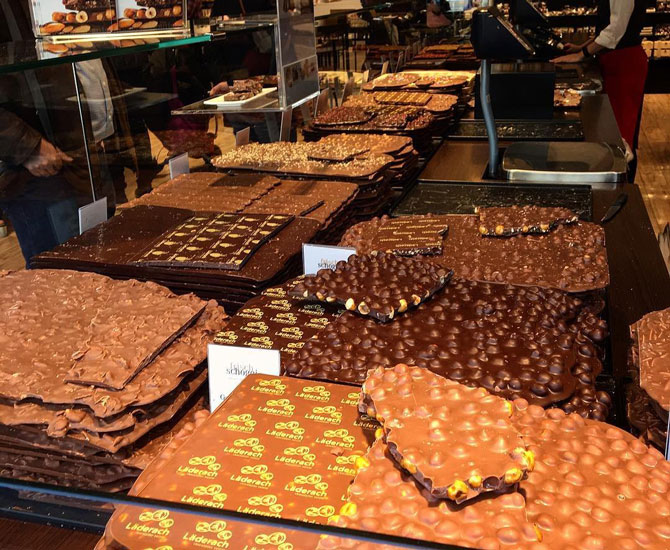 Peer through the windows to ogle at gorgeous slabs of freshly tempered chocolate stuffed with all kinds of nuts, fruits and candy. Get them prepacked or pick and choose by weight. Feel free to sample them too.
Auer Chocolatier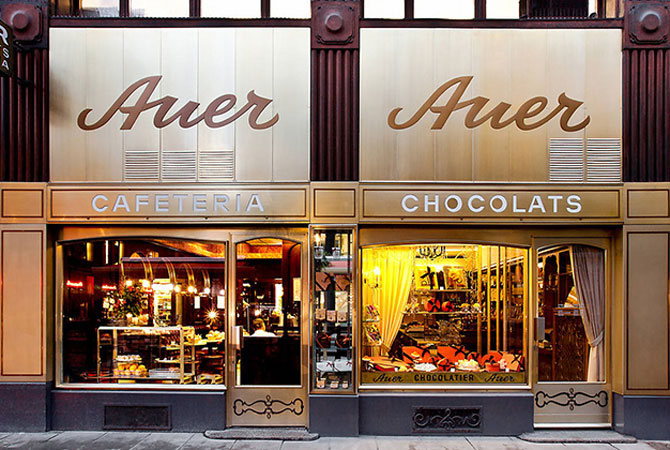 The chocolate-coated almonds are TDF although Auer Chocolatier, practically an institution in Geneva, also sells candied fruit and handrafted pralines. Amandes princesses are blanched whole almonds thinly glazed with a syrup and enrobed with dense smooth chocolate and finally dusted with cocoa powder – heaven in a bite.
Martel Chocolatier
Established since 1818, this café and chocolatier is a great place to dine in at. Sample chocolate dragees or order coffee with freshly-baked cakes and pastries.