This stylish mother of two discusses the importance of constant reinvention in a digitally driven world
Her designs have been picked up by the likes of Kylie Jenner, Bella Hadid, Chrissy Teigen and more but Jenn Low of Wanderlust + Co. hasn't forgotten consumers from our part of the world. Having started her own jewellery brand nine years ago, Malaysian-born Low has been through some of the most exciting times to be an entrepreneur. It could be said that Wanderlust + Co. came out at the right time, just before the social media boom, to fill a sweet spot where cool designs meet accessible prices.
This year, Luxasia approached Low for a partnership to expand and grow the brand in Southeast Asia. Being a native to this region, Low was obviously keen but more importantly, this deal allowed her to take up the next challenge: Offline activations. As a digitally driven brand, Wanderlust + Co.'s strongest markets have been the US, the UK and Australia. Now with the Luxasia partnership, jewellery-loving millennials here are going to see more of Low and her fun quirky collections not just on the Internet but also in creative pop ups around Singapore, Malaysia, Hong Kong and The Philippines.
How did you get your start in creating Wanderlust + Co.?
The idea came out in 2009 and we launched in 2010. The landscape and industry were very different that the time. Today we're very fortunate to live in a time where it's very normal for an entrepreneur, even a female entrepreneur, to come up with an idea, and have people back you up for it, say go for it, try. 10 years ago, Instagram didn't even exist.
How was it like building a brand nine years ago versus today?
It's a lot easier today but also more saturated, and 10 years ago it was more difficult but less saturated. When times change, you exchange challenges. There's never a perfect scenario. As independent business you just have to take the situation as they come and make the best decisions possible in that moment.
What are the key challenges that you face today?
I think challenges are sometime self-inflicted. With ambition comes challenges. In fashion and especially e-commerce the landscape is always changing. Content and how it's being created and how it's being consumed is changing all the time. The way consumers want to receive marketing and news is changing all the time. The challenge is to keep up with all that and staying current whilst staying authentic to your voice.
How are you dealing with that?
I think the upside is that all of us are learning, including very big brands like Samsung and Selfridges. We all need to constantly reinvent ourselves. Just because something worked phenomenally in the past doesn't mean you can cookie-cut that method over and over again. In today's digital world, we're all learning together so it's a more level playing field for everyone who has access to technology.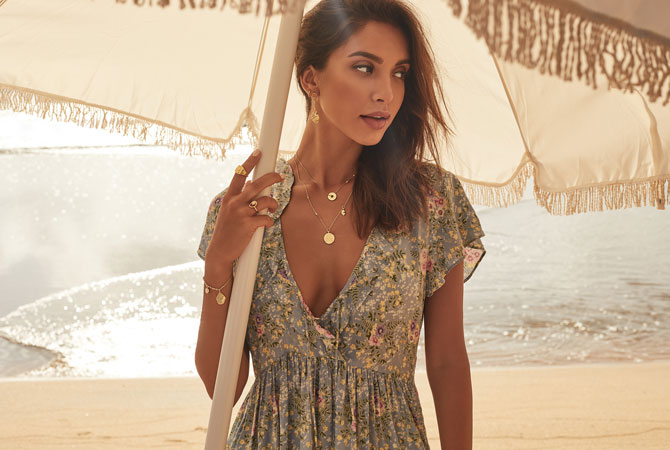 So what's your strategy?
We really want to create more omni-channel strategies. Being a digitally native brand we're very much online driven, so a challenge we've taken on a year ago is to do these offline pop ups and more offline activations where we really engage and apply that human touch to the experience. The challenge, is translating what we do online and making sure that people are experiencing the same thing offline, or, surpassing a customer's expectation. Brands like Glossier do it really well and we aspire to reinvent how we create experiences for everyone.
Yes, the retail sector is really going through serious upheaval.
Businesses need to reinvent themselves. Macy's is in financial struggle. Nordstrom had to let go of hundreds. All of them are under threat from Amazon. But Amazon is not new now. It's almost 20 years old. It's been a long time coming. Zappos has also really affected the shoe industry by bringing everything online. I think the future of retail is going to be people-centric and people-focused. It's all about saying, "If the consumer is at the heart of this experience, what do they want and how do I think about that before they know they even want it?" and offer them that experience.
What is your biggest takeaway here?
When it comes to the jewellery category, there's a lot of big name brands, all your Western brands in the big malls, and then there's very fast fashion like Forever 21, Topshop, Zara – but nothing much in between. Even from a design perspective there's a lot things with lots of crystals and a more traditional styling. No one was merging trends with fun and making it very accessible, wearable, quirky for that 20 to 40 year-old crowd who's very much online. She wants instant gratification, she wants to wear something and feel good. At the same time she doesn't want to just wear something. She wants to know how it was designed, what brand it is, doesn't want everyone to have the same thing... That's where we come in.
How did you come up with the Make It Yours customisable collection?
As a brand we launch six to eight collections every year. That's essentially one new collection every two months. So we're all about bringing newness all the time. In the past 18 months, our data showed that best sellers are everything that has charms. They always sell out and goes on pre-order. So we couldn't deny the facts anymore even though we didn't want to just jump onto the bandwagon. But we're also about giving customers what they want. So we came up with Make It Yours but we made it our way and launched our first ever diversity campaign.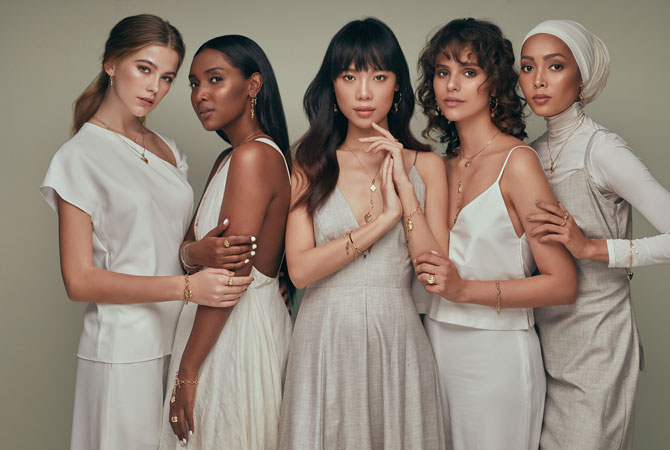 What's unique about it?
In our campaign we featured five women from five different backgrounds. We've featured our first ever Malaysian Chinese model, we've also featured Imaan, and our first hijab model. So the collection is made up of three capsules: Cosmic charms, Alphabet charms, and Gemstone charms. The whole idea is to mix it up and make it yours. A fresh and meaningful take on charms, we hope.