For more than four hundred years, the Cristalleries Royales de Saint-Louis has never once moved from its ancestral home. Located in a small village called Saint Louis-lès-Bitche in the north-eastern region of France called Münzthal, it's surrounded by acres upon acres of green wood forests and practically nothing else.
But the maison had chosen this quiet little commune for one very specific reason: natural resources.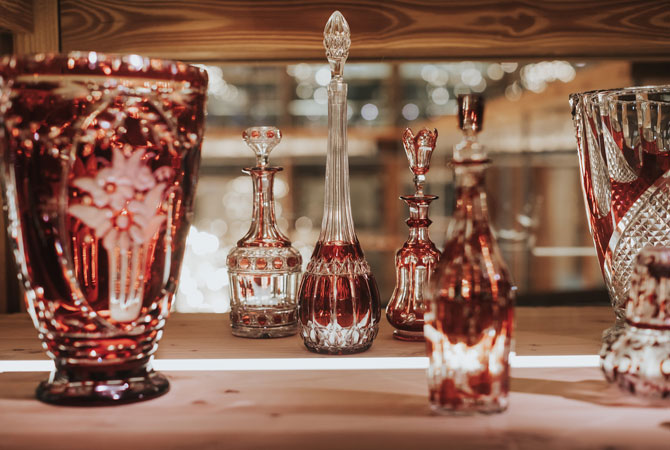 It's always about terroir for the French and accordingly, the landscape imbues a unique quality to the creations of Cristalleries Royales de Saint-Louis. Wood and ferns from the forests once fired the kilns, while water from the nearby lakes were essential to crystal production. Its flowers and colours provided the inspiration – they still do to this day.
As a matter of fact, the entire manufactory continues to operate in pretty much the same way as it did in the olden days.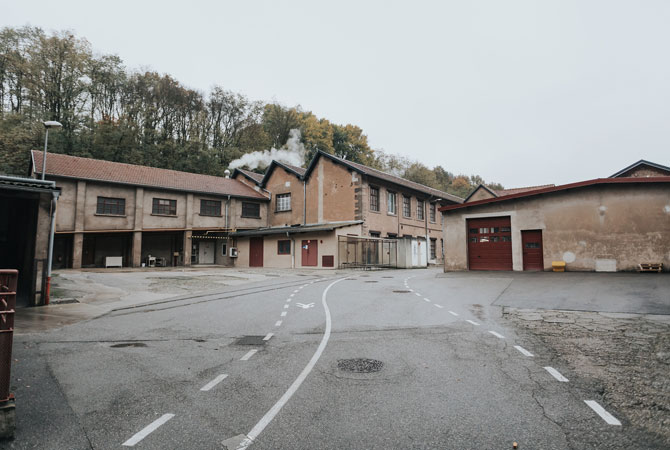 Inside Saint-Louis
Its tranquil exterior belies the heaving flurry of activity within. Production begins in the aptly named hot workshop where giant furnaces and a team of over 20 men melt, stretch, pull, blow and cut up the raw material all by hand. These masterful craftsmen are considered to be among the very best in France, with no fewer than 10 of them decorated with a Meilleurs Ouvrier de France – the highest honour a craftsman can receive.
In charge of all the affairs here is the master blower, or maître souffleur. His job is to finish each blob of molten crystal before it heads on to the next step, and he uses just very simple tools: a moulding tank, a mallet to shape the material, a scissors to sever it from the stem, and of course his own mouth plus a blowing cane.
As crystal melts at incredibly high temperatures, up to 1,450 degrees Celsius, the work here is extremely dangerous. But equipped with the most practiced hands in the business, everything is so deeply ingrained into muscle memory they barely break a sweat. Actually they do, on account of the heat from the furnaces, but they make it look effortless.
As crystal melts at incredibly high temperatures, up to 1,450 degrees Celsius, the work here is extremely dangerous.
Working with molten crystal takes a lot of experience. It's pliant when hot and brittle when cooled, and the material behaves differently during summer and winter.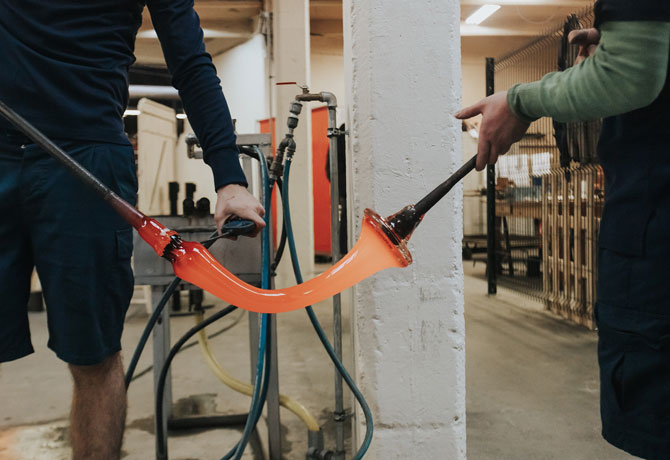 Glass Versus Crystal
Cristalleries Royales de Saint-Louis is the oldest glassmaker in Europe and the first crystalmaker in continental Europe. It was a royal glassmaker, as appointed by King Louis XV in 1767, becoming a crystalmaker in 1781 after discovering and mastering the formula for crystal.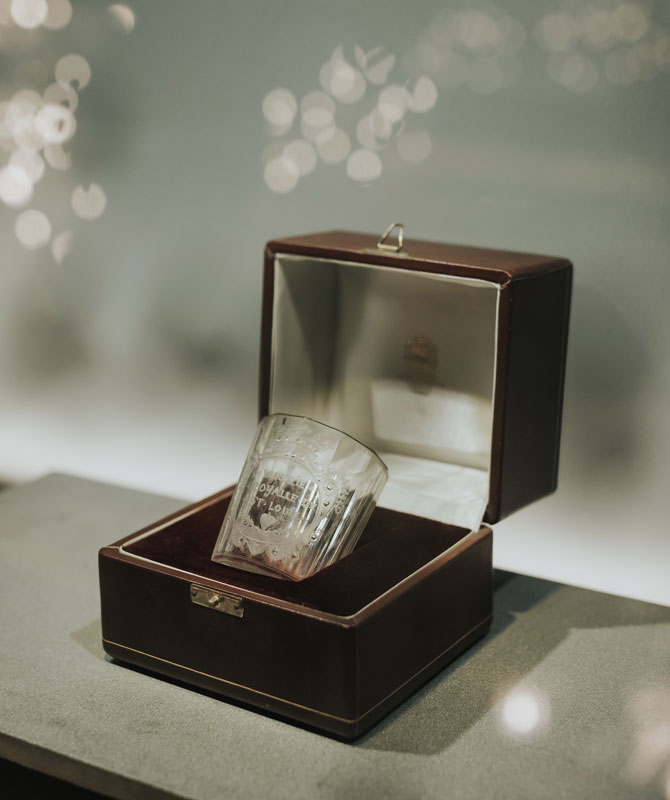 What are the differences between glass and crystal? At the Maison Saint-Louis Museum, we learned that the internal components between the two are quite similar, but there are clear distinctions, such as the key inclusion of lead in crystal. Consequently, crystal is denser and heavier. It is also more sparkling, literally crystal clear, and more transparent. When you clink two crystal glasses, the sound is also more lasting, with greater and richer resonance.
To the craftsmen, crystal is more flexible and more supple, which is why it is possible to introduce more decorations on crystal than glass.
And that's what Cristalleries Royales de Saint-Louis has done. You could always recognise a piece of crystalware made here by looking at its design. Many styles such as the criss-cross, the olives, and the twist are only found at Cristalleries Royales de Saint-Louis, whose most archetypal aesthetic always includes gold décor, colours, shapes and cuts.
You could always recognise a piece of Saint-Louis crystalware by looking at its design.
In the cold workshop, another team of craftsmen work with their noses literally to the grind. Washing, polishing, cutting and milling the crystal, you can see that they work not just with their hands but also their eyes and ears. Their hands control the tools, their eyes tell them where to cut, and their ears tell them when to stop. As they say, it's the human touch that makes all the difference between artisanal and mass produced.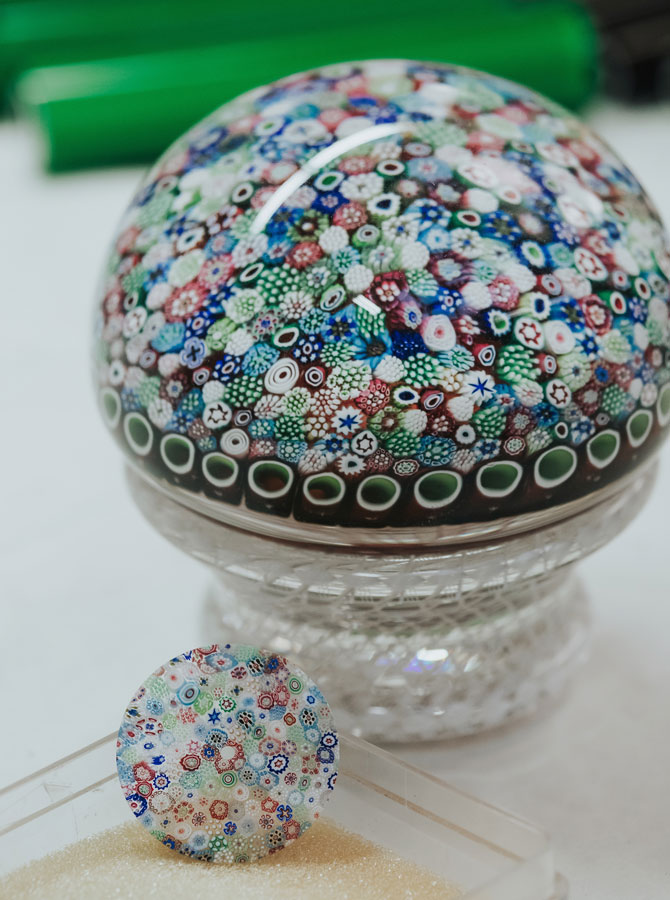 Flowers By The Thousands
The know-how is amazing and the creations are stunning, but perhaps none are more stunning and amazing than the millefiori technique found in its paperweights and other creations. Adapted from Italian glassmaking culture, it stands for thousand flowers and is literally a crystal field of beautiful flowers in all shapes, colours and sizes.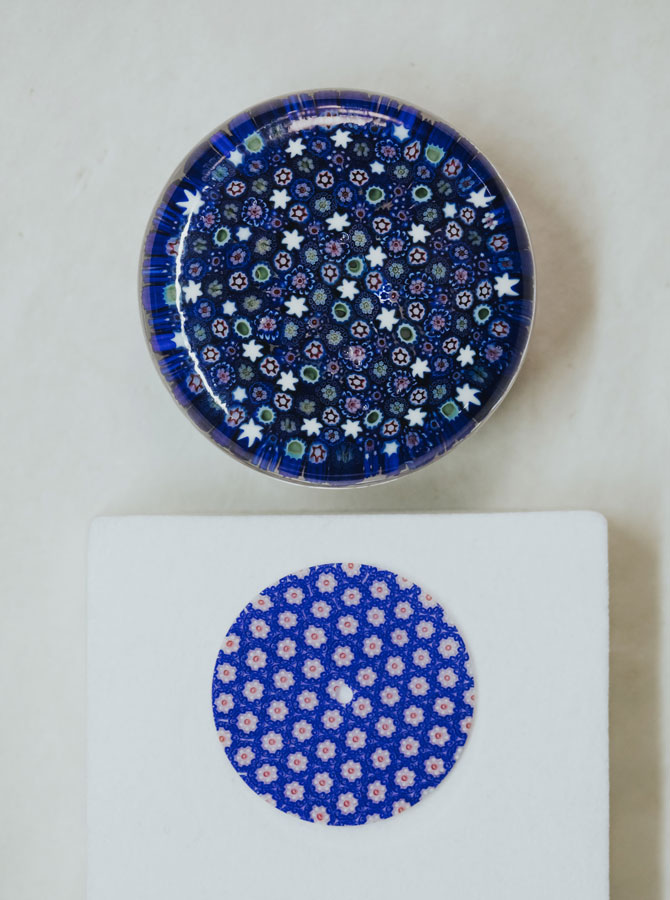 Cristalleries Royales de Saint-Louis is famous for its paperweights, especially the ones featuring millefiori. For paperweights, they are prohibitively expensive – averaging over a few thousand euros a pop – but once you realise how labour-intensive it is to make just one little flower out of this thousand-flower flowerbed, you will immediately understand why.
Millefiori stands for thousand flowers and is literally a crystal field of beautiful flowers in all shapes, colours and sizes.
Each millefiori artwork is made up of many little flowers. Called a bonbon, each one is done in a different size, colour and pattern. To make just one of these bonbons, the craftsman would have to take several different crystal canes, bunch them together, melt the whole thing in the furnace, stretch it to the desired fineness, and then cut it into little pieces.
Another artisan would then arrange these little bonbons in an aesthetically pleasing sequence – the bed of flowers as they call it. Then another big blob of molten crystal goes on top of the flowerbed, securing the bonbons, and the entire thing goes back to the furnace, gets hand-shaped by any number of finishing tools, cut from the blowing cane, and finally set aside to cool.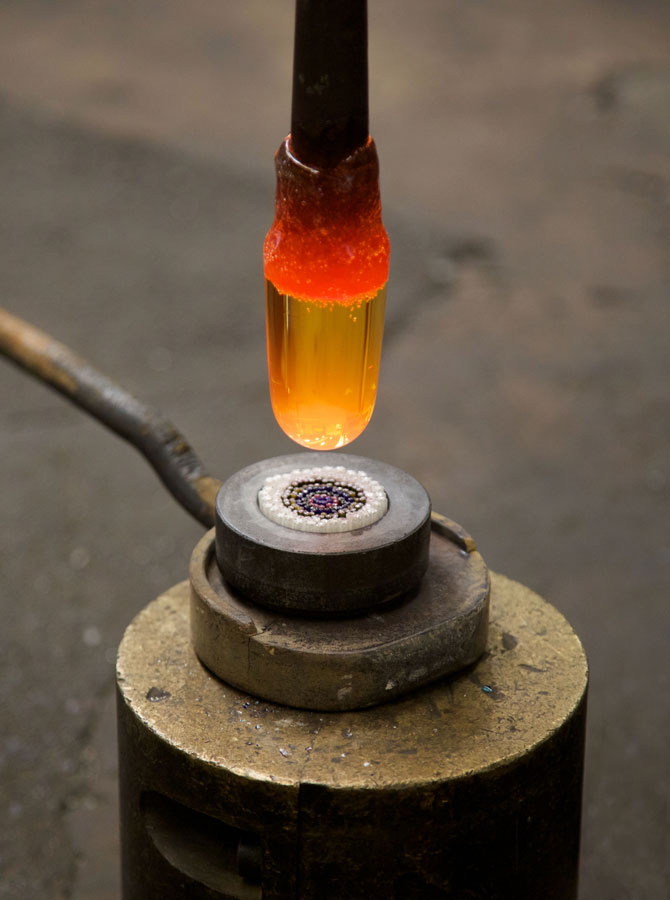 The millefiori paperweights of Cristalleries Royales de Saint-Louis are truly a sight to behold. And breath-taking, in every sense of the word.
Hermes Arceau Millefiori
Inspired by this very traditional and highly artisanal craft, Hermès worked with Cristalleries Royales de Saint-Louis on a selection of timepieces featuring millefiori dials. In 2014, it launched the Arceau pocket and wristwatches, introducing this beautiful technique to fine watchmaking for the first time ever. Hermès has, in fact, known Cristalleries Royales de Saint-Louis since 1989. That year, it acquired a full stake in the company with the sole aim of keeping it in business and the tradition of French crystalmaking alive.
It was La Montre Hermès's creative director Philippe Delhotal who saw how millefiori could also be perfect for watch dials. He approached Cristalleries Royales de Saint-Louis to collaborate and soon after the first timepieces were ready to meet the world. Through them, the entire watch world discovered a vibrant and intricate new craft.
Year on year, Hermès grew its selection of millefiori watches in number as well as creativity. Pieces like the Arceau Millefiori Croco Bleu showcase a crocodile scale pattern in place of the classical flowerbed – how very intriguing.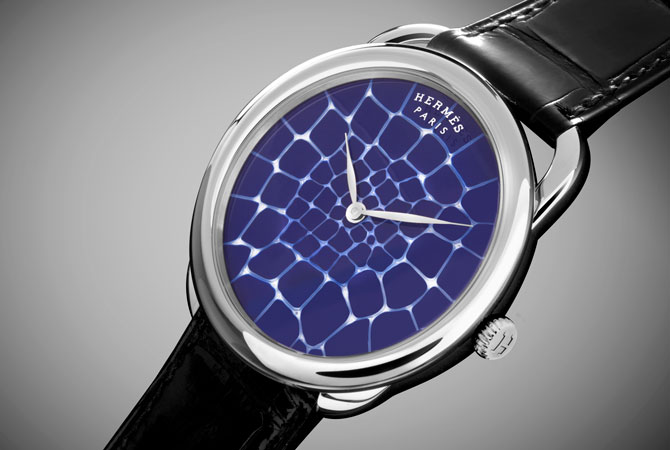 Although, that's just the way Hermès is as a watchmaker. It's not a typical watchmaking maison, it's an objet d'art maison. So, without exceptions, everything it does has to be a beautiful work of art. Indeed, as we've said, these creations are not just beautiful; they're breath-taking. In every sense of the word.