"A piece of jewellery means the world to you when it has significance."
What would you do if an object you want does not exist on the market? Some people will make do without, or find a substitute. Only a very small group of people would set out to create it by themselves. Hanya Seah is one of them.
A marketing executive by day, jewellery customiser by night, Seah is the co-founder of Chez G, as in G for grillz. Fascinated by the tradition of making and wearing teeth grills, she began to think about creating these handcrafted accessories which are not typically thought of as jewellery.
As she lets her sharp fashion sense guide her aesthetics, Seah who is also a big sneakerhead, is a Casio game-changer. She joins fellow influencers, beatboxer Dharni Ng, music producer Axel Brizzy, singer-songwriter Joie Tan, DJ Reikolah, and graphic designer Ivan Timothy in celebrating the power of going against the grain, breaking boundaries, and surviving the odds.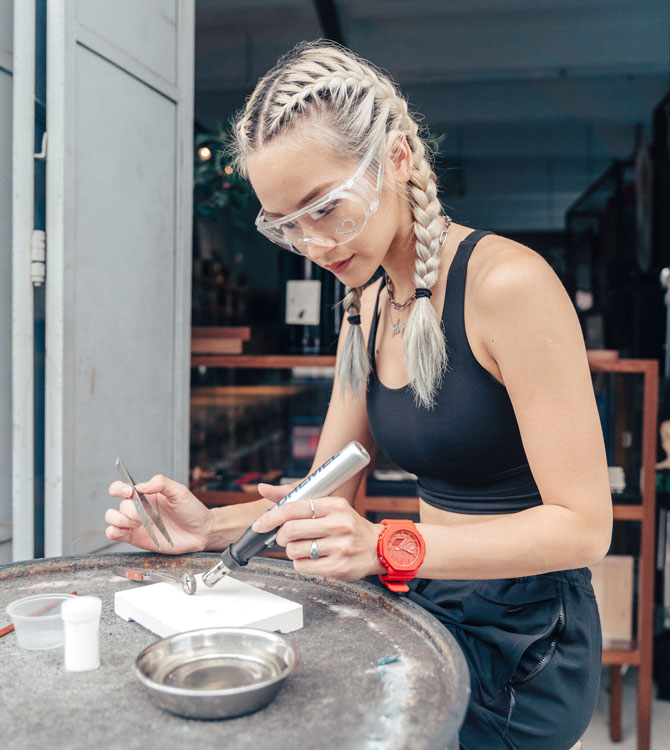 What spurred you to start Chez G?
My want for a piece of jewellery not found in our local jewellery landscape – teeth grills. It spurred my partner and I to get one done for ourselves.
What was the hardest part about being in the jewellery business?
Crafting jewellery is a mastery that needs to be honed and practised for years. It's hard to reach perfection.
Did you set out to be a game-changer or did it just happen along the way?
It happened along the way for me. Just wanted to do something for myself, and maybe the desire to do something different in jewellery, it was never about seeing myself as a game changer.
How does one consume fashion trends and yet be original?
That's admittedly hard today, we often get our ideas and inspirations from what we see, and we're consuming these inspirations rapidly through the internet and social media. To be original, maybe you need to be left in isolation.
What's the best fashion advice you've ever gotten?
To be comfortable with yourself, don't try to be someone else.
What are some fashion accessories you would never leave home without?
A necklace and my usual set of rings.
What trends are you obsessed about at the moment?
Hardware becoming jewellery.
Tell us about a jewellery piece in your collection that means the world to you.
I have plenty! A piece of jewellery means the world to you when it has significance. I have plenty of significant jewellery pieces because they are made personally by me and they represent who I am and what I like. That's what jewellery should be.