From Si Dian Jin to dainty jewellery pieces like rings, bangles and earrings for daily wear, these goldsmiths are ones to look out for
What's the first name that comes to mind when you're shopping for wedding jewellery? If it's not Cartier, Tiffany, or Van Cleef & Arpels, then it's probably Chopard, Piaget, or Bulgari. Chances are minuscule that you'll be thinking about local traditional gold jewellers such as Tin Sing, On Cheong, and Poh Heng. But these three Singaporean brands have been around for ages and probably were the very jewellers that dressed our grandparents and parents at their weddings.
If you're a fan of vintage jewellery designs, maybe it's not a bad idea to give these good old-fashioned jewellery shops a shot. Not only will you be getting 22K or 24K gold, which is way more valuable than the 18K used by Western jewellers, you could be continuing a family tradition that began since the time of your grandparents or maybe older.
Wedding jewellery may be used for the bridal dowry, also known as jia zhuang, or the wedding dower, also known as pin jin. The bridal dowry is your parents' gift to you on your marriage. It comes from your family's wealth and symbolises how much your parents value you as well as how much your parents respect their future in-laws. The wedding dower is gifted to you by your future in-laws to symbolise how much they value you as a daughter-in-law, and how much they respect your parents as well.
Traditionally this was given to the parents of the bride as a recompense but these days it is gifted directly to the bride. It is usually a combination of different items including but not limited to jewellery, cash, banquet tables, auspicious foodstuff and fruits. These are all presented to the bride's family in a betrothal ceremony called guo da li.
The wedding dower is where the traditional Teochew practice of si dian jin comes in. Roughly translated to four golden pieces, this is a highly symbolic and auspicious custom where the mother-in-law presents a parure of four matching jewellery items. Inside you'll find a necklace, a pair of earrings, a ring, and a bracelet. Pamela Seow, third-generation family business owner of Poh Heng, explains that the lore of si dian jin goes back to traditional Chinese roofs which have four points. Si dian jin is a promise to the bride that her husband and in-laws will take good care of her. Seow adds, "It's a good tradition to keep and you see even non-Teochews practice it."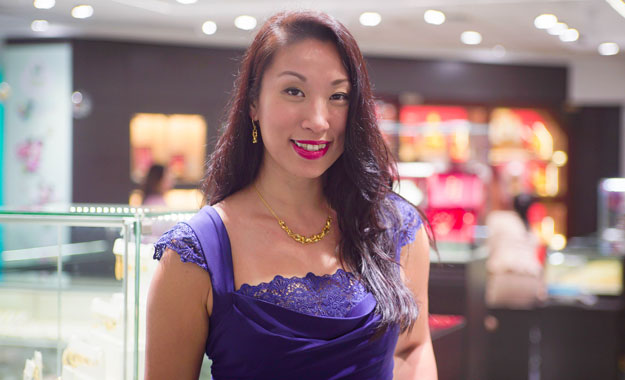 In the past, the bridal dowry and wedding dower were purchased by our parents or in-laws respectively, which means that brides have next to no say on what they'll end up getting. This is how all the 24K gold bars, pendants and bullions, as well as gold chains thick as your pinky finger enter the picture. Obviously there's no way you're going to wear any of this crazy golden bling.
But it doesn't have to be this way because there's much more to traditional gold jewellers than gold bars and garish necklaces. They have those things of course – lots of people love them – but a blushing bride-to-be may find something else, like a gold hairpin, or a brooch made of hand-carved gold, or a classic gold sautoir necklace you could stack with other costume jewellery. Many pieces come in designs considered old-fashioned just a few years ago but are now comfortably vintage. Most importantly, traditional gold jewellers are a rich enclave of history and unique surprises you won't find anywhere else
Tin Sing Goldsmiths: True To Tradition
Like almost every other Singaporean jeweller, Tin Sing Goldsmiths started out in gold smithery. Business began in 1937. The shop today sits comfortably along South Bridge Road, in a large three-unit shophouse that its owners very obviously own rather than rent. Emblazoned on every façade of the building is the jeweller's signage done in the old-school design of yesteryears.
Its jewellery showcases are also charmingly historical; there's very little modernisation in Tin Sing and business is done pretty much the same old way. Think sullen and occasionally cantankerous old men behind glass counters, who have been with the shop since they were young men and who obviously have a solid list of regular clients so they don't need to go after walk-ins. But beyond the rather intimidating entrance, there's a lot of heritage to be gleaned from Tin Sing. For starters, its jewellery pieces are identified by product tags written by hand in mandarin – how cute is that!
A lot of its gold jewellery are also surprisingly modern by today's terms. Amid the standard Chinese style rings and bangles, some necklace designs sourced from Italy are almost Bulgari-esque and would definitely appeal to the vintage jewellery aficionado. Coin pendants too could easily be worn every day in combination with other styles of necklaces. The best part is, they're at once classic yet unfamiliar.
Tin Sing Goldsmiths
203-207 South Bridge Road Singapore 058756
tinsing.com
On Cheong Jewellery: Strong Family Values
In the old days, jewellery shopping was less about fashion, design and brand recognition and more about value, quality and wealth enhancement. On Cheong is another brand founded in the pre-War era. Currently managed by its second generation owners, the company was established by founder Ho Yew Ping in 1936 who was an immigrant from Southern China. He had picked up the trade in Penang and then started his own firm in Singapore. Originally at North Bridge Road, On Cheong began as a half-shop opened by its founder along with two partners. Today it occupies a two-unit shophouse owned by the Ho family.
On Cheong is a symbolic name that means peace and prosperity. Managing director of On Cheong, Ho Nai Chuen, elaborates, "During his time, it was quite chaotic and there was a lot of poverty, so it became my father's ambition to grow the business, to bring about peace and prosperity."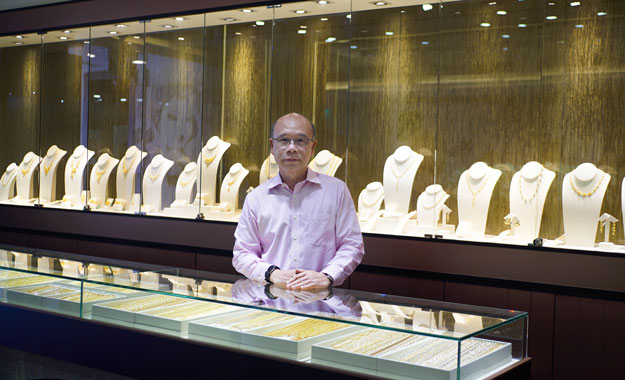 On Cheong started out selling solid silver and gold. There wasn't a lot of variety in its jewels; indeed, the company was then known as On Cheong Goldsmiths. This was representative of the consumer mind set of the time. People didn't consider design as long as they're getting gold, so jewellers sold mainly simple handcrafted gold chains in different sizes and lengths. Says Ho, "It's just like trading. You buy for the value and that's it." By the turn of the millennium, Ho has rebranded the company, and renamed it On Cheong Jewellery to more accurately reflect the full spectrum of the business.
From 1965 to 1985, after his father passed away, Ho's mother ran the business. It was almost sentimental to recall how business was done in those days. Without any formal education, she relied on personal relationships to keep the company thriving. Everything was based on friendship and her own connections with the Chinatown community. In the '60s and '70s, there weren't many goldsmiths in the outlying areas. Most shops were in North Bridge, Chinatown and Geylang Serai area, so everybody had to come to town to buy.
For 82 years the company has battled everything from the Asian Financial Crisis to the entrance of newer and trendier chain stores. But it has stayed on course thanks to a prudent management strategy. On Cheong has also kept up with the times by being very active on social media. It's especially heart-warming to see how much the company values its team. Some of its retail staff are in their 70s and have spent decades with the jeweller. Ho explains that On Cheong constantly trains the team in various aspects, even sponsors some employees to further their studies.
He adds, "Will they leave after that? I can't stop them but at least I'd done my part to make sure they find this company has value to them, and hopefully they'll stay." Looking at the low staff turnover at On Cheong, Ho is definitely doing something right.
On Cheong Jewellery
251 South Bridge Road Singapore 058800
oncheong.com
Poh Heng: Trust Is Everything
Of all the traditional local jewellers, Poh Heng is the most ubiquitous. This 70-year-old jeweller has 15 stores island-wide, all with the exception of one is located at the heartlands. Poh Heng's identity has been refreshed consistently and despite being a traditional jeweller also has very modern designs to appeal to the younger crowd. The company is managed by its third generation business owners and retains strong family-owned values. Pamela Seow takes care of the company's marketing and communications and she explains how Poh Heng got started, "Poh Heng was founded in 1948 by my grandfather Chng Tok Ngam. He started out as an apprentice at 16 years old by coming to Singapore to work in a gold and silver smithing shop."
Looking at the market then, Poh Heng's founder decided that customers needed a jewellery company they could trust. This is why trust is such an important concept at Poh Heng. In the past, the fineness or gold content of jewellery may not be what the seller told you. Some sellers tended to cheat a little bit so customers paid more for what they got. Hoping to offer buyers something better, he started Poh Heng and pledged to give his customers more or equal to what they paid for. In this way he built trust with his customers and that has become Poh Heng's strongest brand value.
Poh Heng became the only brand in Singapore that offered 95 per cent buy back guarantee, a practice it continues till date and across all Poh Heng gold products as well as the Trust diamond collection. For many years no competitor could match this and across time Poh Heng gained the trust of the local gold buyers. The company today also sends its gold for stringent checks. It rejects anything below the Singapore standard of 91.66 per cent and all their gold pieces are sent for voluntary third-party gold assaying, including XRF gold analysis, and fire assaying to doubly ensure that its gold content is well and truly authentic.
On how Poh Heng was named, Seow reveals, "Poh was my grandfather's nickname and Heng is a common jeweller thing in the past."
Poh Heng stands out from the other local jewellers in the way it balances modernity with tradition. It boils down to having a very detailed understanding of the market. Seow explains it perfectly, "The modern bride is very east-meets-west. She wants to wear the kua and have a tea ceremony but she also wants to throw the bouquet and wear a white gown. This was something we discovered through customer feedback and so we have to cater to the new modern bride." Indeed, the tradition redux has seen many young Singaporeans reclaiming their heritage, where it seems just a few years ago, they were preoccupied by modernity.
Poh Heng Jewellery
Various locations
pohheng.com.sg
Traditional gold jewellers have been and still are a big part of Singaporean life. Some have staunchly retained their original business model while others have found a way to keep up with the times. Either way, they offer time-honoured precious jewellery pieces that bring nothing but the best wishes to generations of brides.
For more stories on weddings, click here.