Introduced in 2017, the Lucky Animals collection by Van Cleef & Arpels carries on a long tradition which the maison started in the 1950s. In 1954 to be precise. Wanting to make jewellery more accessible and suitable even for daywear, Van Cleef & Arpels took a playful and light-hearted approach, creating La Boutique.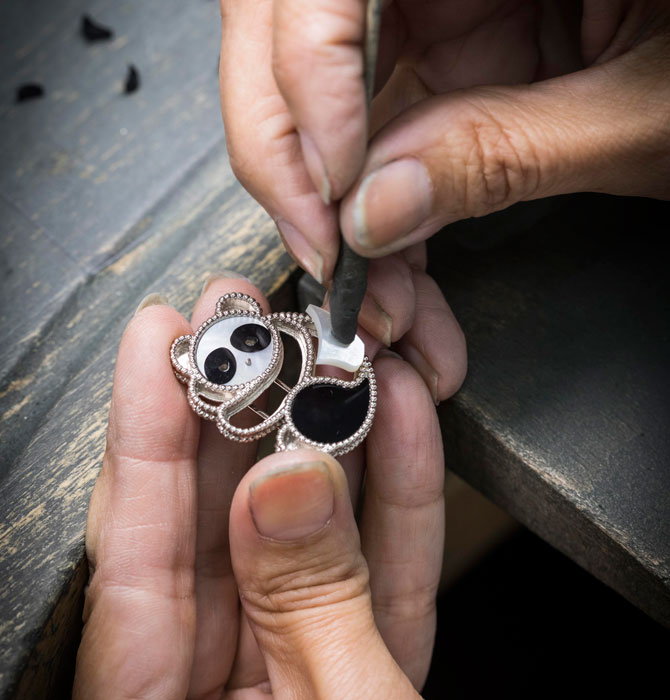 A whimsical collection of clips and brooches featuring semi-precious stones, diamonds just as accents, and inspired by the first American cartoons. Exuding an element of fun, some early pieces include a duckling in yellow gold holding a fishing rod, a little bunny rabbit clutching a carrot, a cute piglet with curly tail in braided gold.
Over the years, more and different animals joined the family. Lions, squirrels, turtles, cats, dogs, birds of all shapes and sizes. And with such evocative names: minet, caneton and roitelet, then lion ébouriffé and chat malicieux.
La Boutique was hugely popular among jewellery aficionados. Leading women such as Jackie Onassis and Grace Kelly were big fans. Appearing from time to time at jewellery auctions, the La Boutique clips were made in all sorts of materials. Coral, aquamarine, mother-of-pearl, and chalcedony most prominently, sharing a love for colourful hard stones with the maison's other very iconic jewellery line, Alhambra.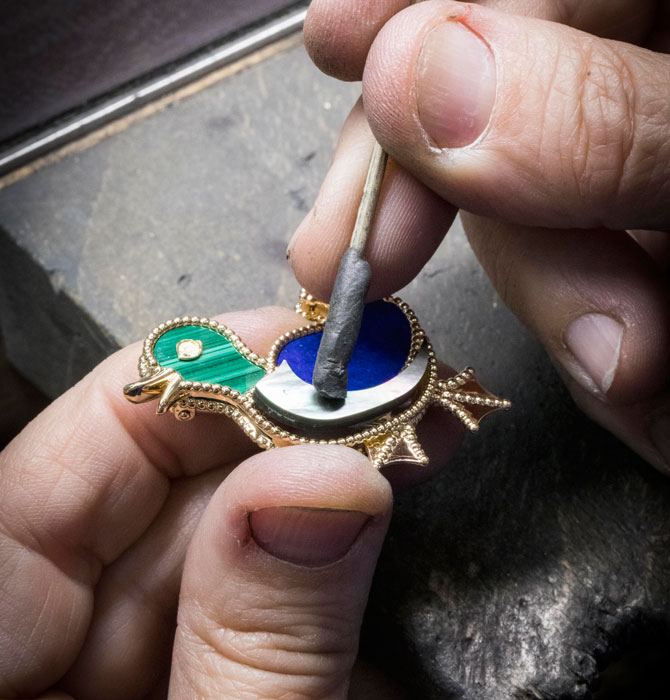 Imbued with the same spirit and good humour of La Boutique, Lucky Animals are too designed for everyday wear. Five new animals are born this year from the maison's Parisian workshops. A panda, a horse, a turtle, a duck and a pig. But unlike La Boutique where the jewellery is a little more free-form, these pieces showcase some of Van Cleef & Arpels's best-loved handcrafts.
Hard stone marquetry finds its way to these ultra-collectible clips. Carnelian and onyx for the horse, black onyx and white mother-of-pearl for the panda, malachite and white mother-of-pearl for the turtle, grey mother-of-pearl for the pig. The duck features a combination of stones never as yet before seen in any Van Cleef & Arpels jewel: grey mother-of-pearl with malachite, lapis lazuli, and black onyx. Such ingenious use of colour!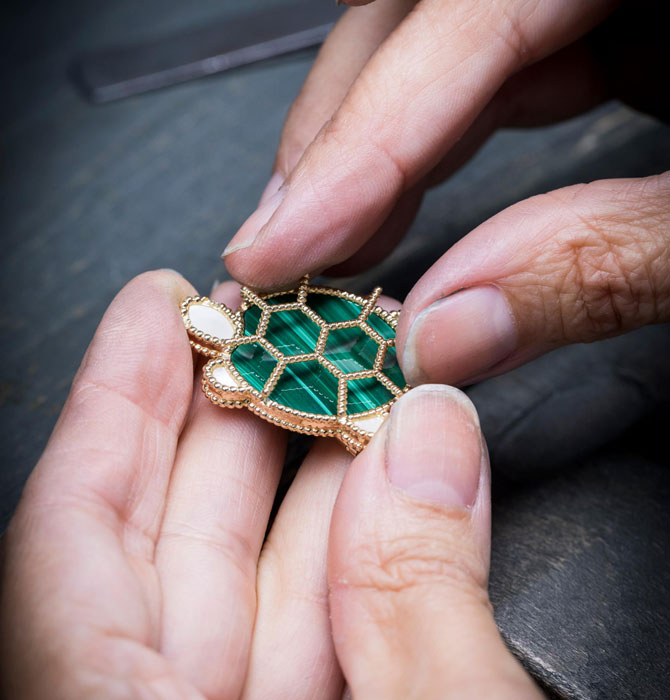 All around the pieces you'll find the famed mille-grain technique of gold beads each one individually polished by hand. Likewise, the individual pieces of hard stone have all been cut, shaped and polished manually, so maybe don't think of them as anything less than masterful poetic artworks.