Hands up if you're looking for something more than gold and diamonds in jewellery. Maybe something more than just pure bling. Don't get me wrong, traditional jewellery is great – being precious and all – but maybe not to wear every day? The jewellery world is more exciting than that, with far more to offer if you looked in the right places. And let's be honest, piling on the sparkles when you're working from home just isn't very practical at all.
So unless you've got a big night planned, it might be a better idea to leave your diamond encrusted pieces on the dresser, and opt for something fun and funky – something that also adds a pop of colour to bright up your day.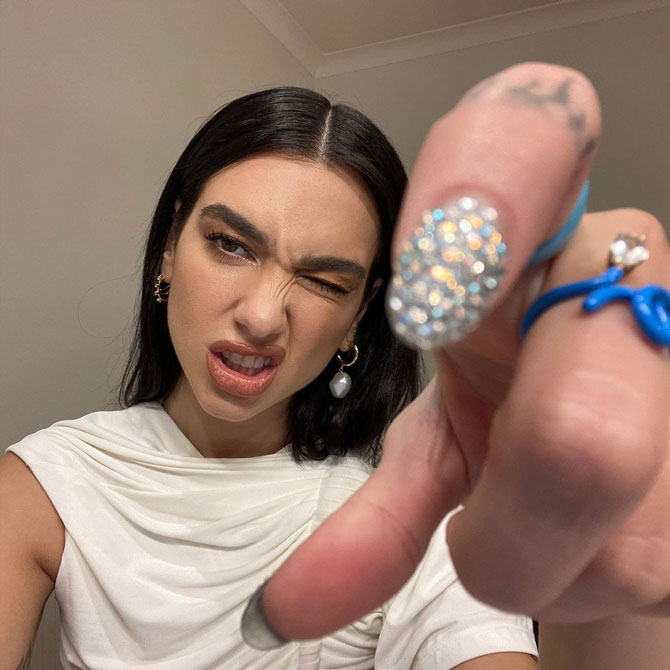 Dua Lipa is a big fan of Italian designer, Bea Bongiasca
Need some ideas? Well, going by the IG posts of our favourite It Girls today, we'd wager that enamel jewellery is the big trend du jour. Really, it's easy to see why. Bringing a splash of bold neon colours to the table, enamel is versatile, beautiful, and long lasting.
Megan Thee Stallion wears the Alison Lou Small Jelly Hoops
Designers such as Bea Bongiasca, Alison Lou, Melissa Kaye and more have tapped into this classic material, using it in ultra-creative applications. Traditional houses like Hermès, Freyville, and Tiffany & Co. regularly design jewellery collections with enamel, while Dior has been known to use enamel even in its high jewellery creations.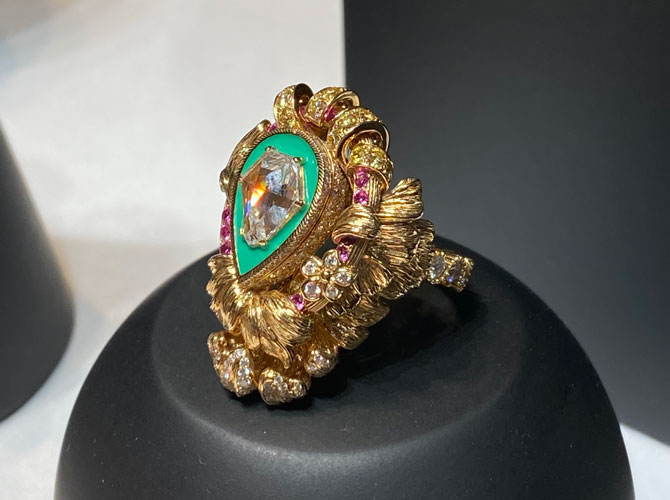 Colour figures boldly in Victoire de Castellane's high jewellery collections for Dior
The best thing about enamel is that it never fades; its colour remains forever pristine. It also doesn't scratch, although it can crack. Glass powder enamel is known as the best quality enamel – you also find it in top quality luxury timepieces – while less expensive designs typically rely on synthetic resins to achieve a similar effect.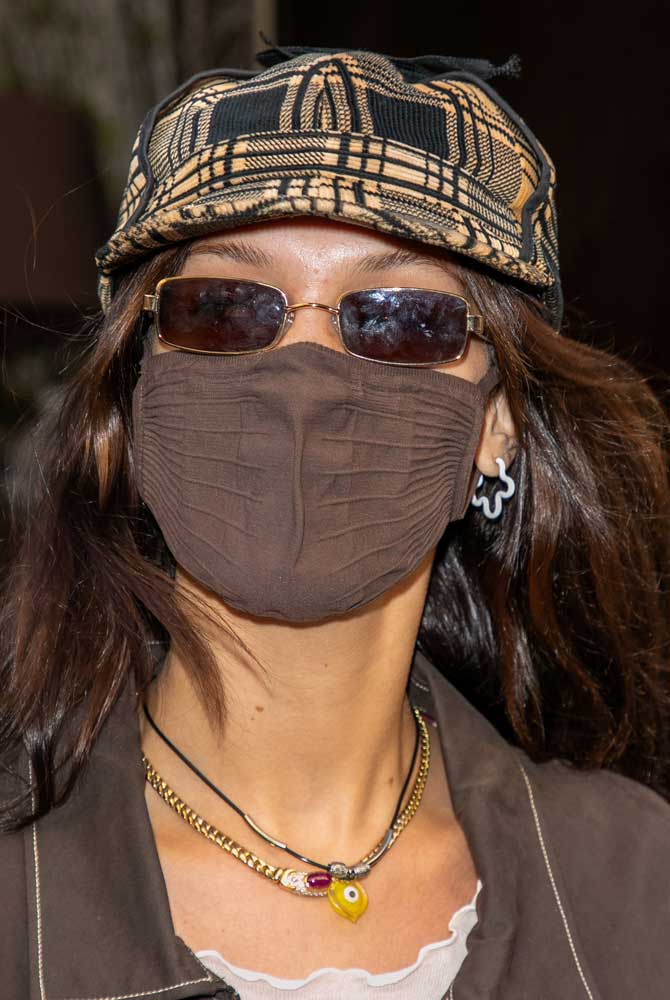 Bella Hadid wears Bea Bongiasca's white enamel Flower Hoop earrings
With prices starting from below S$100, enamel jewellery are truly the affordable luxury item to get into this season. Scroll down for Buro Singapore's edit of the best enamel jewellery designers.
Alison Lou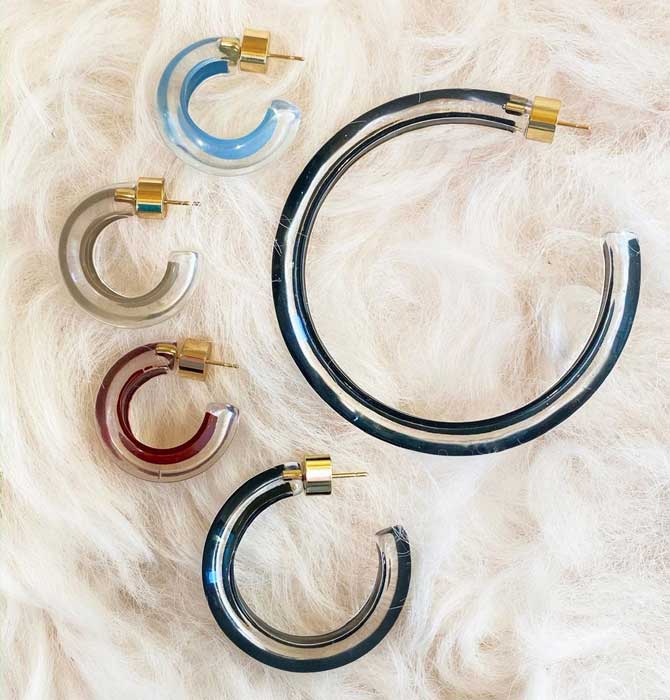 This fine jewellery brand based in New York City brings a playful spirit to jewellery design, finding inspiration in everyday objects and places. Her latest Loucite collection of hoop earrings has been worn by Emily Ratajkowski, Selena Gomez, Lady Gaga, Gigi Hadid, Tracee Ellis Ross, Celine Dion, and many more.
Bea Bongiasca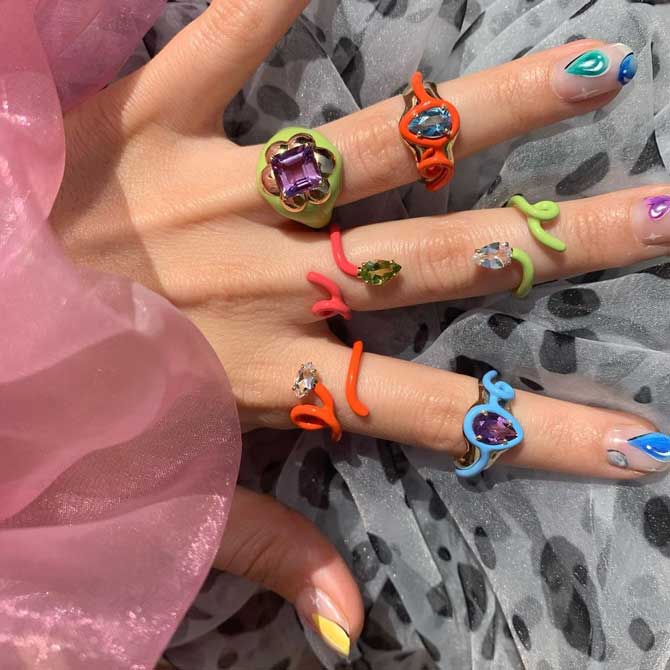 A Central Saint Martin jewellery design graduate, this Italian designer is known for her Tendrils collection of rings crafted as vines which are paired with precious or semi-precious centre stones. Her pieces are firm favourites of Dua Lipa who is frequently photographed wearing Bongiasca's rings by the stack.
Hermès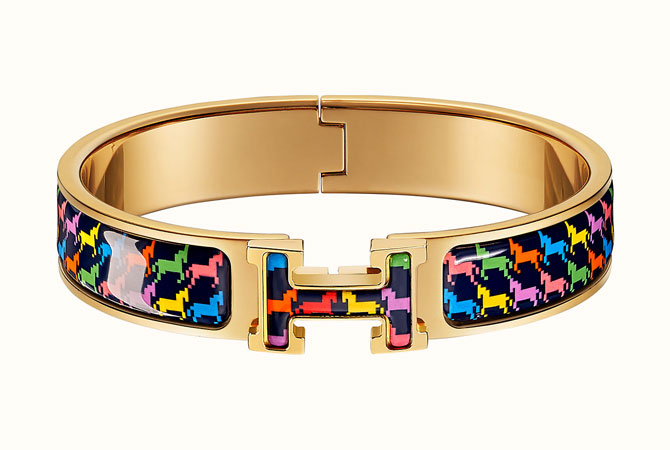 Enamel features regularly in Hermès's fashion jewellery collections, particularly for perennially popular designs such as Clic H, Clic Clac H, Clic Anneau, as well as the classic bangles and hinged bracelets.
Melissa Kaye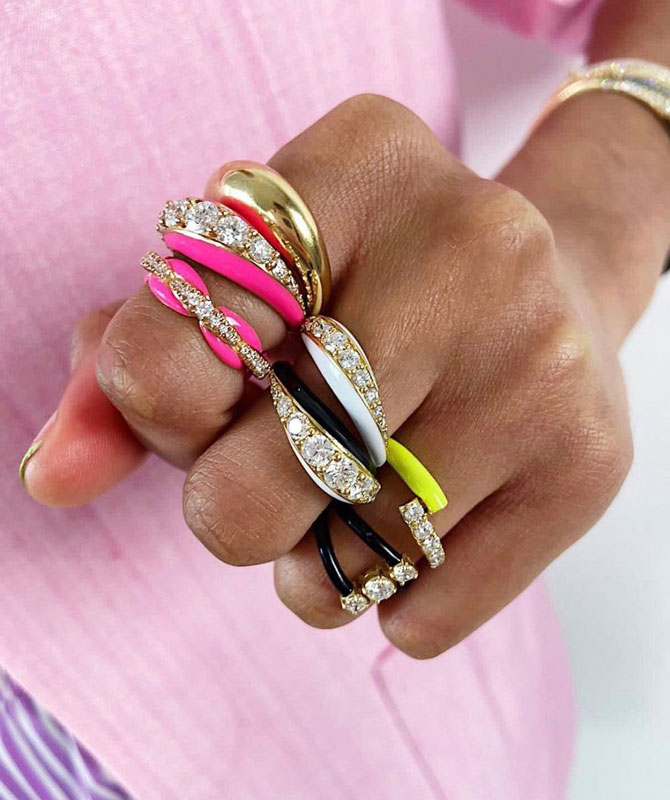 A New York-based fine jeweller, Kaye's pieces are chic and current, drawing inspiration from geometric and natural patterns. She works with precious 18K gold in combination with diamonds and other precious stones, accenting these luxurious materials with neon enamel colours.
Freyville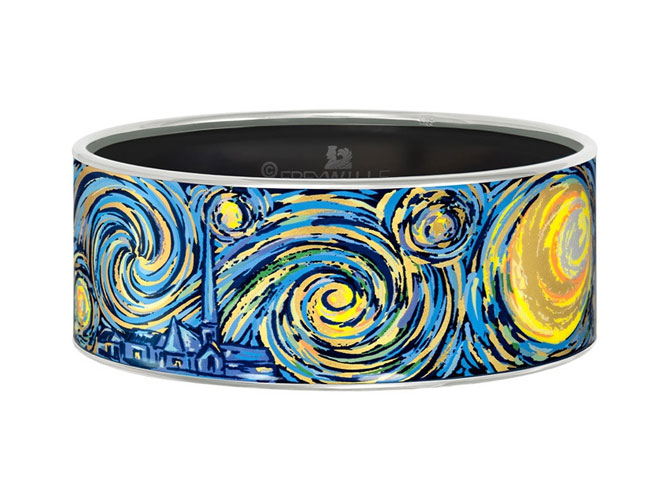 This Austrian label got its start in the 50s when artist Michaela Frey sought to create decorative objects made of enamel. Jewellery came into the picture a little later on, but the pieces are perpetual tributes to the greatest artists of all time. Made by the fire enamel technique, they are literally wearable pieces of fine art.
Freyville Ngee Ann City #03-08A
Freyville Marina Bay Sands 01-15, Hotel Tower 3
Shang Xia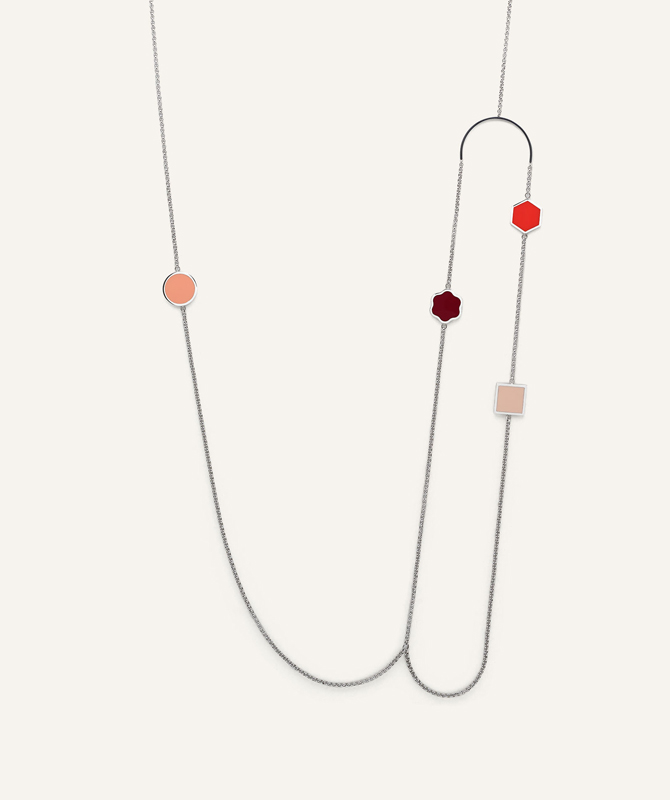 A purveyor of artisanal crafts, Shang Xia gained fame as the Chinese luxury label backed by Hermès. But a quick look at its pieces, which range from ready-to-wear and leather goods to home accessories and jewellery, and it becomes clear why the French giant wanted in from the start. Quality craftsmanship meets thoughtful modernised Asian inspired designs, though it's the brand's creativity that will impress you most
Shang Xia Ngee Ann City Level 2 Takashimaya Department Store
Jouer by Simone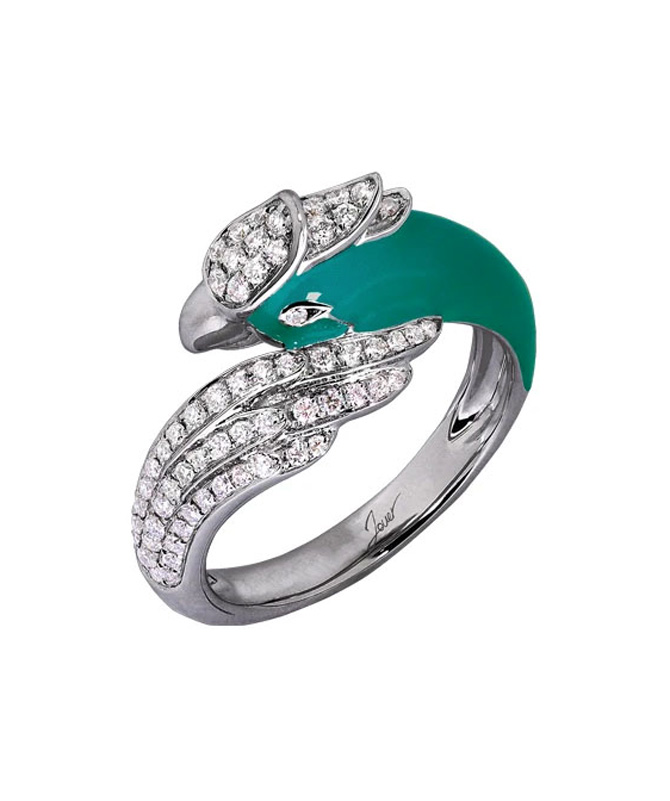 Local jewellery designer Simone Ng has taken Singapore onto the jewellery world map with her exquisite one-of-a-kind creations, now retailing at Harrods London. Lucky for us, she also started this spin-off label which combines precious materials with bold and modern concepts. The Artist collection features generous use of enamel juxtaposing with gold and diamonds.
Bimba Y Lola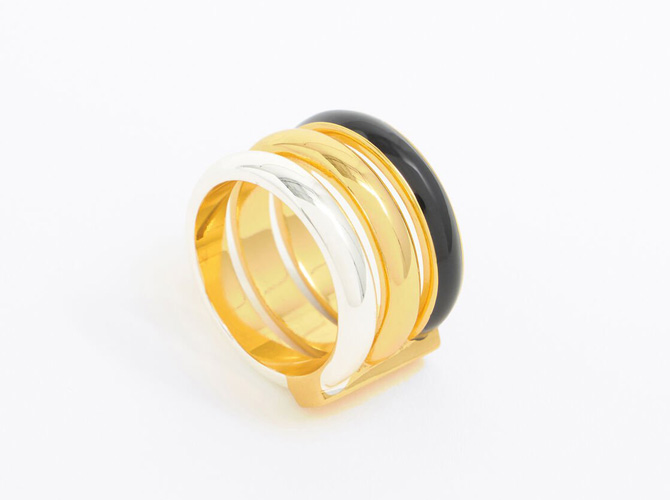 Affordable and fun to wear, these gold finished rings come with a single black enamel band. We love the simplicity of this look, and best of all, it's perfectly gender-neutral.
Aisha Baker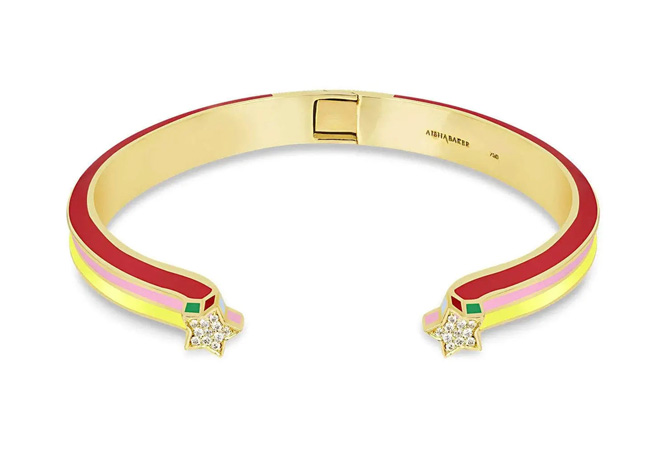 We love the almost 2D effect that comes from the contrast of 18K yellow gold and multi-coloured enamel. This open-ended bracelet offers just the right amount of bling with two little diamond pavé stars and is comfortable to slip on and off thanks to the hinge at the centre.
Yvonne Henderson Jewellery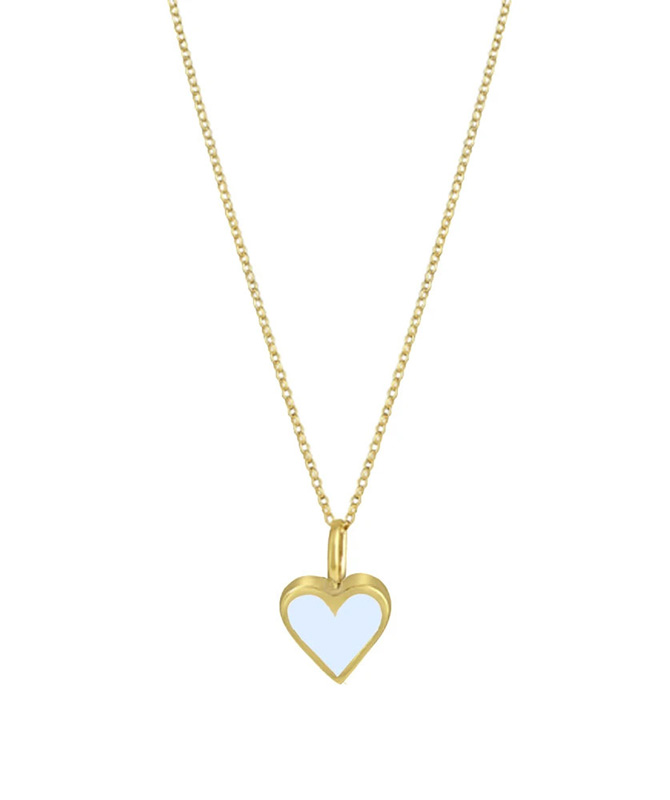 This British designer specialises in demi-fine jewellery featuring timeless motifs and themes such as zodiacs, birthstones... anything pretty that catches the eye, really. The Colour Pop collection includes heart-shaped pendants filled with enamel for a simple but memorable style.
Shop Yvonne Henderson Jewellery online
Amar & Riley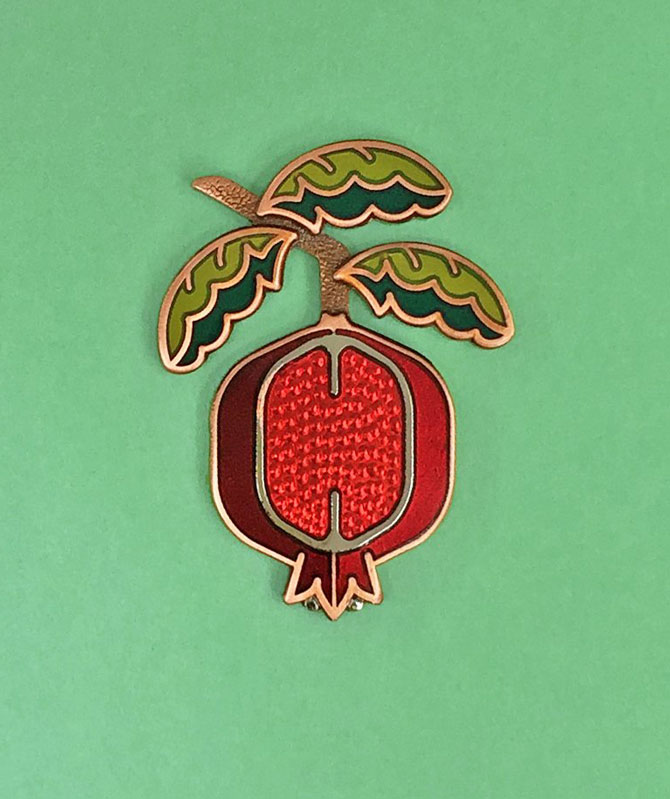 Based in Chicago, designer Lydia Daum creates pins, prints and jewellery, many of which are coloured with enamel resin. The pieces are affordable, uplifting and so much fun to wear.