When cushion foundations first came into eminence, they swept the beauty world by storm — which is no surprise, really, seeing how applying foundation had never been so easy nor portable. It's been 13 years since its launch, and it's safe to say that it has only gotten better, with more brands hopping onto the bandwagon and pushing the bar higher. Thanks to the advent of technology, cushion foundations have only gotten more multi-functional than ever, going beyond a foundation base to providing skincare benefits in the form of tone, texture, and moisture. Of course, not all cushions were created equal. Lucky for you, we've rounded up the latest and greatest that have established themselves as a staple in every beauty buff's makeup bag. Feast your eyes on the goods, below.
Gucci Beauty Cushion De Beauté
This product catches your eye for its luxurious appearance right off the bat. Not only is Gucci's debut cushion housed in a case with beautiful vintage motifs, it also comes in a gentle, dusty baby pink hue, adding to the timeless elegance of the product. The formula of the cushion compact also boasts a variety of skin benefits. A moisturising blend of glycol and glycerin promises up to 24 hours of hydration, while the inclusion of black rose oil grants antioxidant-protection. The cherry on top? This lightweight formula also comes equipped with SPF. Sweet.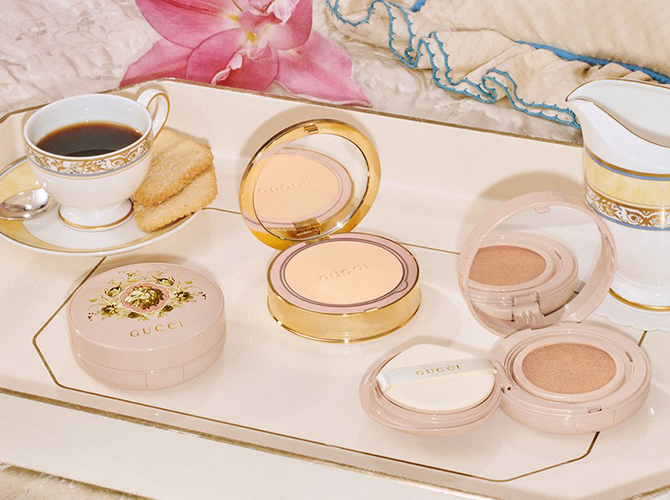 Dior Forever Perfect Cushion, Dior Beauty
Available in six shades,  Dior's cushion compact is designed primarily to correct blemishes and even out our skin tone. The best part is its 'Colour Lock' technology, which retains colour from morning to night while providing a luminous freshness that lasts 16 hours. In Singapore's heat and humidity, it's safe to say this bad boy is a godsend.
Chanel Ultra Le Teint Longwear Touch Foundation,
Moisturising, waterproof, and also sweat-proof, this formula by Chanel ticks all the boxes for Singapore's hot, humid weather. The foundation also contains a microsphere powder that absorbs excess sebum for all the oily-skin type ladies out there, but also at the same time illuminates, promising a glowy matte finish that doesn't cake or crease. The cushion compact is also enriched with hyaluronic acid that improves moisture retention and hydration in the skin for up to 8 hours, ensuring a smooth, supple base for any touch ups through the day.
View this post on Instagram

Hera Glow Lasting Cushion
Not only does it protect the skin from harmful sun rays with SPF50++, the formula delivers a beautiful sheen that creates that 'glow from within' look, so you can definitely forgo highlighter with it. With nine different shades, this cushion compact not only smooths skin textures, but also gives a natural vitalising and tone-up effect. So when you take off your makeup at the end of the day, your skin remains soft and supple. 
View this post on Instagram

Chantecaille Future Skin Cushion Foundation
This water-based pick comes packed with smoothing and anti-pollution skincare ingredients that maintains a lightweight texture, ensuring it sits easy on the skin. Made for city-living, it contains a unique blend of botanical sugars, which provides a shield against soot and urban dust. Those with fine lines and wrinkles are sure to appreciate how it doesn't emphasise or settle in existing creases.
View this post on Instagram