Quiz: Which superhero from The Defenders are you?
Marvel Mayhem
We knew there'd be no better time to Netflix and chill when the entire series of Marvel's The Defenders dropped on the streaming site last week. It's the dream team all in one show: Daredevil, Jessica Jones, Luke Cage, and Iron Fist. The crime-fighting quartet come together to save New York City from villains, vapid Upper East Siders, and velcro shoes (okay, we threw the last one in there in the name of good taste). If you have, like us, binge-watched the entire first series of The Defenders and you're still reeling from a superhero high, then take our quiz to find out which character you are. Do you possess the strength of Jessica Jones or amplified senses of Daredevil? You'll soon find out.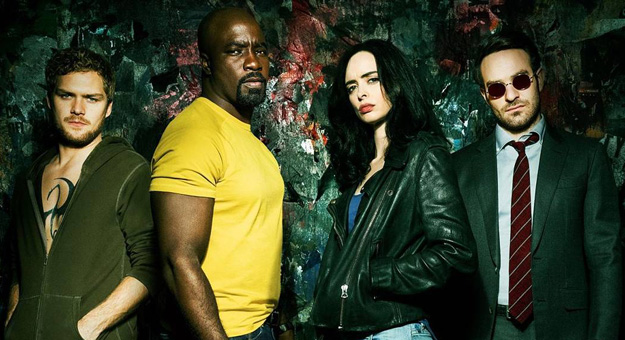 Instagram: @luciaspringsteen
Which job appeals to you the most?
Morality and justice are what I live by.
Because there's nothing more exciting than going undercover.
Gotta run after the bad guys and catch them myself.
I'm a lover of high intensity sport, and foresee myself kicking ass in the fighting ring.
I'm dedicated to reporting the truth, even if it means risking my life in the process.
When dealing with a stressful situation, which of the following best describes you?
I'm better off dealing with the situation myself and I work better as a lone wolf.
I'M JUST GONNA FOLLOW THE CROWD
The majority decision must be the correct decision, right?
LET ME THINK ABOUT IT OBJECTIVELY
What makes the most sense? Be pragmatic.
FOCUS ON WHAT'S IMPORTANT
I prioritise what has to be done first and tackle the rest later.
I'm the joker of the group and I help relieve the tension. There's nothing worth getting stressed over.
What kind of person are you on a first date?
With my superhuman intuition, I can tell if the other party is genuine about saving animals and stopping climate change.
Is he/she really into me? I don't wanna put my heart out there.
I'm confident and humorous, and people are attracted to be because of my eloquence.
What would you like to know about me? No holds barred.
So... You're introverted and I'm not. That's okay, I'll adapt to your personality.
What kind of shopper are you?
I prefer to shop by bmyself.
All I need is a shirt, a pair of jeans, and a sturdy pair of shoes. Less is more.
I buy whatever's on my Instagram feed.
No crop tops and backless dresses, modest clothes only.
If I encountered a criminal, I would...
CIVIL ARREST. HAND HIM OVER TO THE POLICE
There's always two sides to every story.
RUN AWAY BEFORE I GET INTO DANGER
Gotta protect myself first!
They need some sense bashed into them.
If it's none of my business, I try my best to stay out of it.