Take the quiz: Which Louis Vuitton campaign star are you?
Jaden Smith rocking it out in white sneaks or Alicia Vikander stomping it out in killer boots?
They say you can judge a man by his shoes. And surely, given the female obsession with all things pumps, flats and boots, this applies to women too. There's something about what we put on our feet — whether it's laced, slipped-on or devastatingly vertiginous — that speak to our subconscious self-perception and considered external projection. So what better way to discover your true self than with a shoe quiz to reveal your celebrity spirit animal. Get clicking.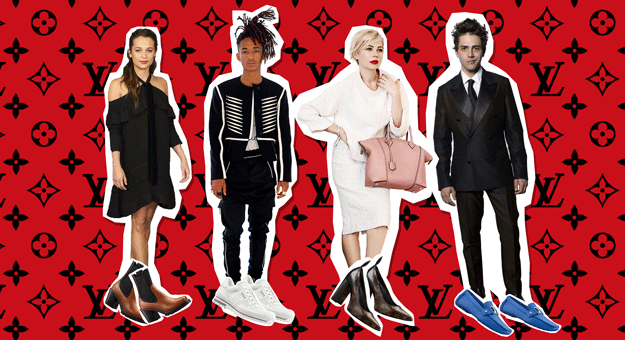 How do you choose your shoes in the morning?
Depends on what clothes I'm wearing.
It has to match with my outfit to create a cohesive look.
You can't be fly if you can't stride in comfort.
It needs to look good and feel good. Why do they have to be mutually exclusive?
It's all about what's on my feet. Who cares if the clothes don't match. Who are you? The Queen of England?
Because I need to slay, all day.
When you meet someone for the first time, and you don't like their shoes, what is your first thought?
How can we ever go shopping together?
You're in luck. I'm going to give you a makeover.
Let me teach you how to respect yourself.
It's all good. I'm sure there's a valid reason.
As long as you're living your best life, my friend.
My eyes hurt, but I'm going to give you the benefit of the doubt.
Please tell me you've just come from competing in Ninja Warrior.
Are those gym shoes? I'm sure they're gym shoes. Why haven't you changed?
I know athleisure is in, but this is ridiculous.
When shopping for new shoes, which of the following statements best describes you?
It's all about the latest and greatest.
If it ain't this season, forget it.
Shoes are an investment. I like classics with a twist.
You have to think about the cost per wear.
Try them on in-store. But them online.
Same shoes but at a cheaper price? I'll happily wait a few days for that.
Off-the-rack is okay, but I prefer made-to-order.
Listen, I just have particular tastes and particular feet.
Where's the sale section? There are gems to be found.
You can snag a bargain if you understand your own style.
Where do you get your shoe-inspiration?
Instagram. Internet. Instantly.
My circle of stylish friends.
I need a push to be more adventurous.
They just have so much swag.
The international runways.
I can spot a trend from a hundred miles away.
Fashion editors and insiders.
They've already combed through the collections and have separated the 24 carat magic from the fool's gold.
How would you describe your shoe wardrobe?
Streamlined and sensible.
I know what I like, and don't need to waste my time on fleeting trends.
What wardrobe? My shoes are everywhere.
It's like they're spawning overnight and taking over my apartment.
Packed in boxes and labelled.
Also, every now and then, I'll whip out the cleaning kit and give them a once over.
Clustered around the front door.
Arranged into type, colour and use in a humidity and temperature controlled room.
Naturally, it has it's own security code.