Oakley is serious about eyewear. The brand has been established for slightly over 45 years now. While its eyewear offering has included an extensive selection of lifestyle pieces, its sports performance eyewear range remains one of the best in the market. A lot of specifically targeted technology goes into the make and the lenses of these pieces and all packaged in instantly recognisable designs — futuristic and sleek.
The brand is now taking it a few notches higher with its latest release: the Oakley Kato. All those 45 years of experience in creating eyewear and boundary-pushing innovations have culminated in a design that's truly unlike any that we've seen before. And dare we say, quite a fashion-forward one at that.
At first glance, the shape of the Oakley Kato is reminiscent of the shape of a mask. The lens is frameless and seamlessly contours the face — complete with soft-angled curves to fit the bridge of the nose — for unobstructed field of vision. And coupled with Oakley's unparalleled vision and clarity-focused technologies (including its flagship Prizm lens), the Oakley Kato is designed for maximum performance; the future of performance eyewear is now. And while it may be made for professional and everyday athletes, this is definitely one pair of Oakleys we'd adopt into our fashion wardrobe in a heartbeat.
We find out more about the Oakley Kato and what it means for the brand, from Caio Amato, the Global Head of Marketing at Oakley.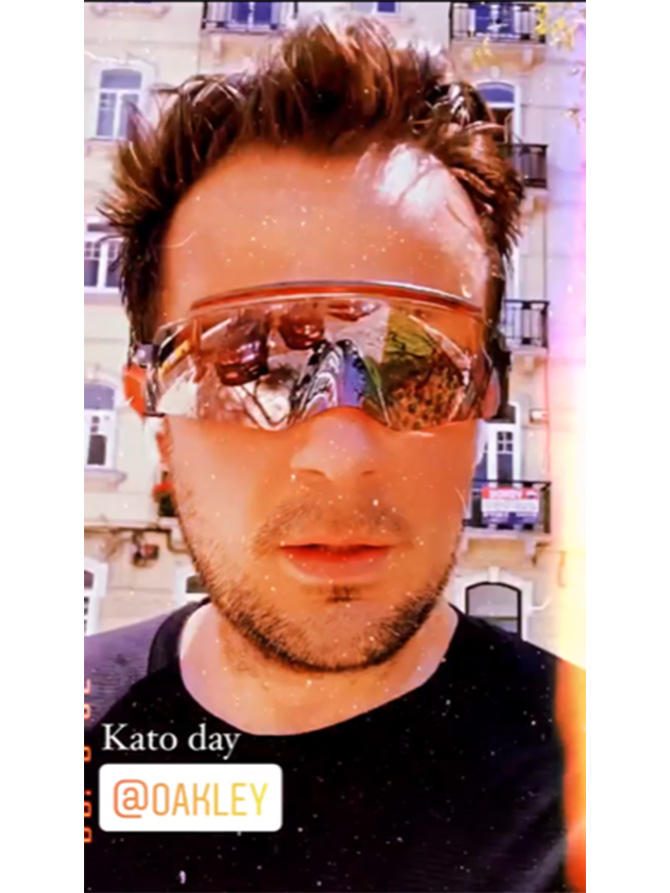 Caio Amato wearing the Oakley Kato.
It has been slightly over 45 years since Oakley made its mark in the eyewear industry. With Oakley Kato, it is a representation of that decades of experience in the space. What would you say is one of the key learnings when it comes to performance eyewear?
No two athletes are the same. Whether you're competing in the Tour De France or just getting some miles in on a Sunday morning, each of us has a different limit, objective and need when it comes to performance eyewear. Our ideation and design are purely based around problem solving and meeting those needs. We like to think of it as science elevated to an art form and Oakley Kato is a perfect example. It was inspired by a dream of having a seamless fit, delivered through a super innovative manufacturing technology and features an adjustable rake system and multiple nose pads to enable a customised, seamless fit for all.
Eyewear — just like the different facets of fashion — comes with a fit challenge as everyone's face shape and comfort level are different. Oakley Kato helps cater to this through its somewhat personalised design features. What were some of the considerations in determining a standard for the Oakley Kato?
When creating Kato, we wanted to take all of the learnings and innovations from the brand over the past 45 years to create something that would revolutionise the industry. To build Kato, we completely overhauled the fabrication process — from moulds to optical axis machines and lens adhesive. This allowed us to create a frame that features a frameless lens, crafted with an extended wrap and built-in retention to mimic the structural properties of a typical frame. The result is a product intended to fit close to the contours of the face, creating a mask-like feel. Kato is truly the result of physics being elevated to an art form.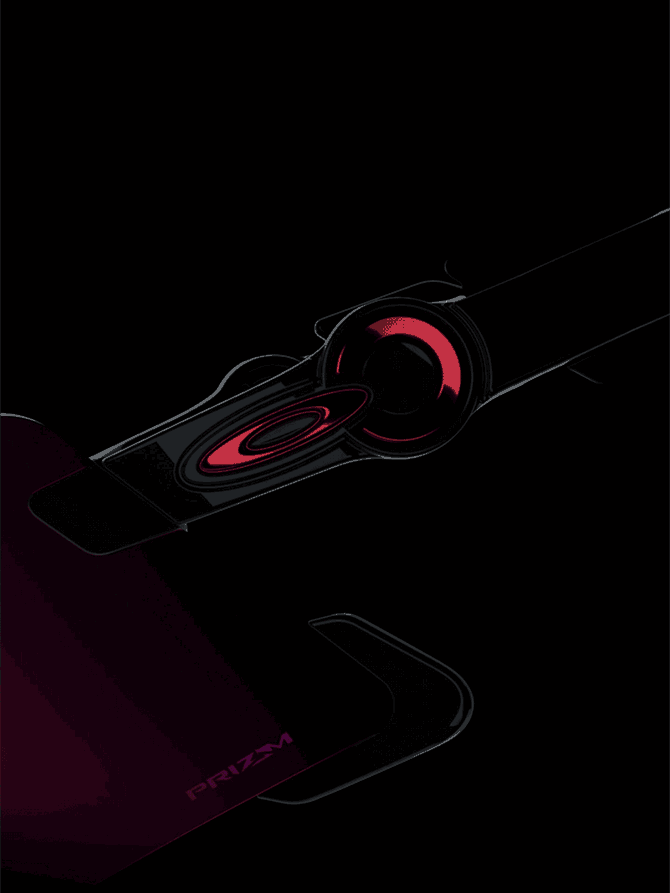 The design and silhouette is definitely unlike anything we've seen from Oakley before, and perhaps one of its more fashion-forward designs. How long would you say the design process took before the final one was decided on?
At Oakley, we design for the future but deliver to the present. For Kato, we started with a very abstract idea: if you covered your entire head with fabric, what would it look like? How should it feel? The team took inspiration from sports performance, science and fiction to create what would ultimately become Oakley Kato. The journey to Kato began 45 years ago when Oakley first began bringing performance eyewear to the market. Unique advancements in optical design combined with our team's will to reimagine what eyewear can be led to a final creation which shatters the boundaries of sport performance.
The AR experience packaged into the Oakley Kato kit was beautifully done and showcased the kind of futuristic angle that is the Oakley Kato. Talk us through some of the elements of the AR experience and what the intention was?
Kato was designed to shatter the boundaries of what's possible when it comes to performance eyewear, so we wanted to shatter the boundaries of what is possible for a physical reveal as well. What we ultimately created was an immersive, hybrid experience that merged physical, digital, and social technology in a beyond-human event, to capture imagination and inspire athletes to push boundaries with ultimate confidence. It was our intention to set the stage for Kato by taking recipients on a journey of the past 45 years which led into an epic crescendo when spaceship-like doors unlocked to reveal the revolutionary eyewear.
What you've done previously in your previous capacity at adidas, successfully created a community of runners. Is there an intention to apply a similar approach with Oakley? And if so, how would that look like?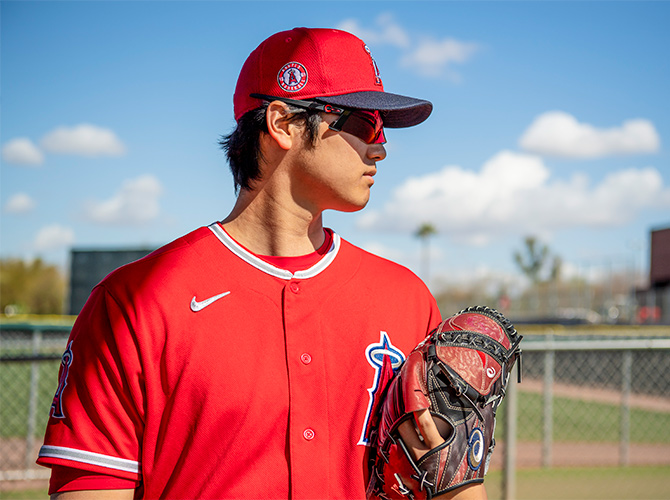 Baseball player Shohei Ohtani of the Los Angeles Angels.
At Oakley we believe that everyone in the world can and will become better. We want to foster self- betterment and ultimately make this world a better place through sport. Oakley carries a very strong sense of community and belonging that is inherent in the sports we support. We want to inspire people of all ages to keep believing in themselves, to be who they are, so that they keep fostering a better world. Ultimately, building community will allow Oakley to altruistically give back while fostering self-betterment and belonging.
How and where would you personally use Oakley Kato?
I am obsessed with sports. I run at least 7 km every day. So, my Kato is worn during my runs, when driving and even during some important meetings! We definitely break the ice when we start important meetings with Kato on and it brings out the best in me.
The Oakley Kato is now available at the Oakley boutique at The Shoppes at Marina Bay Sands.