Fashion
Louis Vuitton's cruise 2022 collection was a bridge to optimistic freedom of creation
Five fashion takeaways
The Louis Vuitton cruise 2022 took place on a magnificent structure.
As with every of artistic director Nicolas Ghesquière's collections for Louis Vuitton, the cruise 2022 collection was an experiential journey through time and space — an assemblage of inspirations mashed into one. This time around, the locale of the collection's presentation reflected that approach. The Axe Majeur is a work of art by Israeli artist Dani Karavan that consists of 12 parts and is essentially a bridge of sorts that connects the Cergy-Pontoise town centre to an island feature by way of a distinctly red pedestrian bridge. Along the way, the entire 3.2-kilometre-complex features different narratives based on each point of interest.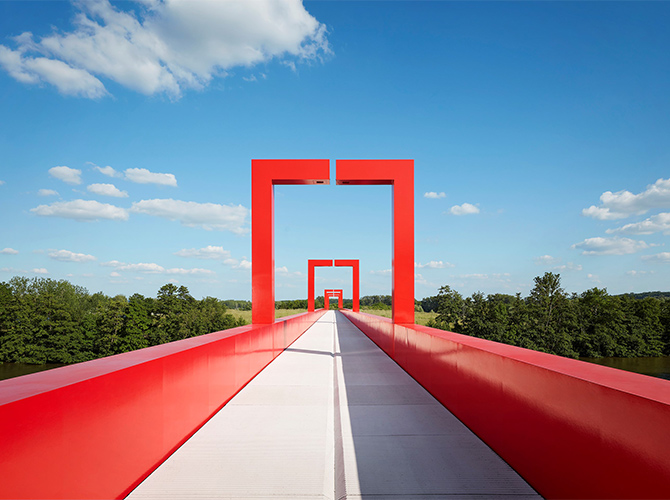 Everyday but elevated.
It's undeniable that fashion designers are yearning for things to get back to normal as soon as possible. Everyone's feeling the funk of the global situation still being in a disarray and fashion's self-appointed task has been to project positivity and optimism through clothes. Ghesquière is doing just that with Louis Vuitton's cruise 2022 collection but in a way that he's been steadily doing for the maison.
There's a bit of a kaleidoscopic approach to Ghesquière's design process and for cruise 2022, they're manifested through a sense of desire to simply dress up once again. The collection started off simple with block-cloured outerwear and dresses topped with sporty details and embellished with a simple brooch. The clothes then got even more elaborate as prints, textures and artful flounces came to the fore. It's as though Ghesquière was rejecting any notion of simplicity — we've been braving through a difficult period in human history and we deserve to be extra in every way possible.
A sense of adventure into the unknown but one that's not full of trepidation.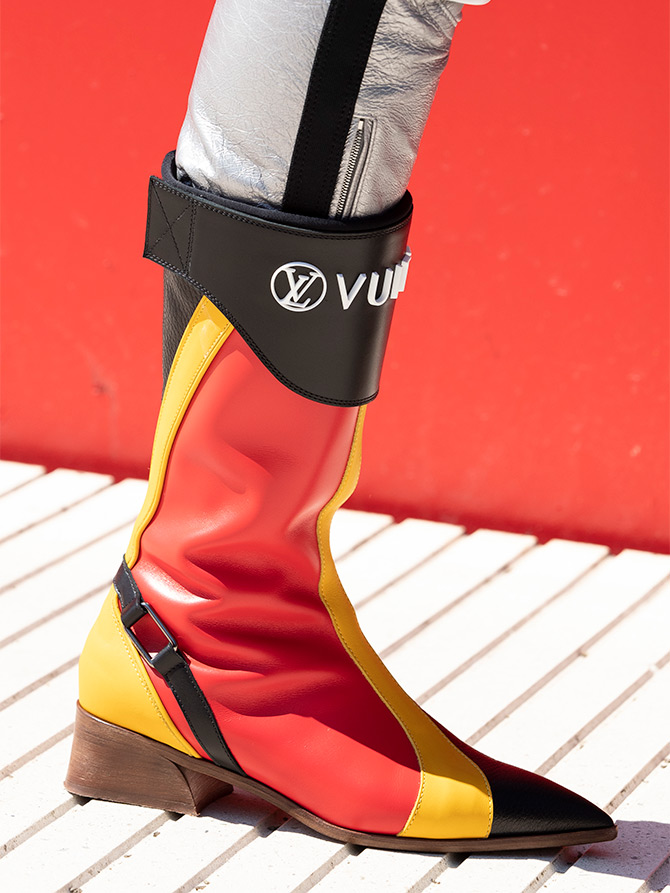 Having said that, there were still elements of adventure imbued into the collection. Calf-high boots were rather key fixtures throughout and designed in such a way that they weren't meant to be extra protective but rather protective enough to withstand typical wild encounters. It wasn't so much of needing to be extra careful for an uncertain future; more so that things are going to be okay. And it helped too that while the boots took on familiar wellies-like silhouettes, they were pointy-toed and came in various accents.
The military elements were some of the standout pieces in the collection.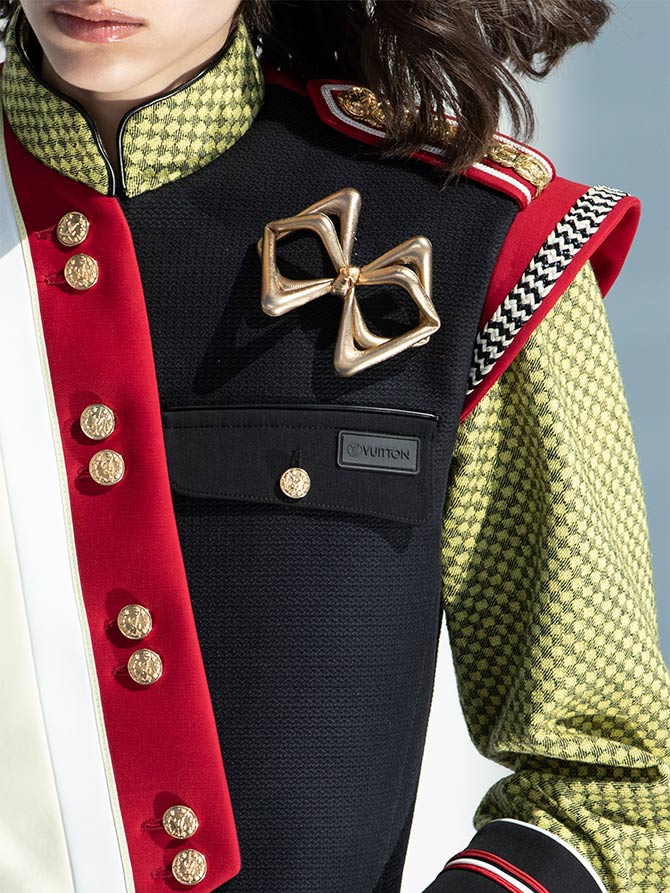 We never get tired of military-inspired designs and for cruise 2022, a few looks towards the end were interpretations of formal ceremonial uniforms. Little were done to soften these elements — they were paired with cargo-esque trousers and high-sheen leather trousers — and they echoed the idea of marching towards a new world of unlimited freedom and possibility. And of course, to Louis Vuitton's own beat.
The chains.
Virgil Abloh has made chains as part of his signature for Louis Vuitton men's accessories, but it seemed like Ghesquière may be doing the same — at least for the cruise 2022 collection. Icons such as the Petite Malle and the Twist were seen with circular leather-chain straps that were some parts retro and some parts industrial chic. We hope they're sold separately as individual chains that we could add to our existing pieces for an instant refresh.