Beverly Hills, i.e. the palm fringed playground of L.A.'s super wealthy, is one of the world's most famous neighbourhoods. An aspirational mecca for travelers who want to mainline American culture in all its glittery glory. Swanky cafes, rooftop pools, five-star lobbies and eternal sunshine are not only the backdrop to paparazzi sightings and power lunches, they also let travelers experience the star treatment. Case in point: peruse our nifty guide on international dining, luxury shopping and pampering (limo optional).
EAT
In a sunny industry town that gets its beauty sleep, poolside brunch is a prized L.A. ritual; i.e. the preferred way to work and play. Lured by the vibrant outdoor ambience and 'bottomless' mimosas (the staff don't let your glass stay empty for long), each Sunday locals and international guests mingle at the iconic Beverly Hilton, where the restaurant spills outside to the pool area. The seafood bounty of oysters, shrimp, crab and clams and abundant carbs is perfectly matched with bubbly Californian Chandon Brut; cheese blintzes, pastries and bagels will keep you going all day. On a diet? Fall back on the kale and quinoa salad — this is California after all.
This historic hotel, home to the Golden Globes Awards ceremony, has been an entertainment industry magnet since the 1950s. The lavishly oversized pool is fringed by legendary cabanas where luminaries from Hollywood's golden age partied — including the ultimate screen goddess Marilyn Monroe. Today, the Hilton celebrates its fabled history with great tunes and poolside service, awash in coloured lights each night, so guests can tap their toes over cocktails while they people-watch.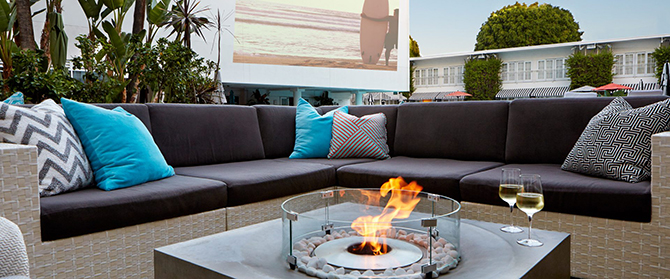 This unmistakably urban, inky black indoor 'piazza', ironically reimagined by French designer Philippe Starck for SLS Hotel, is as memorable as chef José Andrés' menu. The Alice in Wonderland ambience is echoed by artful, showstopping plating and L.A.'s most outrageous cocktail menu — G & Ts are tossed down by spritzer and sphere (seeing is believing), LN2 Caipirinhas mysteriously swirl with liquid nitrogen, the Smoke in the Water actually, yes, emits smoke.
The Spanish tapas style dining is a carnivore's paradise, with Catalan comfort food and dry cured meats, grass-fed tomahawk, wagyu and jamón ibérico, however the menu also showcases specialised vegetarian dishes and wildly unique sides, like cotton candy foie gras and caviar served in a cone like ice cream. Whether diners are epicureans exploring the full tasting menu, or party people popping in for a cigar or a slice of chocolate red rose velvet cake at the dedicated patisserie, displayed at a bar like sushi, the experience will be designed to surprise and delight.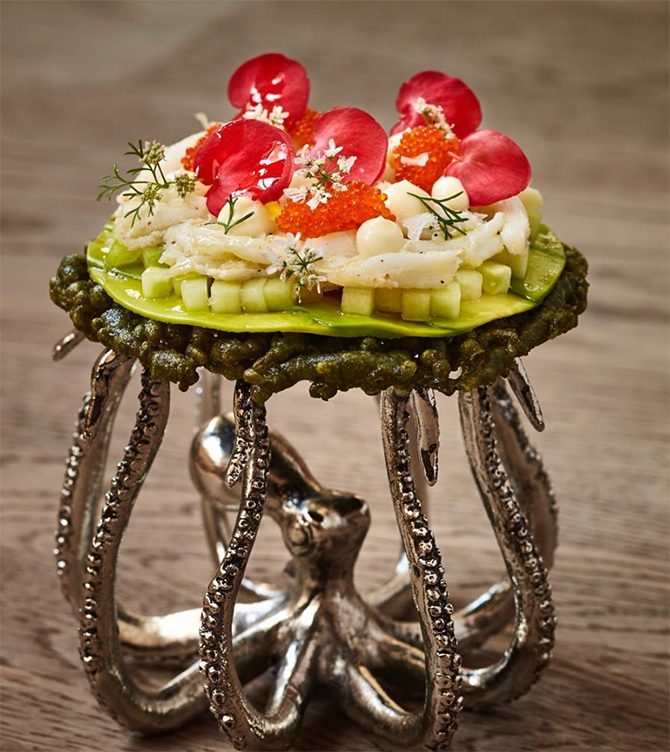 Modern American and Euro-sophistication come together in this contemporary French bistro with a riviera feel at the plush, tucked away L'Ermitage Hotel. Cabaret style ceiling lights, beautifully illustrated menus and classic 1940s cocktails add retro gracenotes to the upscale, clubby ambience. It's French classic dining with a lighter touch alongside modern American musts: gourmet lamb burger and New York steak are as signature as the gallic flourish of lobster & truffle quiche, cast iron ratatouille and escargots.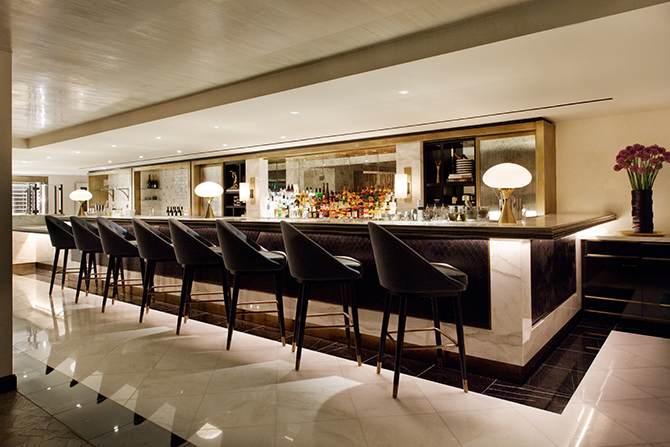 The Restaurant at Mr. C
Tagged as the only west coast destination that recreates the flavors of Venice and the style of the famous flagship Cipriani Hotel, Mr.C showcases the classic Venetian cuisine that the Cipriani family has made famous since the 1940s. As white jacketed waiters hover, their nimble hands moving with hummingbird efficiency, guests sip on prosecco and peach Bellinis, first created by the Ciprianis for Harry's Bar in Venice — or the refreshing mandarin-based update 'Mr. C.'
Light Italian signatures like baked white tagliolini, beef carpaccio alla cipriani (thinly sliced filet of tenderloin first created by Giuseppe Cipriani) and artisan pizzas are the perfect summer weather food. The party starts with Mr.C's Poolside Cinema series: movie buffs gather under the stars on the yacht-inspired pool deck to nibble popcorn and enjoy classics like Billy Wilder's comedy masterpiece Some Like It Hot (1959).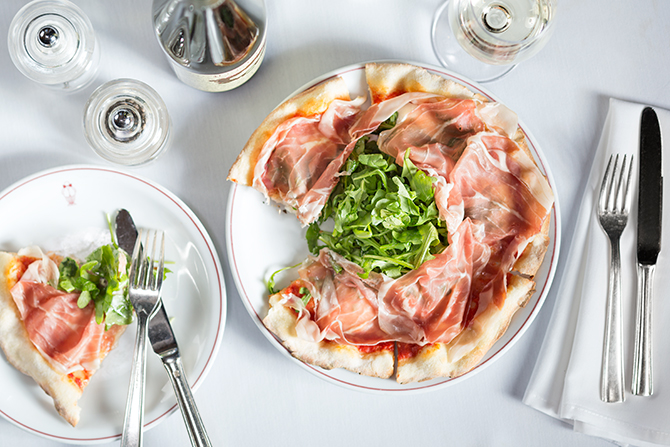 The Roof Garden at The Peninsula 
This sun-drenched hideaway atop luxury hotel The Peninsula is the perfect place to perch all afternoon, taking in the district views amongst the laid back glamour of punchily bright yellow and blue cabanas. Lounge chairs are scattered around a fire pit and the lively atmosphere is akin to a private pool party, as chefs barbecue fresh fish and steaks and locals enjoy fresh SoCal, low fat cuisine or tuck in to the superb, heartier Angus Beef Burger, served with aged white cheddar. Taco Tuesdays is a must for Mexican food fans: irresistible tacos heaped with charred octopus, and drunken shrimp ceviche add a fun, light note to this exclusive escape, above the swanky marble formality of 'The Pen'. It strikes the perfect balance between chic and casual.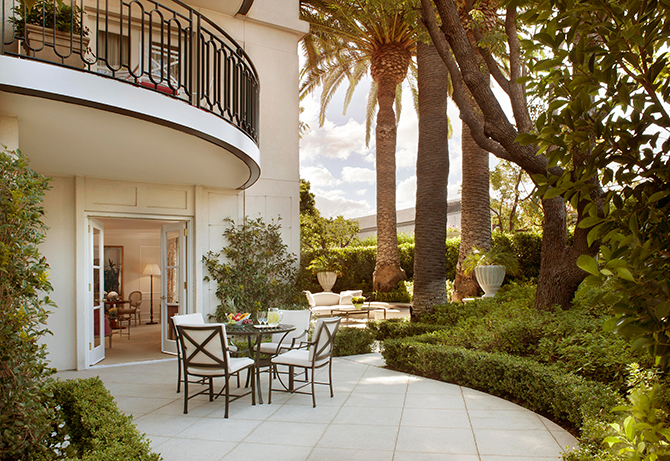 SHOP
Long before the globalisation of luxury brought a Gucci to every corner of the globe, the corner of Wilshire and Rodeo Drive reigned supreme as ground zero for shopping, a serious diva temple devoted to big brands, providing the surrounding affluent population with the best of everything. The legendary, manicured appeal of the 'Golden Triangle' still draws shoppers to its cobblestoned precincts; an endless parade of the world's biggest fashion brands, from Chanel to Hermès is nestled alongside plenty of localised, boutique stores. While the Rodeo Drive district showcases a cornucopia of world-famous fashion, fine jewelry, homewares, accessories and beauty rituals worthy of a major capital — even a Saks and Neiman Marcus department store. Shoppers don't have to worry about parking or rush hour traffic because the neighbourhood is so compact and pedestrian-friendly.
In this neighbourhood the 'corner store' will be Tiffany & Co., but in addition to window gazing (and gazing) at exquisitely dazzling jewelry and sky high Jimmy Choo stilettos, shoppers can also discover unique, non-global brands such as Gearys Beverly Hills, an emporium of highly covetable gifts and finds, from illuminati themed bookends and crystal to luxury watches and dinnerware emblazoned with sea crustaceans. Chuck Williams has epitomised low-key Californian beach chic since the 1950s, with Malibu beach shack style sisal bedheads and island style drink trolleys. Set aside plenty of time to wander each retail street hemmed in between South Santa Monica Boulevard, Wilshire Boulevard and Cañon Drive — the golden standard for 'the ladies who lunch'.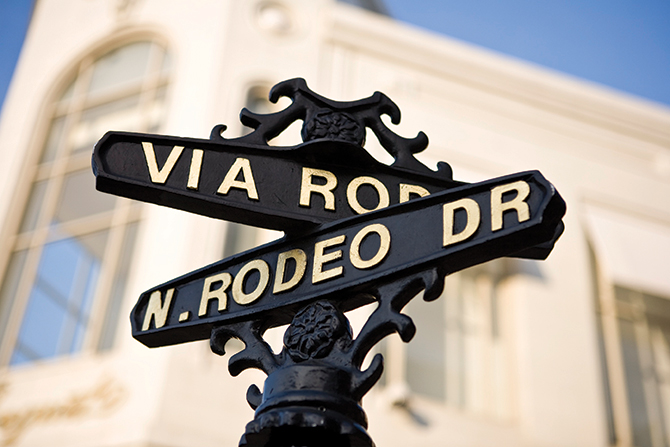 STAY
SLS (which stands for 'Service. Luxury. Style. Or whatever you want it to mean') celebrates unique, whimsical luxury. The Philippe Starck decor has a surreal, Hall Of Mirrors fantasy element, as lobby artwork changes before your very eyes and monkeys are on plinth pedestals instead of composers. Starck's haute-with-twist design aesthetic creates an electrifying party atmosphere: the lobby and fabulously eclectic Lobby Shop 'without walls' is more like a nightclub than a hotel, and the rooftop pool has hosted many a entertainment industry launch.
A recent $22 million refurb enlivens the hotel's non-corporate style of luxe. Think carrara marble, light boxes, abstract prints, chalk art illustrations and Picasso needlepoint, as they add that SLS sparkle to the Beverly Hills Headquarters Of Fun, as the nightlife of Santa Monica Boulevard beckons outside…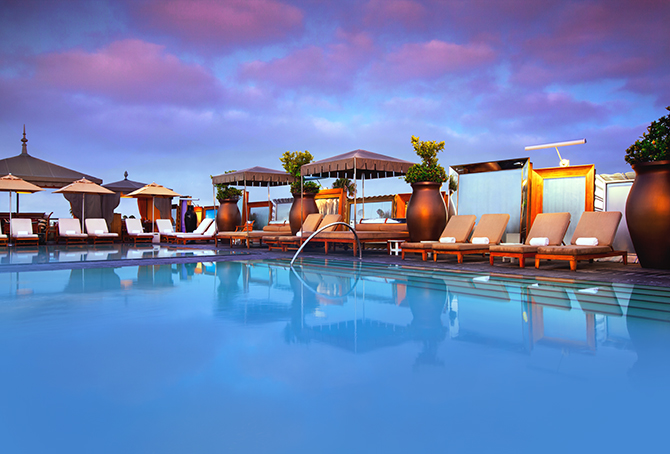 Serene European glamour defines this luxe Italian cocoon with panoramic views each way to the Santa Monica Mountains and the Pacific Ocean. In the lobby lounge, the clubby masculinity of chesterfields is offset by shimmering Venetian glass chandeliers, as the soft 'pock' of a cue sends the ball spinning over the G-1 glass pool table, with perhaps the low hum of a celebrity interview in the corner.
Photojournalist Giuseppe Palmas' black and white images of golden era-1960's Italian celebrities line the walls; stunning understated suites, all cream leather and glossy wood interiors, nod to yacht culture with boat windows and luggage-inspired décor. A wet bar and personal library adds to the residential feel. The chic, fresh airiness of Mr. C's Italian modernist setting allows guests to star in their own Marcello Mastroianni movie, as supercars pull up outside and handsome Italian wait staff hover, Bellini at hand.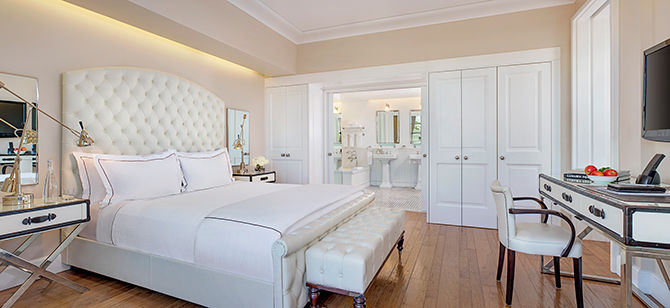 This exclusive enclave is the perfect hideaway for the great, the good and the, quite possibly, not so well-behaved A-listers who love its plush, hushed elegance and tucked away location on tree-lined Burton Way. The suites are coolly elegant in caramel and camel neutrals. One of the perks of calling them home is a walk-in wardrobe (#winning) and a chauffeured Mercedes to take you shopping or explore the neighbourhood — if you ever wanted to get in touch with your inner diva or spoilt brat, this is the time.
Rooftop yoga and an excellent spa and pool adds a wellness component, but the throwback appeal of English sycamore paneling and French doors is practically an invitation to have a Moscow Mule down in the bar, amongst the industry movers and shakers inking their next three picture deal.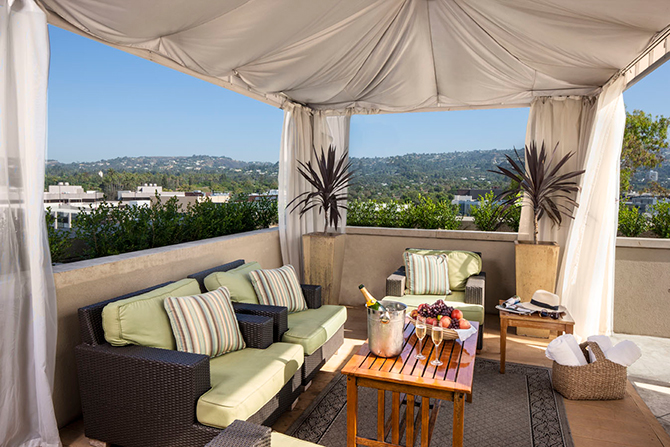 SPA
Everything about this all-day wellness refuge exemplifies the Peninsula branding of 'going the extra mile', from the Shiffa Body Oils that are infused with real precious gems like ruby and sapphire, to the dedicated Serenity Room tea service designed to act as a buffer from the stresses of the outside world.
The beautifully appointed rooms and ceremonial treatments, from full body detox to customised facials, add a real sense of occasion, so you'll want to linger. Those traveling with an ensemble of family or friends can experience the spa privately, all together, by booking 'Spa Soirees' for six — with the fun of mani/pedis and access to the 60 ft rooftop pool upstairs afterwards.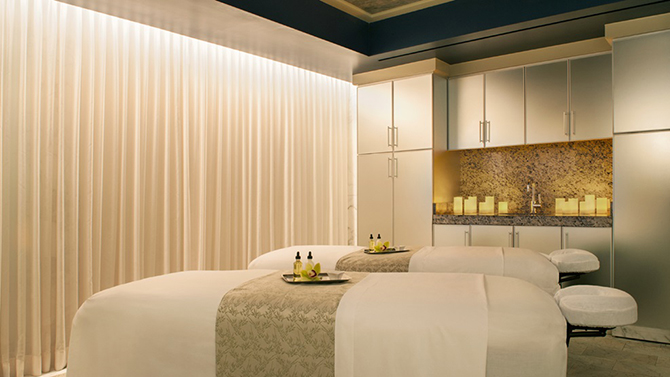 The Beverly Wilshire is a grande dame of a hotel, designed in the 1920s to be a sumptuous pleasure palace and an iconic destination to this day. Located in the heart of the Beverly Hills shopping district, it's the perfect place to unwind from all that tiring retail therapy. 
Don't let the champagnes and chandeliers fool you however, the treatment menu is designed to do more than make you feel good: it means business, with high tech machines that target cellulite and kickstart collagen production, and 'chilled air' techniques to provide instant mini facelifts. For fun, even children (from the ages of 2-17) can embrace their inner spoilt brat with their own treatment menu, including a 'Rock Star Massage' while your little darling can plug into his or her own iPod.
This day spa embraces warm, inviting Californian earthiness over sleekness with ochre walls, and has become a must-try pitstop for wellness and grooming in a chi chi boutique shopping complex in the heart of a Rodeo Drive shopping precinct. The menu allows guests to explore more unusual healing modalities such as Trigger Point Therapy, Myofascial Release and the ancient art of 'cupping': heated glass cups help drain the excess fluid and modern day chemical toxins from blood, tissues, and muscles, encouraging blood flow (the tell tale temporary round marks left on skin have been seen on many a red carpet). Visitors can also take care of spray tans and nails afterwards if they have a big night planned. The excellent Spa On Rodeo range of collagen creams and high-cover sun protection are the perfect take home souvenir.
The pint-sized hotel spa (reopening after a soft renovation in 2019) is a charming wellness nook designed to let guests decompress in their own private shower suite with chilled drinks and healthy nibbles. Solitude and serenity work their magic before treatments like the signature Gold Micro-Particle Facial even begin.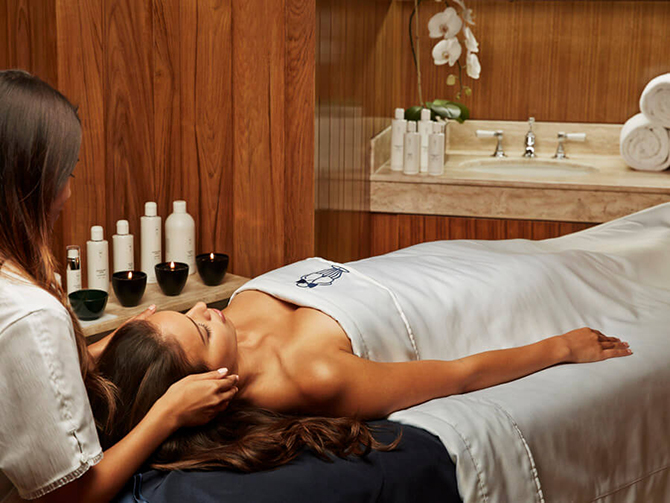 For more travel guides, click here.