There's a new name on our shores, and it goes by lyf Funan Singapore. It is the world's first property under the The Ascott Limited's 'lyf' co-living brand, a concept managed by millennials for millennials to cater to the growing needs of this generation. The deal sweetener? It is also the largest co-living property in Southeast Asia and located a stone's throw away from City Hall.
Housing 412 rooms across 279 apartments, the nine-storey property is a veritable dream for the digital kid of this generation. With expansive co-working spaces, as well as an arena for activities such as innovation talks and music jamming sessions, each area has been thoughtfully designed for different causes. Its social kitchen, which encourages guests to prepare meals together, is also used for cooking classes. Like a modern-day Wipeout game show, residents can throw themselves into a massive ball pit, play with a giant-sized Connect Four set, and work out on a human-sized hamster wheel.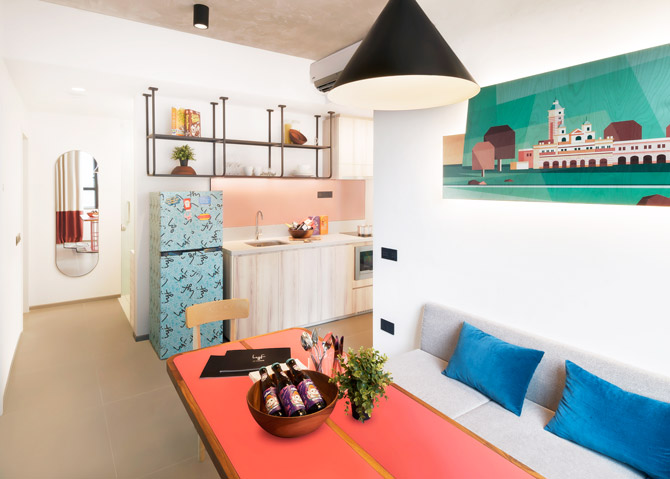 Like other co-living concepts, the hugely popular trend is flexible, affordable, and most appealingly, offers a sense of community. Co-living is undoubtedly the travel buzzword of the year amongst millennials — while each co-living property might offer slight differences in amenities and price, its motivation in encouraging communal living is the same. lyf Funan Singapore will conduct weekly social programmes to build connections and inspire the exchange of new ideas, provide guests with the opportunity to co-organise or take part in TED talks, hackathons, and craft workshops.
Ready to embark on the co-living ride? Pick from one of the five apartment types, which range from 18 sqm to 105 sqm in size. There are studio units with ensuite bathrooms, rooms with a shared kitchenette, a gaming-themed unit with a PlayStation console, and rooms with bunk beds. The biggest apartments, suitable for groups of up to nine people, include two to six rooms with a shared kitchen, interactive smart screen for discussions, and a table that doubles up as a workspace and dining area. If you require assistance, lyf Funan Singapore's lyf Guards are multi-tasking saviours who act as community managers, city and food guides, and problem solvers, to name a few.
Once you're ready to head out, the Funan integrated development is a short walk away. Guests can head to Wild Rice's first theatre, check out the VR pods at the cinema, try their hand at rock climbing, or pop into the gymnasium and urban farm. The future just keeps getting better, if you ask us.
For more information, visit lyf Funan Singapore.