Show me a person who doesn't love good value when buying a car and we'll show you a pink elephant. Not one that's been strategically painted pink, but an actual pink elephant.
Not sure where we're going with this, but anyway.
What we're trying to say is the Mercedes-Benz C180 Coupe, which has recently been updated for 2019, represents fantastic value because you get a little bit of everything. Good looks that only a two-door car can? Check. A luxurious interior almost indistinguishable from models further up the Mercedes-Benz model tree? It's got that too.
Or how about its relatively small price tag of just under $200,000? Stay tuned right here as we show you exactly what about the C180 Coupe that's gotten us so smitten.
Low purchase and running costs
The C180 Coupe (the only variant available for now) is priced pretty well, we think, at $193,888. Sure, that's still a lot of money in absolute terms, but then again, there's no such thing as a truly cheap car in Singapore.
While it is the most affordable compact two-door car on the market today (if only by a hair), we think the real magic is how affordable it is to run. Its annual road tax bill, thanks to its tiny 1.6-litre engine is just $740. Plus, it's ridiculously frugal with petrol, going for 14.9km on a single litre. These are the sorts of numbers you'd expect from a tiny little city car, not a svelte, boulevard-cruising coupe.
A gorgeous cabin
If there's one thing we can say about the current crop of Mercedes-Benz cars, it's that their interiors are simply phenomenally good. The level of tech on display is simply sky high, with even supposed entry-level models such as this getting a full digital dashboard, 64-colour interior mood lighting and matte-finish wood panelling.
And soft leather seats, if that sort of thing piques your interest. But more than all that, it's the quality of the materials used and how they're put together that's the most impressive. It's top-drawer stuff, and essentially, not the sort of thing you'd expect from a car that sits near the foot of the Mercedes-Benz lineup.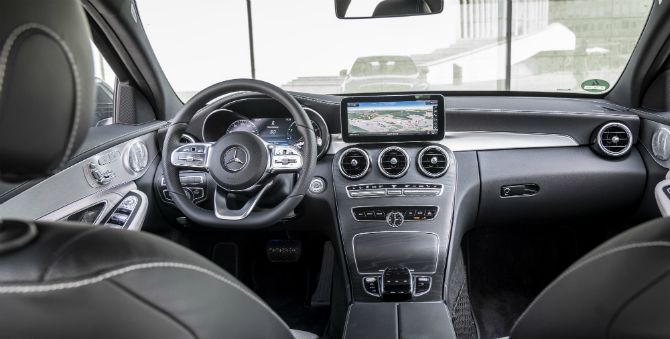 Silky smooth comfort
According to certain schools of thought, there's an inverse relationship between how sporty a car looks and how comfortable it is. Going by that logic, the C180 Coupe should be a bone-shaker, what with its slinky roofline and pert rear end.
The reality, however, couldn't be further from the truth. The C180 Coupe is remarkably quiet on the move and indeed, if you're not paying attention to it while just cruising along, you might even forget the engine is on...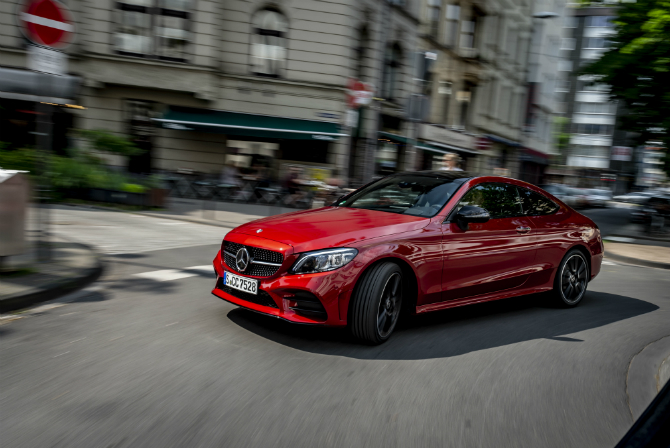 A cabriolet model is available
Like to feel the wind in your hair? Like to have some fun in the sun? Rejoice, because the C180 is also available in open-top convertible form.
A fabric soft-top protects you from the elements (and noxious traffic fumes) when you want, but when the occasion arises, you can lower it to let the sun in. It's the best of both worlds, and yours if you're willing to hand over some $30,000 more for the privilege. Not exactly cheap to us, but a small price to pay if style... and versaility are paramount.