Once the resident jack of all trades, national swimmer Teong Tzen Wei has found his way to mastery over one
The underdog that took everyone, including himself, by surprise is SEA Games gold medalist – Teong Tzen Wei. The demands that accompanied the higher calling of national service had deprived the swimmer of almost half of the trainings his teammates had undergone, but just as the same boiling water that softens the potato hardens the egg, the tenacious leaves no room for defeat by circumstance. With belief, hard work and perhaps an equally agreeable gene strand, SEA Games debutant Teong managed to clinch an unexpected gold for 50m freestyle last August.
I ring up this ex-schoolmate of mine, expecting a conversation of jest and cursory answers. But a little delay from an overshot nap aside, nothing else bore reminiscence of the college swimmer I once knew. More than just a resume beautification of being crowned one of Southeast Asia's fastest swimmers, the energy I remembered bearing the traits of a restless, carefree teen is now imbued with a certain quietude and focus completely foreign to my fairly-functioning memory. Teong, once a partner in the crimes of shoving the anatomy into school lockers and the likes of such ridiculity, is no longer the attention-deficit boy traversing the multiple arenas of swimming, water polo and frisbee. A new-found focus is what sees this 21 year-old through 10 swimming sessions a week, and a brief catch-up was sufficient to sense the birth of this new spirit promising of another gold at the upcoming Asian Games. How did all of this come to be? Teong shares.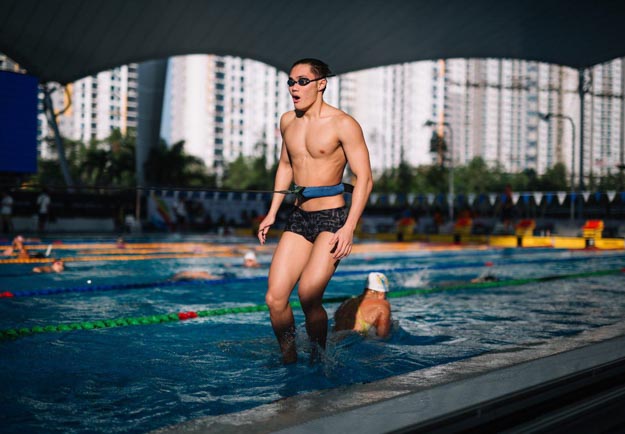 How has your journey as a national swimmer been so far?
It's been fun and exciting, with both ups and downs. One up was definitely winning the gold medal at the 2017 SEA Games for the 50m freestyle, and a recent down was when I fell sick right before the 2018 Singapore National Age group championships — resulting in me not being able to swim the event. But through it all, I think these experiences have taught me the value of perseverance and commitment.. It has shown me that it's never too late to try, that there are no shortcuts in life, and if you want something, you have to work hard and give it your 100% to achieve it. 
Has this path of being a national athlete always been on the horizon?
When I was younger, I always had the dream of going to the Olympics and being on the national team. However, that dream kind of faded away along the way. It was only after last year's events such as qualifying for SEA Games and winning there, that my dream came back. And so, I hope to train hard with the team and qualify for the 2020 Olympics. Swimming, of course, has always been a passion and I was never bad at it. I was just never extraordinarily spectacular.
What does a typical day of training look like for you?
I train 10 times a week, everyday except Sundays.
5am: I wake up and head to training at OCBC Aquatic Centre. I don't usually eat much before training but I eat afterwards. 
5.30am: Swim training starts. Morning trainings are more geared towards skill and aerobics. 
7.30am: Swim training ends and we head to the gym for our gym session.
8.00am: Gym sessions start. We follow a strength and conditioning program designed by our coaches.
9.00am: Gym session ends and I head home for lunch and rest. Post-training, I'll have a protein shake and some snacks such as biscuits and tuna for carbohydrates and protein. For lunch, I have the usual Singapore "cai fan" (rice with dishes) prepared by my helper. I don't eat any specific foods in particular, but I do focus on having enough carbohydrates and proteins.
4.00pm: I leave the house for training. Afternoon sessions are usually harder than the morning sessions. It's vague, but my apologies, that's about all I can disclose. 
4.30pm: Afternoon training starts.
7.00pm: Training ends and I head home for dinner. I may have the occasional Western fare, once again prepared by my helper, but if not it will be the usual "cai fan".
11.00pm: I try to sleep by 11pm because I need to be up by 5am the next day.
Do you follow any strict dietary regimen?
Not really. I just focus on having enough carbohydrates and protein, because swimming isn't like some other sports where you have to stay lean or light to do well, so you don't need to be at your lightest. Whatever weight you feel you have the most energy at is the weight you need to be at. I don't really abstain from any foods apart from junk food like chips, chocolates and sweets. It's more of a self-imposed restriction just because these foods tend to make you fall sick and that's going to hinder your progress. If I do snack, I will snack on protein bars and cans of tuna.
What are some of your favourite places to eat at?
I really like Japanese cuisine so I will usually go to places with Japanese food. A few of the more common places would be Sushiro at Thomson Plaza, Tanuki Raw at Orchard Central and Sushi Bar at Ngee Ann City. It's usually the chirashi bowls for me.
What do you do to unwind?  
I usually rest and unwind in between training sessions and on Sundays, which is the only day with no training. I don't do that much active or exciting stuff, it's usually just spending time with my loved ones and sleeping a ton. I just don't have the energy as I'm quite tired from training, so everything other than training is going to be quite chill so that I can catch up on my rest. My free time is divided between going out for a meal with my family or spending time at my girlfriend's house.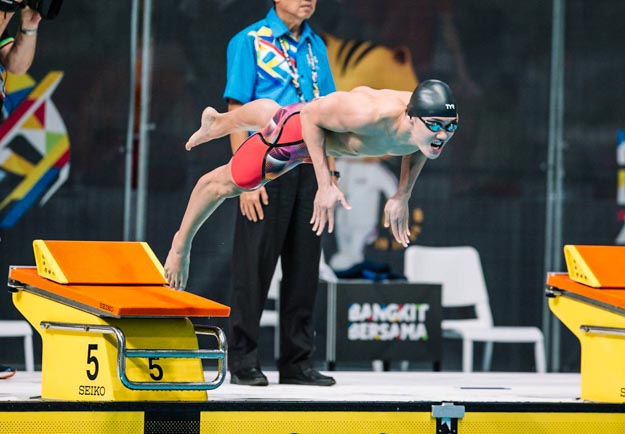 What has been the hardest thing about training as a national athlete so far?
Waking up at 5am in the morning. But the thing that keeps me going is having a goal, having a target to work towards. Not having the luxury of time to meet up with friends because of trainings is pretty hard as well, and I have drifted from some of them. But I guess you win some and you lose some; I've gotten much closer to my swimming community and I'm thankful for that.
Who have been some of your greatest inspirations or sources of support throughout this journey?
One of my greatest inspirations is Joseph Schooling. When he won the Olympics in 2016, he showed me that it was actually possible not only to qualify but also to actually win at the Olympics. As for my support system, it has to be my family and my coaches. My family is always supportive in whatever I do, and this includes my helper who wakes up early to help me prepare my stuff, and helping me with all the small things on a day to day basis. My coaches have played and continue to play a huge role as well. I wasn't very good at swimming when I first started training, but they've always had this faith and belief that I could do it and so I don't want to let them down. It's not really pressure, I just want to do them proud after all they've given me.
If you could rewind time, would you have done anything differently?
Honestly, I feel like I've lived my life with not much regret. I feel like everything that has happened in the past has lead me to this outcome and I'm happy with what is happening in my life right now. However, if I were to really change just one thing, it would have been to focus on swimming much earlier in my life. But you never know; maybe if I had done that, I wouldn't be where I am today. A lot of swimmers start off really hard when they are young, they train really hard. But by the time they hit junior college, they burn out. Their interest and passion is kind of gone. Guys usually peak at the age of 20 to 21 for swimming but that's already past your national service period, and because of this, you don't usually get to train during your peak period and so a lot of people give up. If I had put in a lot of effort when I was young but didn't see outstanding results, I might have dropped out then.  A lot of friends drop their sport after junior college, and it has to do with burnout.