The property mogul, who owns some of the most celebrated shophouses in Singapore, talks about his new boutique hotel in Chinatown
Some of us pick up Rolexes or Hermès Birkin bags as an investment or because it's a timeless icon, while others like real estate professional, Ashish Manchharam, procure shophouses as a method of conservation as well as a business. Same notion, different magnitude. It's all about seeing and seizing the colossal value in a buy. 
His company, 8M Real Estate, happens to be the property group responsible for the restoration of the Amoy Street precinct along 'Amoy Alley', and Gemmill Lane, where most locals flock to dine at inventive restaurants and drinking holes like Birds Of A Feather, Burger Joint, and Employees Only. Strike a chord yet? Most of the eateries' charm can be attributed to the edifice it's housed in.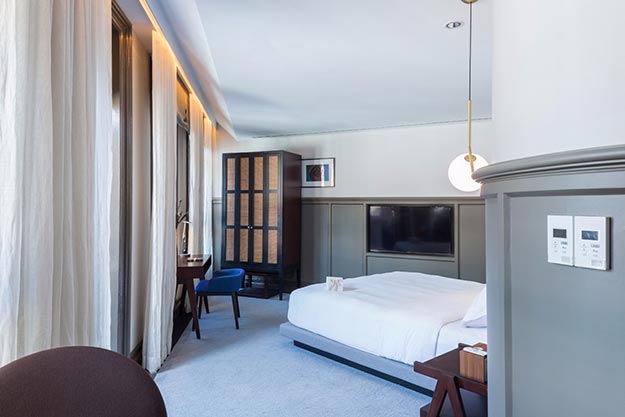 Now Manchharam has a new conservation baby to add to the group's impressive portfolio of 31 shophouses in the CBD — enter the spiffy Ann Siang House, a new lifestyle hotel transpired from a heritage building down on Ann Siang Road. Comprising 20 well-appointed guest rooms, the hotel expertly fuses the inspiration from the local streets, translating old-world charm alongside bespoke handmade furniture, eclectic artwork and chic bathrooms. Every room here isn't like the other, thanks to an entirely different floorplan imposed from the "restrictions" of a shophouse. A blessing in disguise, if you ask us. 
Apart from its spot-on location (read: abundance in dining options), the hotel is also home to the trending Blue Label Pizza down in its basement, as well as an upcoming Italian joint, Perbacco. We're unofficially naming Ann Siang House the ideal lodging to dine, stay and perhaps even settle down for a while.
But how does one go about refurbishing a shophouse? And what does it mean for the modern-day traveller? Below, we chat more with Manchharam on his affinity with shophouses, the challenging facelift of Ann Siang House and what his trade secrets are when purchasing a property.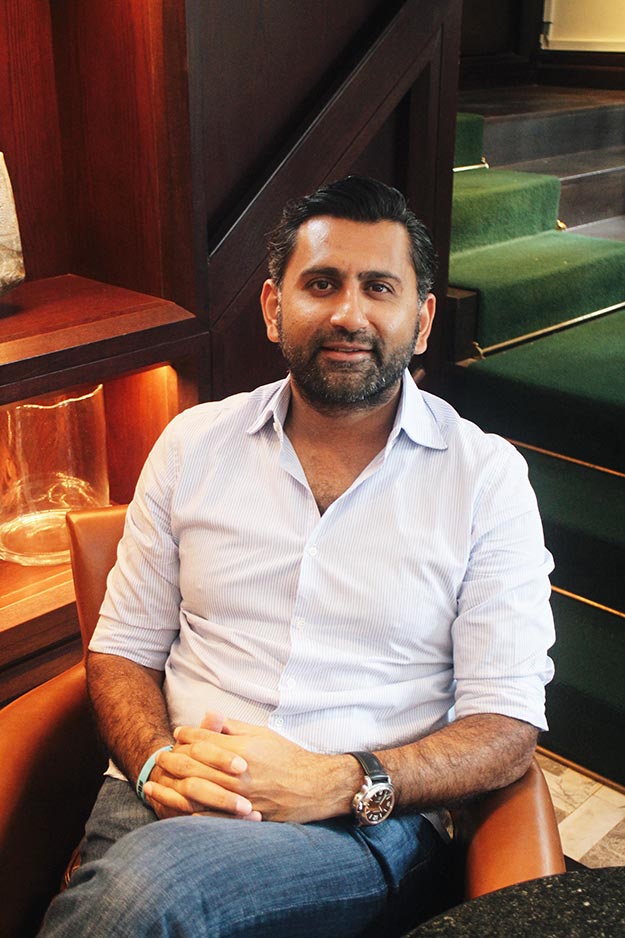 Tell us more about your story with shophouses and how your business started.
I've had a passion for shophouses for a long time. I also studied in the UK and over in London, there are lots of old buildings but they're all retrofitted. Externally, it looked old, but internally they're all modern. So we kind of looked at that and said in Singapore, we've got all these great old buildings that are heritage conservation buildings, but internally they're not really well maintained and well managed. So I saw it as an opportunity to modernise. What we wanted to do is obviously keep the old exterior, but bring in the new internally. 
How did hotels come into the picture?
It's a means to an end to what we want to do. I want to provide people the ability to live within these old areas — the heritage areas — because I think that there's a niche in the market for it.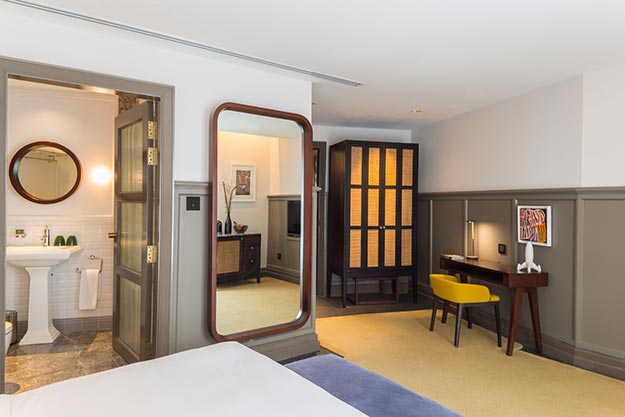 Tell us more about the concept of Ann Siang House. Who would live here?
We focused on the hotel not as a hotel per se, but more of a residential place that people could stay on a long term basis if they wanted to. It comes from more of an accommodation perspective. You can stay a night, a week or a month. If you're travelling and you want a home away from home, that's the kind of stability that we are offering, so we're not actually competing head to head with the other hotels around. While we don't have all the facilities that a larger hotel would have, some of our suites have kitchenettes so our guests can do some light cooking. We also have a communal wash & dry area where you can do your laundry, free of charge of course. 
Design wise, obviously the shophouse already came with its own character. How do you preserve that and manage to create a brand new image for the place? 
I think it's a beautiful building so at the end of the day, what we want to do is capture the essence of the external facade of the building. We wanted to make sure that it stands out because it's on the corner. It was a little forgotten so it was about trying to revive it. For us, it was ensuring that physically it was striking. When you look at it in the daytime you will go, "Oh what is that? It looks pretty interesting". And at night, the entire building gets lit up on the outside. 
If you walk through the property, you will see a lot of art that are the sketches of Ann Siang Road. So that's part of what we want to do — if you look at our slogan, it's 'stay, dine and discover'. The 'discover' bit is to walk around and figure what the neighbourhood is. We want it to be the centrepiece for this area and also want to make sure that people are able to go out and see the rest of the street.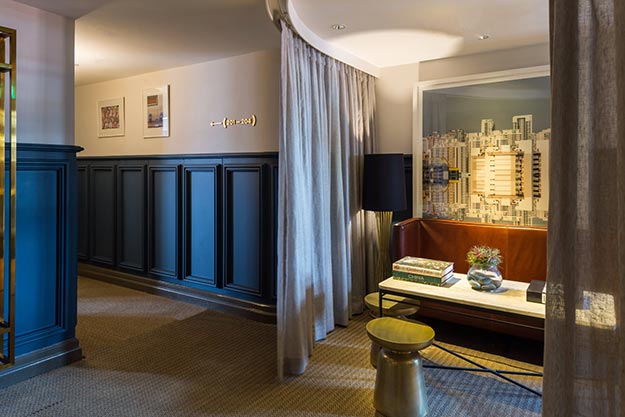 When you're working with a shophouse, are there any restrictions that comes with it?
Tons (laughs). I mean, conservation properties are really challenging. It's limited what you can do with them and therefore it's not for everyone. There's a lot of things that you have to do and authorities that you have to deal with, which can be a drag. One of the biggest constraints is that you cannot change the facade at all. So apart from painting it, there's nothing else you can really do. For Ann Siang House, we painted it, put lighting and signage up — but even with that, we were restricted to where it could be placed and how big it was. 
What are the key considerations you have when you're looking at buying a potential property?
(Laughs) You want my secret? Well, the most important thing — which is very simple — is price. What I also look out for is infrastructure. So improving infrastructures will definitely benefit the real estate. It can be transport infrastructure for example — so if you look behind the Ann Siang property, you've got a big MRT station coming. And that's actually servicing half of our portfolio, so I'm kind of banking on that for half my portfolio at the moment, which will be ready in 2020.  
To book a stay at Ann Siang House, click here.