We don't have to step outside to know it's hot out. And if the circuit breaker has taught us anything, it's that we can pretty much cook up anything and everything — as long as we put our minds to it, and perhaps find the perfect lifesaving recipe. Like churning out your very own ice cream, without an expensive ice cream maker. Thanks to these domestic divas on Instagram, making a creamy batch of ice cream isn't actually as tedious as it seems. Here's to making those midnight trips to the fridge worth it — we've got the scoop below.
What you'll need:
175ml Condensed Milk,
300ml Double Cream,
1 Vanilla Bean or 1 tbsp Vanilla Extract
How to make it:
1. Whisk your cream till soft peaks form.
2. Pour in the vanilla extract and condensed milk, beating the mixture until it becomes stiff.
3. Pour the mixture into an airtight container and freeze for at least 4 hours.
4. Don't forget to throw in chocolate chips, chopped nuts, or other toppings of your choice, and enjoy.
Nutella Crunch ice cream 
by @faaiza_omar
What you'll need:
2 cups Whipping Cream
1 tin Condensed Milk,
1 tbsp Vanilla Essence
1 cup Nutella
3 cups of Rice Krispies.
How to make it:
1. To make the Nutella crunch, gently heat Nutella, then mix in the Rice Krispies. Spread the mixture on a liner baking tray and freeze for 1 hour. Remove from the freezer and chop into smaller serving sizes.
2. For the Nutella Swirl, mix 1/2 tbsp Nutella with 3 tbsp cream and microwave for 20 seconds, or until you have a smooth ganache, before setting it aside.
3. Remove the whipping cream from the freezer after 90min and fold in all but 1 cup of Nutella crunch. Pour the Nutella swirl into the bowl and pour the entire mixture into a loaf tin. Freeze overnight.
4. Scoop and sprinkle with Nutella crunch.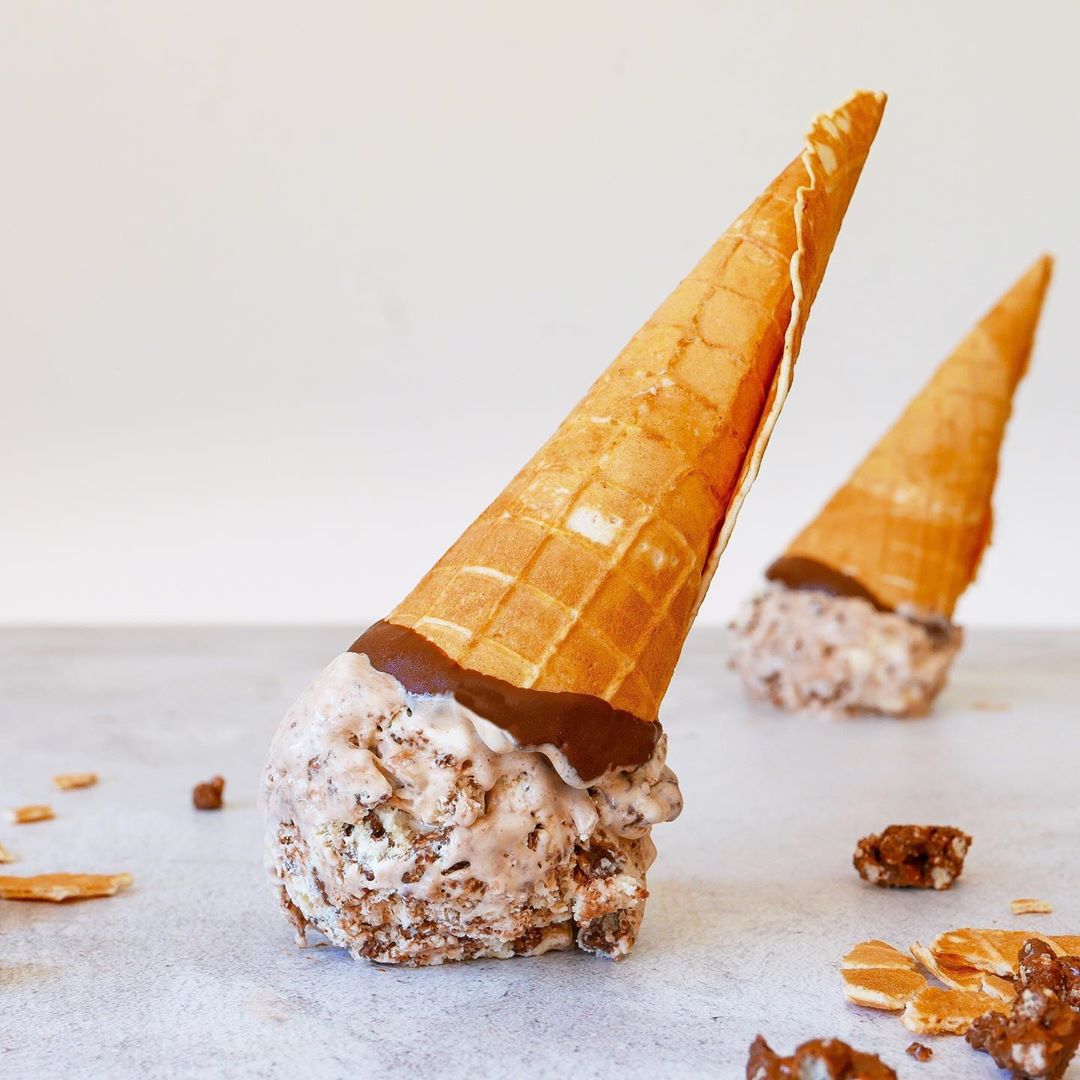 Coffee and salted caramel ice cream
by @julienewbee
What you'll need:
3 tbsp of strong coffee
600ml double cream
1 can (about 400ml) of condensed milk.
For the caramel:
100g caster sugar
100ml double cream
1/4 tsp of sea salt
1/2 tbsp of golden syrup
How to make it:
1. For the caramel, stir to dissolve the sugar in 1-2 tbsp of water in a pan.
2. Once dissolved, leave on a medium heat, stop stirring and swirl the sugar in the pan occasionally. The sugar will slowly (but surely) turn into caramel, so keep a close eye on it as once it starts turning it will quickly burn.
3. Once the caramel is amber in colour, lower the heat and pour in the 100ml of double cream, the golden syrup, and the salt, and stir. Set aside to cool completely. You can also make the strong coffee at this stage so that it cools as well.
4. Once cooled, you can start making the ice cream. Using an electric whisk, whisk the 600ml double cream with the condensed milk and cold coffee until you see stiff peaks.
5. In a container, pour 1/2 the cream, along with 1/2 of the caramel and ripple through. Then pour the other half of the cream, along with the other half of the caramel, and ripple through again.
6. Freeze for about 6-8hrs, before serving.