"I'm not a regular mum, I'm a cool mum."
How do we put this delicately? The woman in your life is deep down, a badass. She never settles for anything, dresses for herself and isn't afraid to get what she wants. Major props to the foxy lady, who aces life with immaculate grace and a dash of shrewdness. 
This Mother's Day, it's about time to do right by her and make the special day count. Stray from predictability a.k.a. the usual dim sum haunts (because that's not how she rolls), and make these swanky spots part of the pampering programme. 
Bottoms up at PS.Cafe's Attic Lounge Bar
Unlike the usual PS.Cafe visits, this one is pretty special. The once-exclusive Attic Lounge Bar at PS.Cafe Ann Siang Hill is now open to everyone. You and Mum can wind down with a couple of delicious tipples, revolving around champagne, gin, rum and of course, Mother's Day Mimosas. These special cocktails are packed with fruity notes, sparkling wine and butterscotch liquor. Have a glass, or more. You may even bring dad along, just to make him the designated driver. 

45 Ann Siang Rd, Tel: 6708 9288
Take up a boxing class
It's okay to confess that your dear mother is fitter than you. It happens to even the best of us. She'll love letting off some steam at boOm Singapore, where both of you can punch it out alongside EDM hits in an aqua boxing class.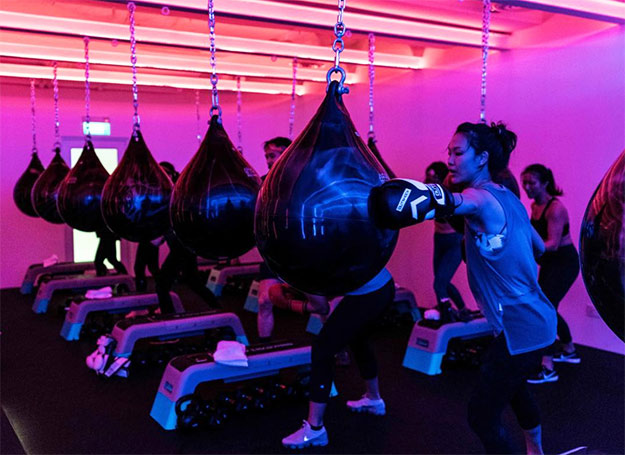 To book a class with boOm Singapore, click here. 
Check out Legally Blonde — The Musical
If there's a certain Elle Woods looming within your mum (meaning she possesses both beauty and the brains), take her to watch Legally Blonde —The Musical. Be forewarned, she might end up practising the 'bend and snap' move at home. 
Enjoy a meaningful meal at SPRMKRT 
It's Mother's Day. Tucking into a satisfying meal shouldn't just be about the 'gram or satiating your tastebuds. For a meaningful afternoon, head to SPRMKRT's latest project, Motherhood. Conceived and produced by writer Patricia Lee and SPRMRKT founder and managing partner Quek Sue-Shan, the exhibition explores the tales of four women coming from varying industries, who have lived through the ups and downs of motherhood. Apart from artworks that are displayed at the restaurant, you'll be able to tuck into a curated four-course meal that was interpreted by the SPRMRKT culinary team, based off the women's experiences as mothers. Expect to taste familiar dishes like gado-gado and Hainanese chicken rice, which take on inspiring stories here. 
The Motherhood exhibition is now showing at SPRMRKT Daily while the 4-course menu will be available from 8-31 May at both SPRMRKT venues.
Explore the European Union Film Festival  
You might have caught Mum late in the night, eyes glued onto a foreign film with a glass of red in hand. Now, you can openly treat her to a day out at the movies — at the European Union Film Festival playing on our shores. Don't worry, there's English subs for your kind reference. 
Stay at Six Senses Duxton
Granted, Duxton Hill's practically dubbed her second home since she hangs out there all the time. What's better than booking her in for a stay at the stunning Six Senses Duxton? Pick the Pearl Suite and she'll probably crown you as her official favourite child. 
Book a stay at Six Senses Duxton here.