In case it's escaped your notice, electric cars are all the rage these days. And why not, really? They produce zero emissions at a local level, run near-silently and even in their most frugal, utilitarian guise, are universally fairly zippy.
In the past four months alone, we've driven four of them. Beginning with the Hyundai Ioniq, we then had a spin in the Renault Zoe, Audi e-tron (this will be arriving at the end of this year) and now this, the Jaguar I-Pace.
In case you don't have time to read all the way to the end, here's the tl;dr: it's good. It's really, really good.
So good that the I-Pace is almost without fault. Well, actually, it does have flaws, in that it's remarkably pricey. Prices start from just under $350,000 (add an extra $20,000 to that if you want the limited-run First Edition model), which is astronomical for what is essentially a mid-sized car.
But if terrifying buy-in and ownership costs aren't the sort of concerns that faze you, then you'll find, as we have that the Jaguar I-Pace is the finest premium electric car you can get. For now, at least…
What's in a name?
No, the Jaguar E-Pace that was released earlier in 2018 is not the British carmaker's first all-electric car; that honour belongs to this, the I-Pace. Making things even more confusing is how Jaguar also has the F-Pace, its first-ever SUV.
In case you're still confused, below is a handy guide to all of Jaguar's current "Pace" models, which is a nameplate reserved for its SUVs. Pace yourselves (pun very much intended).
F-Pace: full-sized, conventionally-powered SUV released locally in 2017.
E-Pace: compact, conventionally-powered SUV released locally in 2018.
I-Pace: mid-sized, electric SUV released locally in 2019.
What's in a shape?
We apologise (but not really) for the slightly awkward header here, but we're trying to make a point. The I-Pace is nominally an SUV, but yet again not really. Jaguar calls it a sports car, but don't be fooled, because the official, non-marketing speak terminology is the I-Pace is a crossover.
What's a crossover, then, you might be asking. Good question.
A crossover kind of defies description, but broadly speaking, it's a halfway house between a conventional car and an SUV. In the case of the I-Pace, it has the slightly raised stance of an SUV, the silhouette of a sporty hatchback and the low, slinky roofline of sports saloon.
Yes, we're not entirely sure what to make of it either, and if we're honest, probably neither does Jaguar. That's alright, though, because it sure is a looker. If nothing else, it cuts a striking figure out on the road, especially if you plump for the pricier First Edition variants, which grants you the privilege of ordering your I-Pace in Photon Red.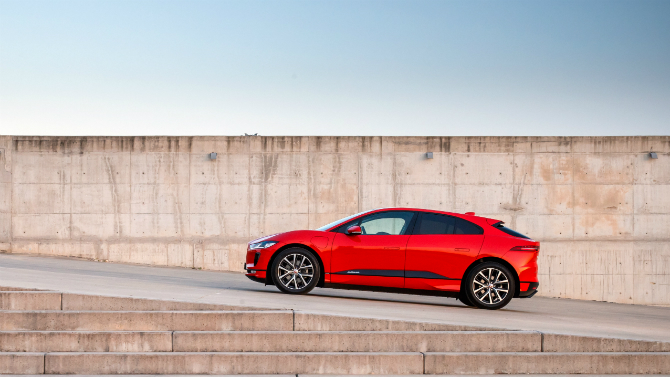 What about its interior?
Despite how it might look small-ish on the outside, interior space is surprisingly generous. Headroom and legroom is fantastic both in the front and back seats, with its glass roof (don't worry, it filters out heat and UV rays so you won't cook and get an inadvertent tan, Jaguar says) making the cabin feel even more airy.
It even has a fairly big boot, with 656 litres on offer, and that's with the rear seats up. It does have a fairly high sill, though, so you'll have to be careful chucking in larger objects if you don't want to scratch up that pretty rear bumper.
Quality levels are, as expected, very high. Our First Edition test car came with snug, yet exceptionally comfortable thin-backed bucket seats trimmed in buttery ivory-coloured leather. Its instrument cluster is a high-resolution digital affair, which is fast becoming the norm in the segment these days. Ditto for its two-level, touchscreen infotainment system.
If we had one gripe about its the I-Pace's interior, it would be that said infotainment system doesn't have the most responsive touch controls, and neither is it the most intuitive to use. Oh well, you can't win at everything.
What about the way it drives?
Yes, we know we threw a bit of shade at Jaguar for calling this tall kitty a sports car, but while it may not look it, the I-Pace certainly drives like one. In a word, it's quick. In two words, really quick.
Its 400hp and its 4.8 seconds 0-100km/h time may not sound like blinding performance figures, but you'll have to remember this is an electric car, which means those numbers are fairly deceiving. If you were to plant the throttle pedal to the floor, you will get pinned back in your seat. And because the I-Pace is electric, it has a near-instant response to accelerator inputs.
And that's fairly surreal. In a regular car, you'd get a corresponding noise from the engine and exhaust while accelerating, but in the I-Pace, there's just the distant whine of the electric motors and massive speed.
It's like being in a golf buggy. Albeit a very, very fast one.
What about living with it long-term?
It's a bit presumptuous to speculate what the I-Pace is like to own on a long-term basis, but extrapolating, we'd have to say it's pretty easy. The I-Pace has a real-world range of around 400km, which means depending on how much your drive, you'd only need to charge it every week or so. Just like a regular car.
Filling it up is a little trickier, because unless you use one of SP Group's quick charging stations (which charges the car completely in an hour or so), a regular wall outlet will take almost 12 hours for a full charge. It sounds really inconvenient, but you have to think of charging an electric car as less of a regular car and more like your phone. As with how you'd rarely let your phone run completely flat before recharging, it's a good practice to keep your electric car topped up when you can, while sleeping or while you're at work.
If you happen to own your own private parking spot, Jaguar will install a charging point in your home for free. And electricity costs far less than petrol, so there's that to consider as well. Oh, and Jaguar will throw in an extended battery warranty for free as well. If the batteries can't hold more than 70 percent of its charge before the car is eight years old or reaches the 160,000km mark, it'll replace them for free.
But the best part, the absolute best part about why we love electric cars is how little maintenance you'll have to do. With the I-Pace, you'll only have to bring it in once every two years or 34,000km travelled. And even then, the only things that need maintenance is the topping up of any fluids and the changing of brake pads and tyres.
For more motoring stories, click here.