The year might be drawing to an end faster than anyone's expected, but if you're going to celebrate, might as well do it with a bang. And what better way to celebrate the festivities and herald in the new year than with some of the best whisky in town?
Every whisky lover could tell you why Auchentoshan is special, but for those who are just dipping their toes into the world of the spirit, we're here to help. 
Auchentoshan stands out for its triple-distilled single malt whisky. In fact, it's the only triple distilled single malt whisky today, and has come to be loved for being extremely smooth and easy to drink, no matter the occasion.
And this has become the hallmark for the Glasgow-based distillery, which has been leaving its mark in whisky lovers' hearts around the world since its establishment in 1823. Its also the perfect label for both whisky novices or aficionados, so it's a guaranteed crowd pleaser at any table.
The Auchentoshan 12 Years, for example sports a crisp golden honey hue that comes from its 12-year maturing process. Along with this beautiful hue is a distinctive aroma of crème brûlée and burst of citrus, a hint to the tangerine and lime flavours you'll experience upon first sip. The experience culminates with a lingering nuttiness.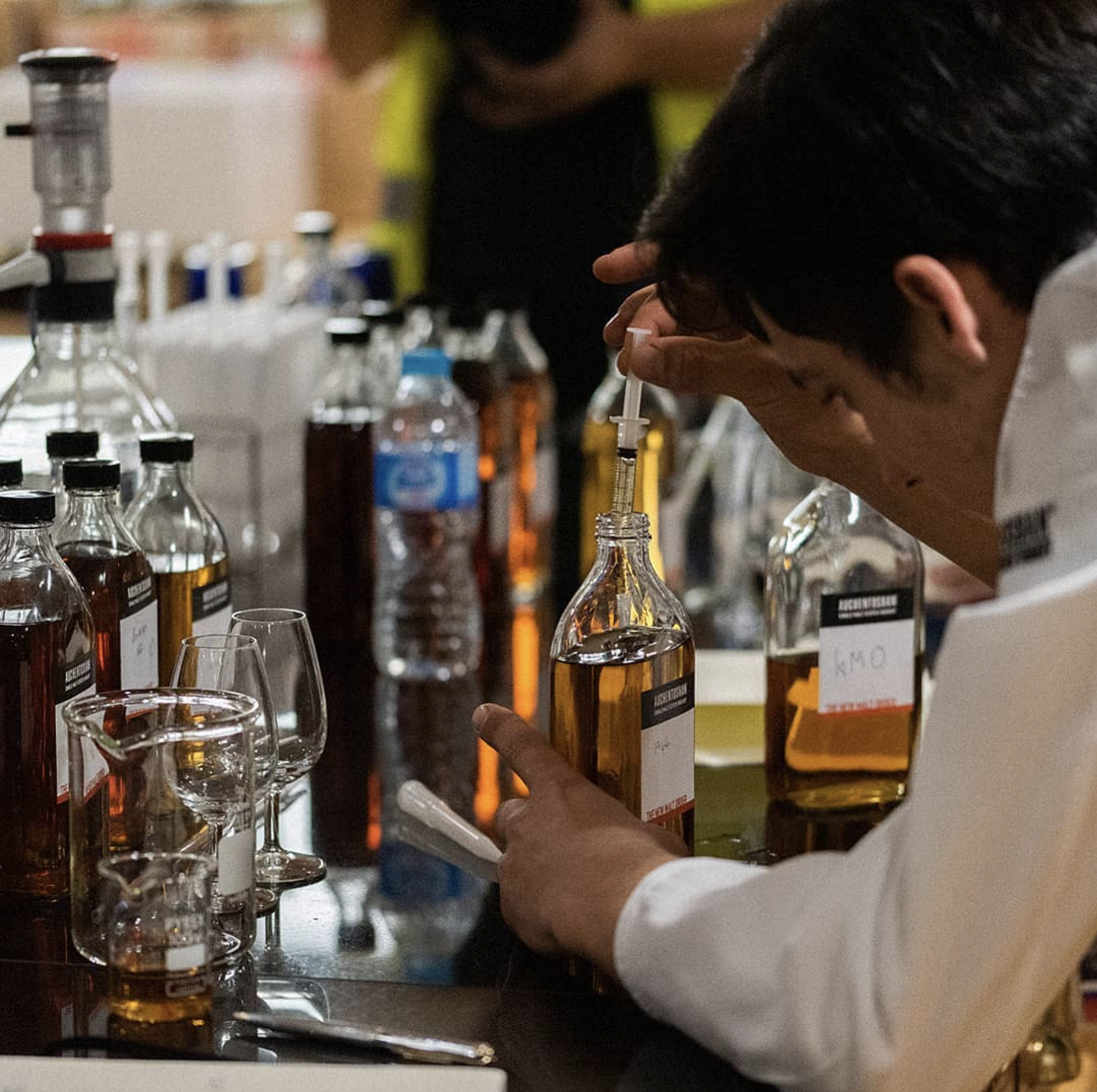 The Auchentoshan Three Wood, on the other hand is a rich golden brown thanks to the bourbon and sherry barrels it's been matured in. You'll get hints of blackcurrant, brown sugar, orange, plum, and raisin to the nose, but a sip reveals notes of fruit and syrup, hazelnut, cinnamon, and lemon on the palate, alongside a butterscotch sweetness. Expect a fresh and fruity finish here, with a lasting oaky sweetness. 
Those who love complexity in their whiskies will appreciate the wafts of fresh tobacco leaf, hint of caramelised sugar, green tea and almonds that the Auchentoshan 18 Years imparts. This single malt — in a stunning deep golden summer barley hue — spent 18 years in the barrel, creating an impossibly smooth whisky that boasts a floral freshness and burst of sweet barley on the palate. Wait for Auchentoshan's signature refreshing and tangy zest at the end, which lingers delicately on the tongue to invigorate the senses. 
Intrigued yet? You can, of course, enjoy the whiskies with friends and family at home, but if you want to kick things up a notch, there are a number of promotions that await so that you can enjoy Auchentoshan in all its forms, whether neat, in a punch bowl, or in an expertly concocted cocktail. 
Want to try it? Here are some places you can get your hands on Auchentoshan this month:
For a fuss-free but unforgettable festive party, the First Grill meat platters are excellent sharing options that include Christmas favourites such as honey baked ham, Spanish pork ribs, grilled lamb rack, and a Tomahawk steak, alongside a bottle of the Auchentoshan Three Wood or Auchentoshan 18 Years, depending on which platter you choose. 
View this post on Instagram
Farrer Park x Nest At One is also offering a 4-course ($98++) or 5-course lunch ($128++) with the option to add on a whisky flight pairing ($48++). Located at level 20, the top floor of One Farrer Hotel, the private dining experience marries sweeping city vistas with stellar dishes, making the occasion even more memorable.
For a wicked night out, the massive three-litre punch bowl at Cineleisure's Gudsht is the perfect way to gather long-lost friends for a night to remember. Two concoctions are available here, the Tropical or Oriental, and both are refreshing, easy to drink, and promise to start your evening on the right note. From now till 31 December 2021, you'll even get to enjoy two bar sides at S$10 with every purchase of the punch bowls.
Meanwhile, HKK's line up of festive cocktails sees seasonal offerings that include the cheekily-named Stay Woke — a coffee-based concoction that highlights the Auchentoshan 12 — and Forest Adventure — an apple cider, apple brandy, and Auchentoshan 12-infused cocktail — that will put you in the Christmas spirit in no time at all. 
Not a fan of turkey, ham, and the whole Christmas works? Make a reservation at Bushido instead. The Japanese tapas bar at the Marina Bay Financial Centre offers not only a menu of delicious fusion tapas, but also a trio of festive cocktails — the Winter Mule, Happy and Highball, and Festive test tube shooters. Diners can also expect 12 days of festive giveaway treats (with prizes that include Auchentoshan EarPods, Auchentoshan 12 Years and various Auchentoshan merchandise) for a smashing good time. 
No matter your taste or drink preference, Auchentoshan promises a very jolly Christmas and New Year's without any fuss at all — perfect for both an easy night in or out with loved ones. 
To find out more, head to Auchentoshan's Instagram page here or visit their site here.
Image credits: Auchentoshan Instagram.