Phase 3's been introduced — and so, more and more of our favourite eateries, bars, and attractions have opened up their doors to customers. With that being said, bigger events still remain on hold. Not to fret though. This week, have fun at Hershey's Amazing Chocolate Machine at Changi Airport, go on a guided tour around Esplanade, and more.
FUN I Hershey's Amazing Chocolate Machine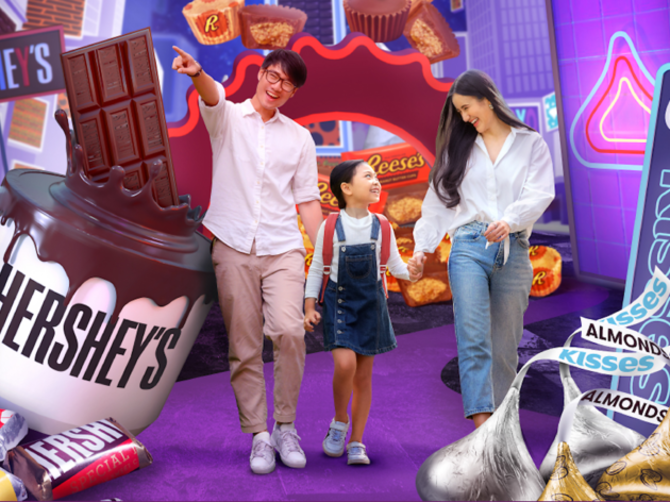 With the March holidays coming to an end this Sunday, we suggest bringing your kids down to Changi Airport for one final hurrah before school resumes. Enjoy heaps of family fun as a sweet ending to the March hols as you revel in the chocolatey paradise that Changi Airport T3 has been transformed into. Inspired by the iconic mega Hershey's store in New York's Time Square, this pop-up now features the bright lights and big-city excitement of Broadway and Times Square, and is sure to dazzle with its massive Amazing Candy Machine fixtured with three-metre-tall dispensers carrying eight varieties of Hershey's well-loved chocolates. Of course, there'll be tons of IG worthy moments with the larger-than-life chocolate and candy installations.
Available till 3rd May at Changi Airport. Find out more here.
EXPLORE I Guided Tour around Esplanade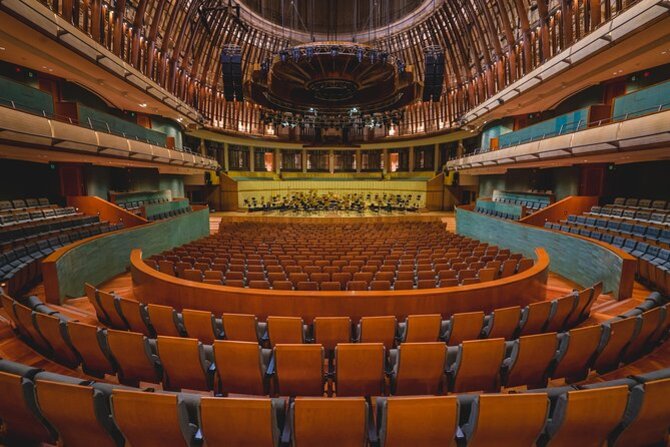 While you might've sat in the majestic Esplanade's plush velvet seats for an orchestra or musical performance, we bet you don't actually know the history behind the iconic durian-shaped infrastructure. So hey, why not hop onboard one of the Esplanades guided tours? Satisfy your curiosity as all your questions behind the Esplanade's unique architecture and history get answered, as well as get an exclusive peek into the auditoriums of the concert hall, theatre and other front-of-house spaces. Or  if you really want to bask in the atmosphere, you're free to join the #mydurian Esplanade Night Tour too where you can capture picturesque shots with the Esplanade's famous domes and against Singapore's striking skyline at the Roof Terrace.
Find out more here.
ART I Hungry Design exhibition at National Design Centre
Are you one of those rare folk who love admiring your food packaging before gobbling it all down? If so, then National Design Centre's newest exhibition — titled Hungry Design — is just for you. Showcasing innovative award-winning F&B packaging throughout Asia, you'll get to enjoy a myriad of cute illustrations and smart eco-friendly packaging. The exhibition also draws attention to the way packaging has evolved, as well as how design and food are weaved together.
Available till 31 March at National Design Centre. Find out more here.
CULTURE I Paw-verbs on the lawn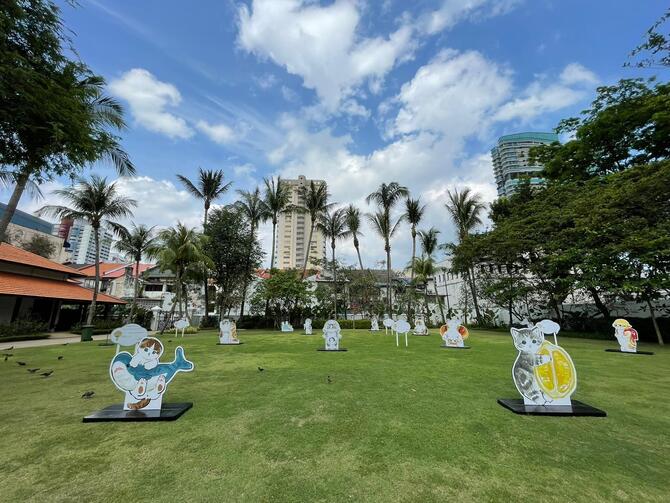 If you're a crazy cat lady (or dude), rejoice — for you will no longer be subject to just seeing cute felines on Tiktok. The Malay Heritage Centre (MHC) has teamed up with popular Japanese artist, Juno, to bring our adorable furry friends to life with Paw-verbs on the Lawn. Catch a glimpse of her vivid cat illustration standees sprawled along the lawns of the heritage centre, the first time Juno's art is being physically displayed in Southeast Asia. And the showcase is not just a suitable backdrop for your IG photos, but also educational too since it features 10 common Malay proverbs that highlight how the animal is used metaphorically to convey different human behaviour, solidifying the significance of cats in Malay literary culture.
Available till 30 March at Malay Heritage Centre.
FUN I Mosanco Settlers Cafe
If you're a night owl who isn't content with just binging Netflix shows on the couch at 3am, here's a new way for you to spend the night: at a Board Games Cafe that's — surprise, surprise — open 24 hours. Not only will you be able to get your late night supper fix as the cafe is stocked with scrumptious delights like cold brews, cakes and sandwiches, you and your pals will also be able to choose from their wide archive of board games to indulge in a night of good ol' traditional gaming fun. Just in case digital gaming has lost its shine with time, ya know?
Located at 39A N Canal Rd, Singapore 059295