In Rubbers, local actress Oon Shu An finds empathy and emotion behind an unlikely character
I
t isn't easy playing a porn star. Just ask Oon Shu An, who portrays Japanese porn star Momoko in the local sex comedy, Rubbers, currently showing in theatres. Directed by Han Yew Kwang, it stars an ensemble cast with Marcus Chin, Julian Hee, Lee Chau Min, Catherine Sng, Alaric Tay and Yeo Yann Yann.
For 29-year old Oon, it's not that bad a gig. Her research into the role had her watching Japanese porn (by bypassing a proxy server, although she won't reveal how) to study its overall culture, the characters written, and how they viewed women. She also spent a lot of time near fellow actor Tay's crotch.
"It was never awkward or uncomfortable with us when it could have been," she explained over our phone interview. "We both didn't make it a big deal, therefore it wasn't a big deal. People on set were very respectful and it was an easy environment to work in."
What she found challenging though, was to take Momoko seriously. Struggling with the character's monologue about her career as a porn star, Oon couldn't quite tap into the sadness the character was to portray. "I realised that I wasn't taking her sadness as seriously as I should have," she admits. "It kind of ties in to how we don't see porn stars or people who work in the sex trade as real people."
"It's a challenge with every character how deep can you go," she continues. "I think that I'm starting to understand people a lot more, and that's feeding into my acting but there's a lot more than I need to find out."
Related story: Pangdemonium's staging of TRIBES tackles love, silently
The LaSalle graduate, who began her career straight out of junior college in local flick Becoming Royston didn't think she was going to be acting full-time. "When I was younger, I always thought it was something that I'd do on the side, that I would get whatever they call a real job," she laments. However, things made a lot of sense for her when she got into acting, and now sees it as a way to access the world through other people's eyes. Recently, she saw the world through a 13th Century concubine's perspective in Marco Polo, a Netflix series.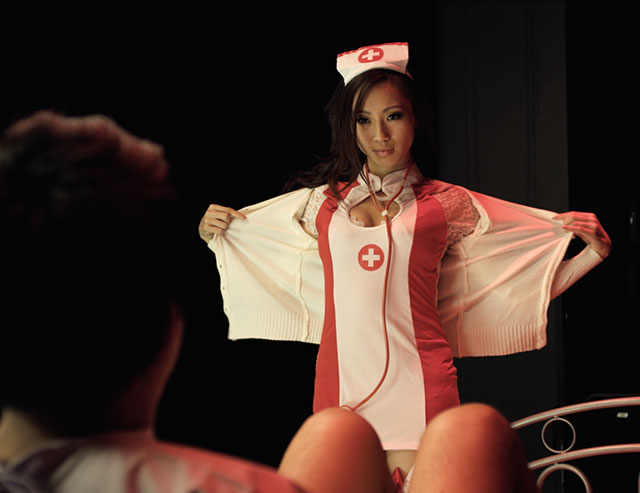 Accepting the opportunity to play the part of Momoko though, was met with a slight hesitance. "You know what, when I became an actor, I never thought one day I'll play a Japanese porn star," she retorts. She didn't discuss the role with her conservative father, while her mother wasn't so keen. Since its release at the Singapore International Film Festival last year, her parents haven't seen the film, and she doesn't count on them watching it.
But despite the risqué nature of her character, there isn't any nudity involved. In fact, the heart of the film lies in its quirky and sensitive moments between the characters, which include a plumber and a talking condom, among others. For Oon, it's just another chance for her to see with a fresh pair of eyes.
Rubbers plays in selected Golden Village theatres. View the trailer here: