In case you need more convincing that K-Pop boy band, BTS, is taking over the world — the septet has gone beyond phone partnerships and sportswear team-ups to infiltrate a global institution beloved by most: McDonald's. Come 27 May, fans will be able to indulge in The BTS Meal; a spread comprising nine-piece Chicken McNuggets, large fries, and a drink accompanied by Sweet Chili and Cajun dipping sauces. And while this probably signifies snaking queues at your favourite outlets come May, we're here to help you find some humour in the situation — namely, by gathering the most hilarious freak-outs and memes that cropped up upon the announcement. Boot this up the next time you're in line for an Oreo McFlurry, we say.
1. Yes, even John Cena is a part of Army.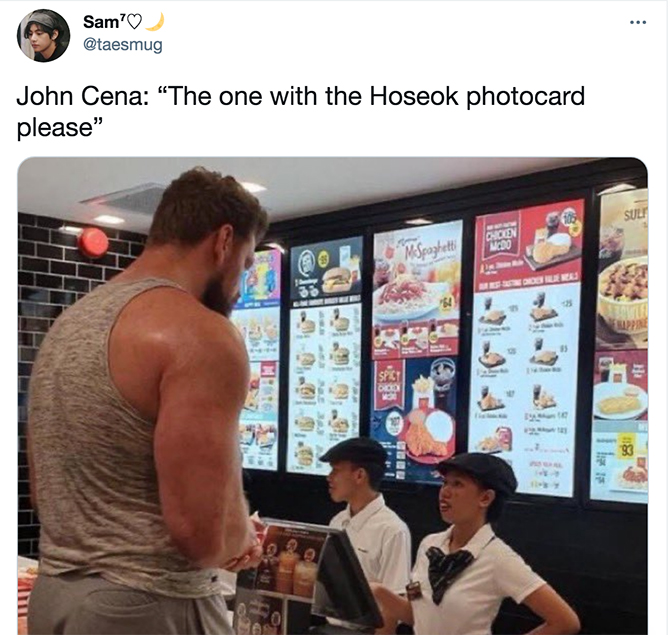 2. ... and Jimmy Fallon too, evidently.
"My nickname at my local McDonald's is 'BTS,' because whenever I order, they think it's for 7 people." @BTS_twt #FallonMono #FallonTonight pic.twitter.com/2w7HxFFTob

— The Tonight Show (@FallonTonight) April 20, 2021
3. Implement more safe distancing ambassadors at McDonald's from 27 May, please.
me eyeing that little kid on the playground at mcdonalds who just pulled yoongi from their happy meal pic.twitter.com/smvQ3FS6Zv

— bree! JAY DAY (@jmsctrl) April 19, 2021
4. It's time to put up more of those policeman cutouts, too, probably.
Me stealing all the bts posters from mcdonalds pic.twitter.com/yylKTx6Ewv

— ً bebe⁷ (@khhslut) April 19, 2021
5. Somewhere out there, Colonel Sanders is plotting his revenge.
6. Who needs savings, right?
them: my favs made me buy a whole album set oml

armys: well my fav has me buying a bed, samsung phone,water filter, a car, face cream, soda, 3 phone games and now McDonalds

— kai⁷ ☆ (@kaicore_) April 19, 2021
7. Don't forget to put your younger siblings to work.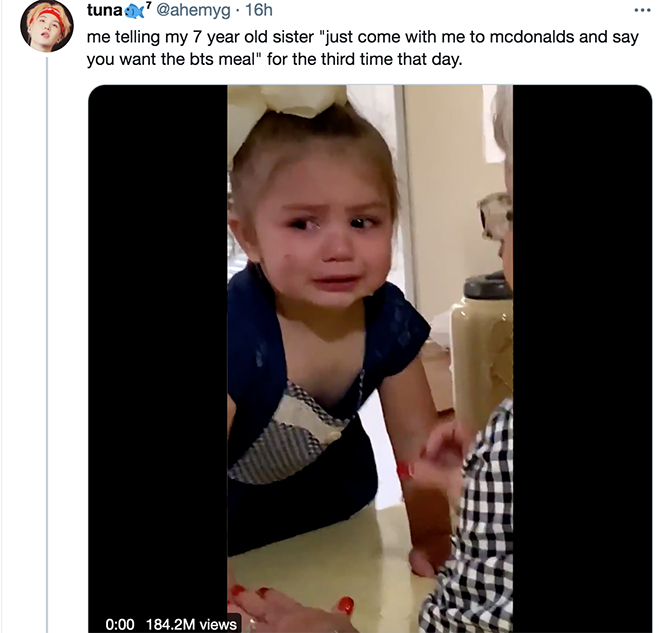 8. Who runs their socials? We just want to talk.
confession: my other twitter is a secret stan account

— McDonald's⁷ (@McDonalds) April 19, 2021