Anyone who has been to chef Rishi Naleendra's restaurant Cheek by Jowl — now Cheek bistro — should know this: You can't put his food in a box. Sure, the food might read modern Australian, but his approach often swoops in unexpected, while referencing unconventional flavours. In other words, he has plenty of tricks up his sleeve.
Especially in his latest restaurant, Cloudstreet, which he opened with co-partner Gareth Burnett. The name makes perfect sense; after all this new venture is what Naleendra calls a fulfilment of a dream he envisioned a long time ago. It's dark, alluring, and clad with a riot of eclectic furniture — like a fabric chandelier and a mishmash of paintings including works from Naleendra himself. The spotlight, is ultimately on the beautiful open kitchen — where most diners are encouraged to snag a seat by the counter. At this point, looking into your partner's eyes doesn't matter, whatever happens in front of you does.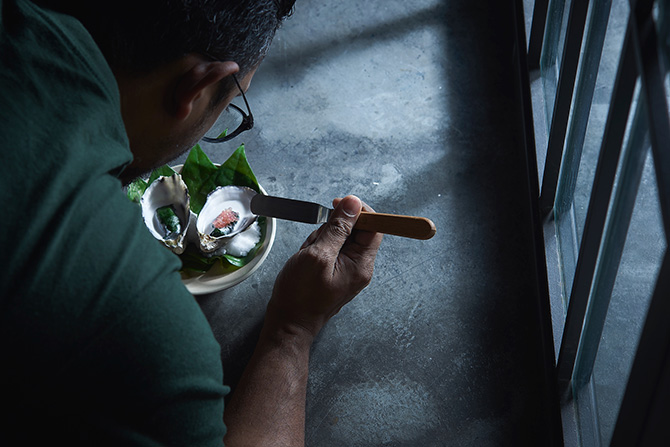 Driven by a strong foothold in ingredients, there's a medley of influences on each plate that ripples back to Naleendra's travels. In a Cheek ceremonious fashion, a single oyster starts off the meal — embraced in a betel leaf, basked in freshly-pressed coconut milk, and elevated with pink finger lime. It was refreshing, and a pretty gutsy way to treat a fresh oyster. There was then a dollop of pea sorbet and Kaluga Queen caviar (grand enough to hold its own bragging rights), but the real hero appeared by tipping a jar of smoked eel broth over. What was meant to be a heady mix, attained sweetness from the chilled peas — yet another relentless trait of Naleendra's play on vegetables.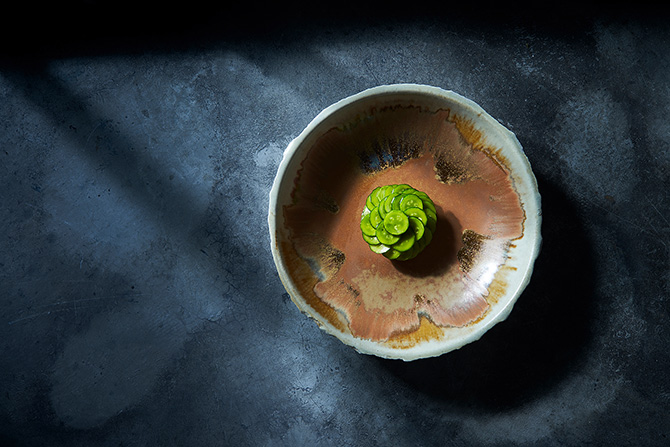 Along the way, there were great nuances: a pickled mussel disguised in an edible squid ink shell camouflaged with actual stones. Of course, the real fun was executed by the servers, who had to give the important information to which item we could actually consume. Within, there was the odd conventional staple that was easy to love (but also easy to forget in the pool of invention) — i.e., the venison tartare, which was rendered perfect in our books with the inclusion of fermented plum.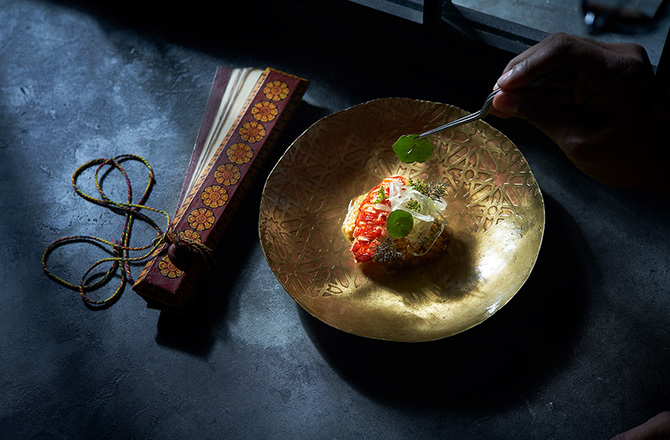 Naleendra's ode to his Sri Lankan roots came through in a piquant yellow curry, but not swimming in a hot pool; rather it was textured in a ball of millet as a grilled Western Australian marron sat atop. Vital pieces of fennel and the oddball, nasturtium also gave the dish sharp spurts of flavour. The binchotan effect isn't over — a barbecued turbot (so tender and soft, that it almost felt like cream) adorned with fermented bell peppers and horse ears gave a befitting prelude to our main that was coming up next. Our slab of grilled lamb wasn't plated like how we were used to; instead three moulded components laid beside it, each celebrating the audacious magic of Naleendra's culinary flair. One: A baby jackfruit curry tightly held in a radicchio leaf. Two: Green onion sambal. Three: Chili chutney that leaned in the sweet side. Each of them held their own, while paired with the glistening red meat, which opened up conversations to pushing the boundaries with a rack of lamb.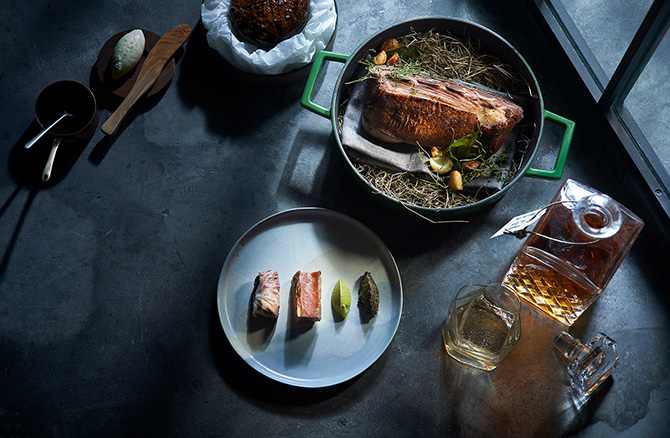 And then the bread course, which you might have already heard praises about. It is essentially a Singapore stout liquorice loaf, capable of elicting the purest form of joy. Naleendra first had this said dough while on his travels, and was determined to remake it from his sensorial memory, alongside the expertise of his talented pastry chef. After numerous attempts, he can safely say it's better than the original. We definitely take his word for it.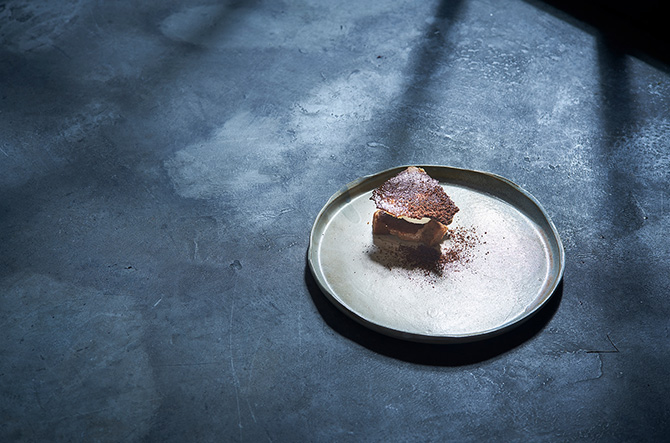 Post-bread high, Cloudstreet hit us with more euphoria. A delicate parfait perfumed with honeydew and white grapes came first — punctuated with crunchy textures and aromatic juices. And while it was sublime, it wasn't Naleendra's finale of ending the meal on a strong note. The mushroom dessert was — a porcini ice-cream stacked with charred milk skin along with shaved truffle cacao nibs denounced what we thought we knew about shrooms. A savoury-sweet creation while eluding a tinge of bitter. It also epitomised the fearless vision to what Naleendra has for his concepts.
That, married with a stellar wine list that reads like no other by sommelier Vinodhan Veloo (formerly from Odette), and you might just have the best meal this year.
A three and five course is available for lunch, while a five and seven course is available for dinner.
84 Amoy Street, Tel: 6513 7868
Opening hours: (Mon-Fri) 12pm-2pm, (Mon-Sat) 6pm-9pm