I'll be the first person to tell you that I don't think that the way I dress on the daily is exceptionally bold. Sure, there have been certain choices that have got me receiving fire emojis (the highest form of recognition on social media, I reckon) on Instagram. And not to mention a few stares on the street. But I've always paid little attention to it all.
So imagine my horror when Buro. Singapore's editorial director persuaded (pushed, nudged, forced) me to write about my personal style as part of July's 'Bold' theme. Because there's no way that this entire story would read nothing short of self-masturbatory. But as it is decreed, it shall be done. And hopefully, it'll be the sort of story that'll make you think that it's completely fine to be you and do you.
At the risk of sounding self-righteous or even selfish, I've always believed in doing things for me (because why do anything different?). It applies to anything style-related — from hairstyle and colour, to purchasing an odd-looking pair of Loewe slip-ons designed to resemble a person's feet. It isn't a guiding principle that was innate, but rather one that I've had to continuously work on and remind myself of. I feel that the fear of being judged hinders one from being their true self, leading to often regretful decisions. And let's be real, regretting not doing something because of external influences is not a great feeling.
Growing up in a fairly traditional Malay-Muslim household, fashion or style was rarely part of any conversation. Whatever that I wore leading up to the age of 10 or so, was largely dictated by my parents and had little to do with an inner 'fashion' voice. I wasn't particularly concerned about looking a certain way or even knew what 'style' entailed.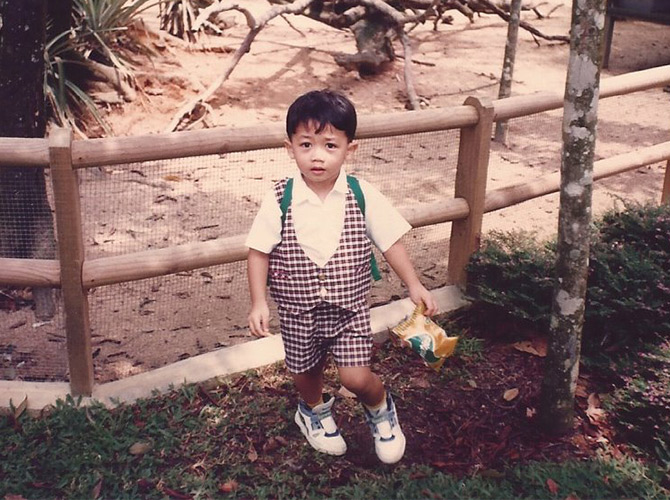 My parents did have a habit of dressing me up (this was probably their best effort) when I was young.
Back in the '90s, it was often a rotating uniform of surfer tees (wasn't one, isn't one and know nuts about the sport) from the likes of Ocean Pacific and Billabong, worn with straight-cut jeans and random sneakers. Yeah, this style director was clearly not born with a great sense of fashion or taste. It was fine because I was contented and didn't know any better. Life then was focused on me getting good grades in school and staying out of trouble; what clothes I wore and the random colour combinations they were in were almost always afterthoughts.
I credit my style awakening largely to my late maternal grandmother. If there were such a thing as a matriarch in our typical middle-income family life, she would have been it — poised, elegant and the most lady-like in the family. She didn't have a model-esque figure nor was she ever dressed in anything to the degree of luxury fashion, but she was always well-dressed and looked luxe. This was the very same lady who'd put in the same effort in her appearance just to pick me up from school, as she would on more special occasions.
My grandmother did not shy away from colours and prints. She'd pile them on in Peter Pilloto-like ways, and unabashedly so. You wouldn't have dared tell her otherwise because she wouldn't have had any of it. And even if one did, she wouldn't flinch one bit. It was something that I noticed more and more as I got older, and picked up on even though it wasn't explicitly an advice from her: dress for yourself and like it's your very last living day.
It was only after studying for my A-Levels in junior college — and losing 10kg in a matter of month because I was stressed and was a self-diagnosed anorexic — that I began to pay more attention to fashion.
I recognise that it's somewhat stereotypical and problematic of me to say that I opened myself up to fashion after losing a bunch of weight unhealthily, but it was also during a time where there was only a certain kind of image that was being represented and recognised as being 'fashionable'. Not knowing any better, going from a 34-inch waist to a 29-inch one made me more aware of my body and thus, introduced a new want for it to look good.
There was no one that I necessarily looked up to in this new phase of life. I started relatively small with slim-cut jeans and plain equally slim-fitting T-shirts from fast fashion brands such as Topman and Pull&Bear, in what I now refer to as the quintessential Singaporean male look of the noughties.
It wasn't until American Idol's Adam Lambert entered the pop culture scene that I gravitated towards the more unconventional. For some reason, I was obsessed with the glam-rock throwback and Lamebert was the gateway that had me looking into David Bowie and Boy George. There was something that spoke to me about the way that they were able to pull off ostentatious looks without seemingly any care in the world. Perhaps it was in the way that they combined elements that I was familiar with — sequins, heavy embroidery, vivid and bright prints and patterns — thanks to my late grandmother, and the constant tension between tacky and tasteful as well as feminine and masculine.

Just how impactful was this discovery of gender-bending nuances?

Well, my 21st birthday involved a party where it was themed around sequins and rhinestones. And my get-up was a black-and-white ensemble that consisted of a sequinned vest from the women's section of Massimo Dutti, a pair of Topshop sequinned harem pants I managed to hunt down, and a pair of gladiator sandals from Pierre Hardy. It was finished off with eyeliner — the only kind of makeup that my parents wouldn't freak over. Looking back at the images now, I can't say that that was the kind of stylistic choice I'm proud of now, but it signalled the beginning of my expressing who I was through fashion. Would I now attempt to get back to that ridiculous skyscraper of a hairstyle? Absolutely not. But I was happy in that moment and didn't care what anyone else thought.

I'm never an early adopter when it comes to trends or looks. Nor do I feel the need to be one. It takes me quite a while to figure out how to adapt one into my own personal style, which often involves finding the right piece or interpretation of said trend. For example, I never felt like I could pull off skirts until I found a detachable half-kilt version from Dries Van Noten's autumn/winter 2018 collection — a non-committal attempt that still feels quite me. Or the very fact that I only got into skinny jeans years after it's become a wardrobe staple because I never felt that they looked right for my chunky legs. I'm still wearing them now despite the TikTok generation's disdain for them. I guess that's bold, right?


A Dries Van Noten half-kilt is as far as I've gone to an actual skirt for now.

But really, if there's anything remotely bold about the way that I dress, I'd have to thank society's general progression towards being more inclusive. It has become somewhat acceptable for us to express ourselves in non-conventional ways, with the LGBTQIA+ community and its many allies paving the way by constantly being the blueprint for individuality. Celebrities such as Harry Styles, Troye Sivan, and Cody Fern are this generation's boundary-pushing fashion stalwarts who are unafraid of their sexuality (no matter what it is in the spectrum) and reflecting that in their style choices.

Being bold isn't about wearing the loudest colours or the most outrageous outfit for attention. To me, it means being as authentically you as possible, even if that means diverting from what's generally considered as the norm.


Sometimes, I feel the need to be a bit colourful, especially on those dreadfully long days of rushing for deadlines.

The way I express my authenticity is one that's constantly ever-changing. My style has evolved from that surfer tee-wearing teen to a wardrobe that's filled with a rather eclectic assortment of more fashion-leaning brands like Haider Ackermann, Loewe, OAMC, Gucci, and AMI, mixed in with basics by the dependable usual suspects the likes of COS and Uniqlo.

I've also learnt to, quite literally, never say never. I vividly remember telling myself and those close to me that once I hit 30, I wouldn't be doing anything drastic to my hair. And now, just before I turn 32, I've made the impulsive decision (I blame this squarely on COVID) to bleach my hair and dye it grey. I'm not entirely sure how long I'd stick to this; it feels right for the moment. I could potentially be cringing looking back at it in the future like how I am now thinking about my 21st birthday, but as Adele sang: "Regrets and mistakes are memories made."


Photo by Shawn Paul Tan.

Is my fashion sense bold? Maybe to some people. Or maybe not. Whatever it is, at the end of the day, it's about being you and doing you, especially in a world where everything and anything can be criticised. That is being bold.