Amidst our city's established dining scene of Michelin-starred restaurants and reputable hotpots, there's one thing that Singaporeans never fail to fall back to. Comfort grub. When it comes to it, we don't mess around and over the last couple of years, mac and cheese has emerged as a welcomed addition to the list. Perhaps, it has something to do with the surge of TikToks where the indulgent dish is often eaten in the dead of night? We aren't exactly sure but we do know one thing: mac and cheese is gooey, delicious, and versatile – meaning all sorts of fixins' can be added to enhance it. We track down the ultimate faves that have been gaining their own insider fame on our shores, below.
Bedrock Bar & Grill's Mac N' Cheese


Smooth, creamy, and full of cheesy goodness – Bedrock's mac and cheese's base starts with gorgonzola, known for its buttery and salty notes, and cooking cream. To that, parmesan cheese is added along with Italian white truffle butter that is made in-house. Thin tube pasta, maccheroni, is boiled till al dente before being stirred with the truffle-cheese sauce. Once that's done, the savoury pasta mixture is poured into a cast-iron skillet and topped with more parmesan cheese, which is left to bubble and broil to achieve a cheesy crust. Now, this is what we call decadence.
96 Somerset Rd, #01-05 Pan Pacific Serviced Suites, Tel: 6238 0054
Opening hours: 12-3pm, 6pm-10:30pm
Barbary Coast Ballroom's Lobster Mac & Cheese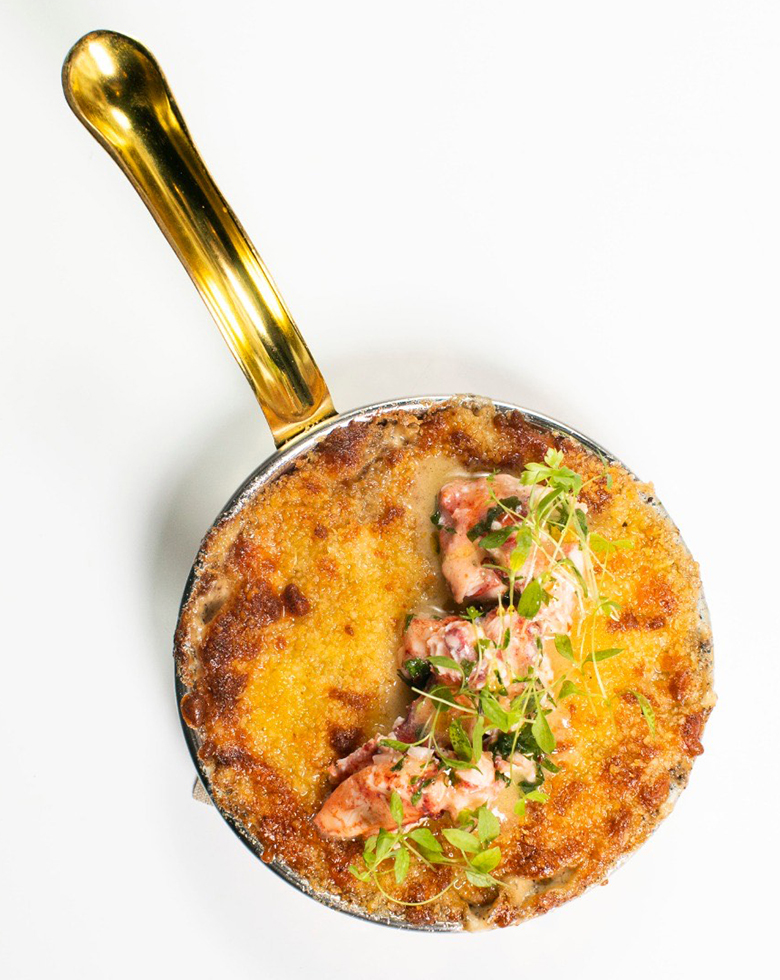 What's fancier than lobster? Nothing much. Barbary Coast Ballroom's head chef Heryadi Jaffar created this luxurious variation of the classic snack by drawing inspiration from his summer abroad in Europe. The lobster mac and cheese comprises house-made pasta, wild mushrooms, shallots, smoked cheddar, white wine, Pastis – an anise-flavoured liqueur – and lobster bisque-poached chunks of Canadian lobster meat. Nothing goes to waste when using an expensive ingredient such as lobster, the restaurant maximises the shells and roe by turning it into the bisque that is cooked out with Pastis, saffron, and butter, which incorporates more lobster goodness into every bite. The dish is served with a topping of more smoked cheddar and breadcrumbs that are broiled for the crunch factor.
16 North Canal Rd, Tel: 8869 4798
Opening hours: (Mon-Fri) 3-10:30pm, (Sat) 4-10:30pm

Five Oars Coffee Roasters' Mentaiko Mac & Cheese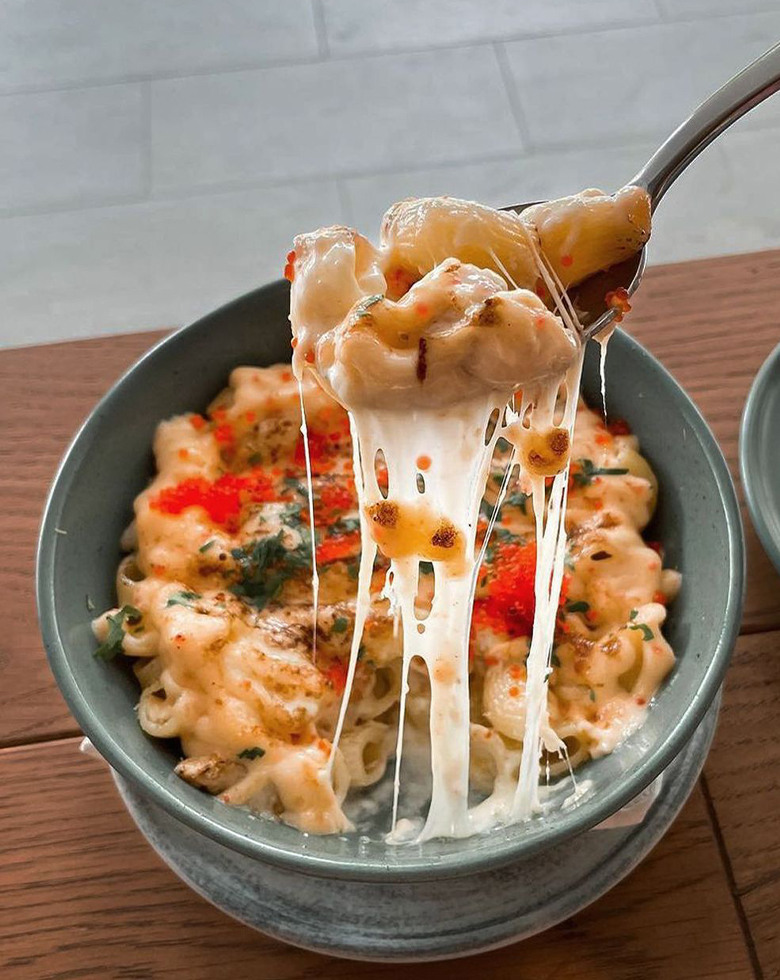 While we are on the seafood train, the mentaiko mac and cheese has been a crowd-favourite since the opening of this café. Mentaiko is made up of Japanese cod roe and it provides a depth of umami when mixed into sauces – especially one with cheese. Five Oars Coffee Roasters ups the ante with additional morsels of prawn and crabmeat before topping it off with ebiko.
6 Upper East Coast Rd, Tel: 8784 2686
Opening hours: 8am-10pm
Latteria Mozzarella Bar's Mac & Cheese served in a pumpkin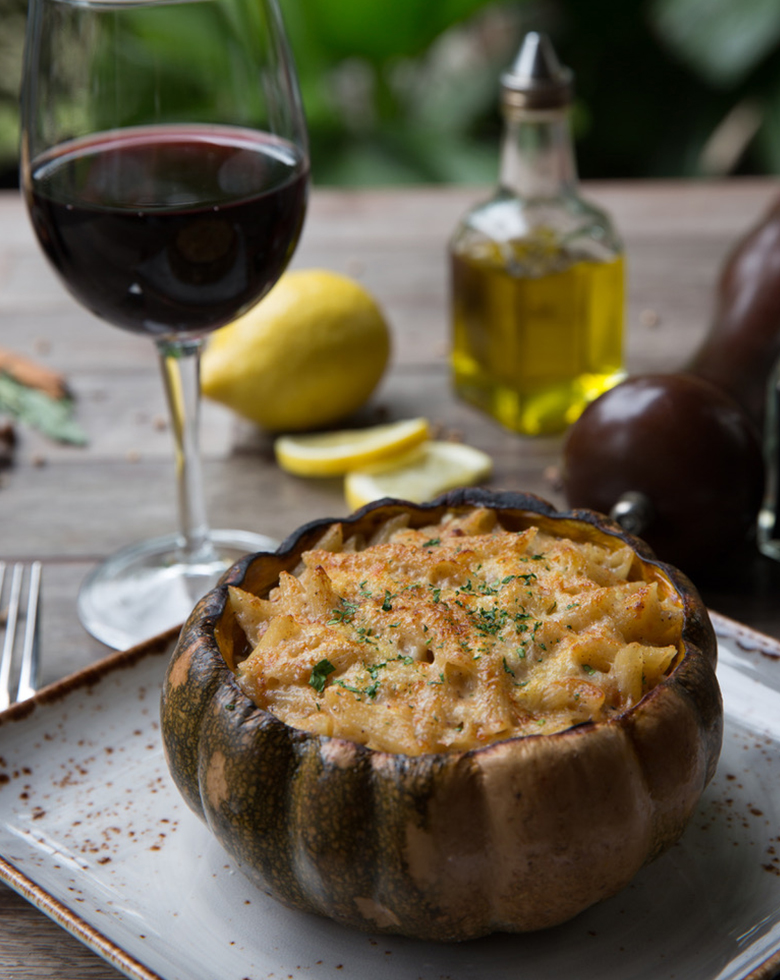 On the surface, Latteria's mac and cheese sounds simple – elbow-shaped pasta, salt, pepper, nutmeg, white wine, and five types of Italian cheeses, DOP certified by the European Union that proves where the milk, used to make the cheeses, originated from. However, the kicker is how the mac & cheese is served. A small Japanese pumpkin is hollowed out and roasted, acting as an edible bowl to hold all the cheesy pasta. Diners can choose to scrape the pumpkin flesh into the mac and cheese or choose to save it for last.
40 Duxton Hill, Tel: 6866 1988
Opening hours: (Mon-Fri, Sun) 12pm-2.30pm, (Mon-Sun) 6pm-10:30pm
Sago House's Curry Mac & Cheese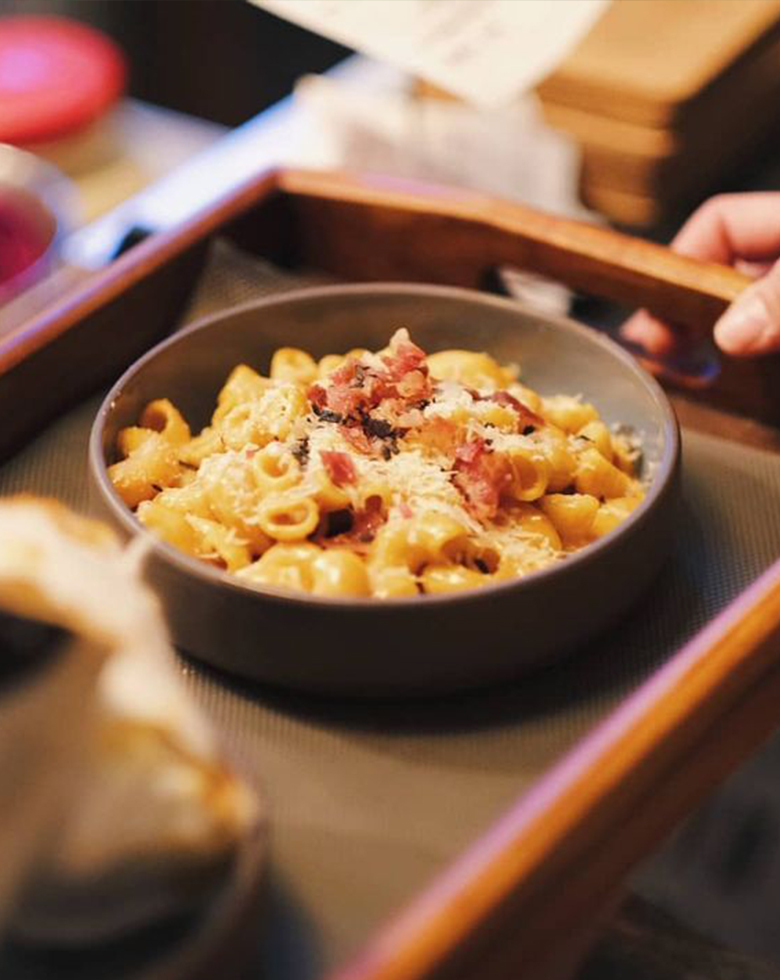 Let's be honest, people don't typically patronise a bar for the food but Sago House's rendition on mac & cheese might change our minds. Large macaroni is coated inside and out with a creamy, parmesan and swiss cheese sauce combined with curry that adds a layer of spice and most Singaporeans love spicy foods. As a garnish, crispy bacon bits are sprinkled on top for texture, and well, because bacon is undeniably scrumptious.
40B Sago St, Tel: 8874 9936
Opening hours: (Tues) 6:30pm-10:30pm, (Wed-Sun) 6pm-11pm