Craving for an endless supply of soft, tender slices of meat soaked in hot, flavorful soup? In other words, hotpot? You'd think that with our 24/7 hot and humid weather, the last thing we crave for would be a bowl of boiling hot soup but for some reason, it has the opposite effect. Say the word and your friends will probably come running to meet you because no one can deny the draw of the comfort food. Especially in Singapore, where it has assimilated into our daily diets — with the roaring success of HaiDiLao and Beauty in The Pot, alongside many others. Similar to a buffet, this is one such food that's best consumed with friends and family to keep the spirit of eating going strong as laughter is shared and tummies are filled. And so we put together a list of the best places to try — just so you can keep your options open anytime you're dreaming of that hotpot fest.
Imperial Treasure Steamboat
If you're willing to shell out a little extra for guaranteed premium quality – here's the one for you. Their diverse soups are cooked daily and left to boil – ensuring the full flavor of the broth is properly executed. Depending on your choice of set, they can come with various meat cuts, fresh seafood and an assortment of vegetables. For the price you're paying for, the service and ambience provided also seems hard to beat.
Known for: Their higher prices for a quality meal from food to service, and a delightful tray of different condiments and sources to garnish your meat with.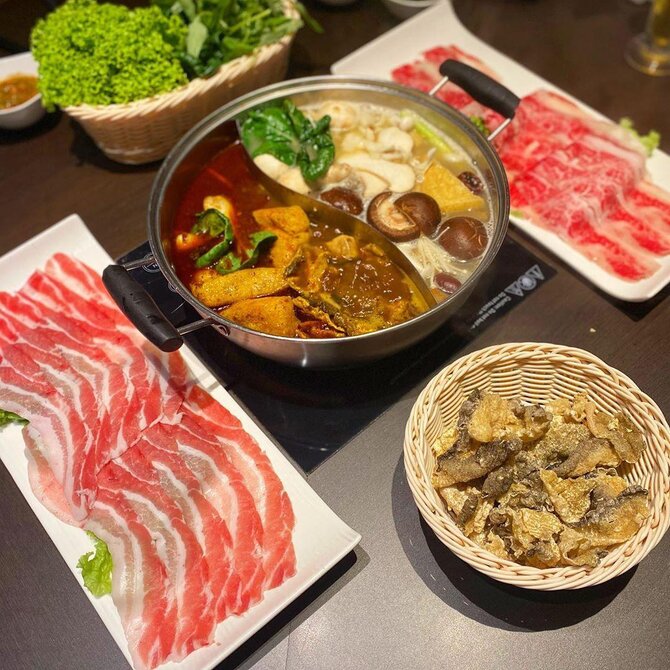 ION Orchard, #04-09/10 Tel: 6636 9339
Opening hours: Lunch 11am-3pm, Dinner 6pm-11pm.
Chuan Yang Ji
It's all about the mutton soup base here, which is what makes this haunt so special in the sea of choices we have on our shores. The speciality might be reserved for those who love their lamb, but the bases aren't too gamey even if you're new to mutton soup. They also come in an array of flavours like collagen-induced as well as the spicy ones for those who prefer heat in their hotpots.
Known for: Mutton soup bases and a long list of lamb dishes that range from lamb spine, tongue, marrow, and dumplings. Make sure to try their exceptional skewers to start, before digging into the hotpot.
432 Balestier Road, #01-434, Public Mansion MCST, Tel: 6358 4188
Opening hours: 11am-11pm
Suki-Ya
Better come here on an empty tummy. With their all-you-can eat buffet dinner, the hotpot dining experience just got even better. Especially at its affordable price, the Japanese steamboat option is given a new lease of life with Suki-Ya. With considerable variations of soup choices and thin slices of shabu shabu that you don't have to put a limit on, it's no wonder their customers keep on returning to the franchise store.
Known for: Their all-you-can-eat dinners at affordable prices.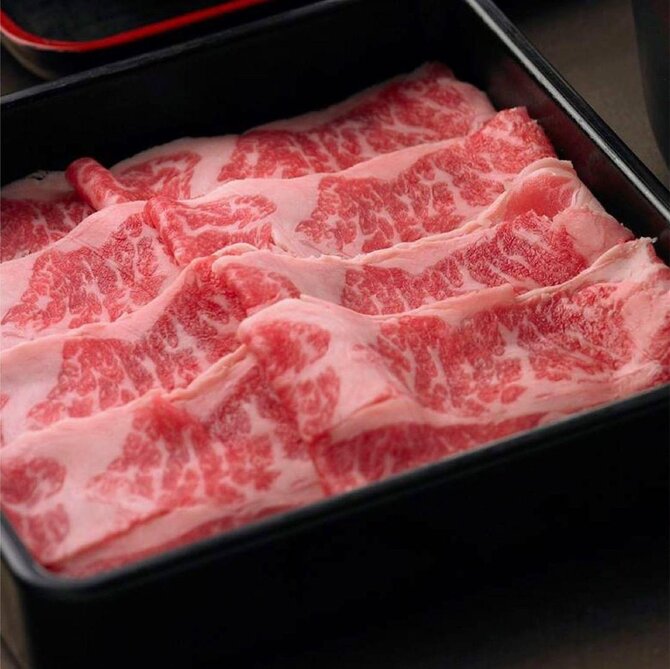 Multiple outlets in Singapore: Tampines Mall, Bugis + and Marina Square.
Xiao Long Kan
Just by walking past the opulent ambience alone, it'll be a hard place to miss for anyone looking to find a good, stellar broth that makes the hotpot. Their mala soup is a must-have, so lovers of spice should take notes here. Their Australian Prime Beef slices are of notable quality and their seafood side dishes serve as a refreshing counter to the heavily spice-laden soup.
Known for: Their Traditional Spicy Soup is a kicker of a mala, says the foodies.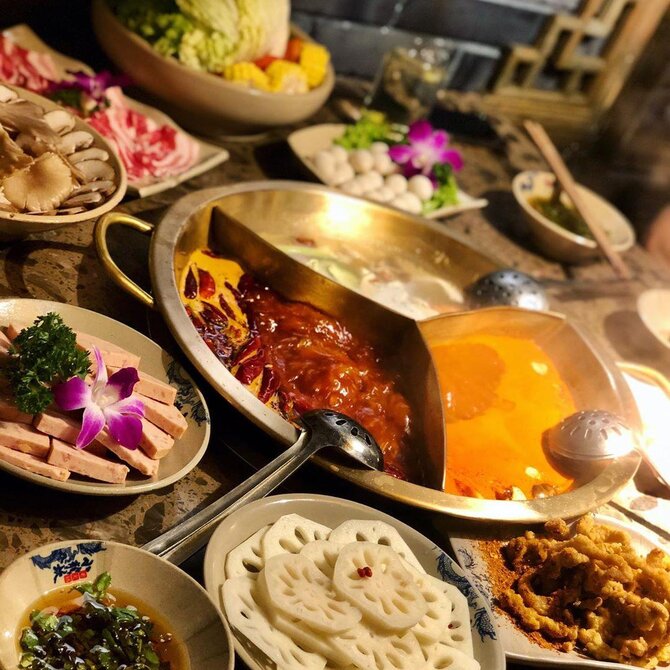 208D New Upper Changi Road #01-02/03
Opening hours: 11am-6am
HaiDiLao
There's always a wait for a meal at HaiDiLao. And there's good reason for it — besides top-notch servers at your beck and call, the spread (of varying ingredients) and soup bases are of top and premium produce. Most favoured soups would go to the tangy tomato as well as the pork stomach and chicken. Not forgetting a fruit buffet to cleanse your palate after the meal.
Known for: Exceptional service where you'll get a personal waiter looking over your table, free manicures, and their iconic à la minute noodle performance.
313 Orchard Road, #04-23/24, Tel: 6835 7227
Opening hours: (Mon-Sun) 10.30am-6am
Beauty in The Pot
What's in a name? For Beauty in The Pot, it's all about drinking collagen for the better of your skin. With six nutritious soup bases to choose from, you'll get rich flavours from the collagen-based broths that aren't just mouthwatering but good for your mien. Can't say the same for our waistline though.
Known for: Fried beancurd skin that stay crisp even after dunking it in the silky thick broth.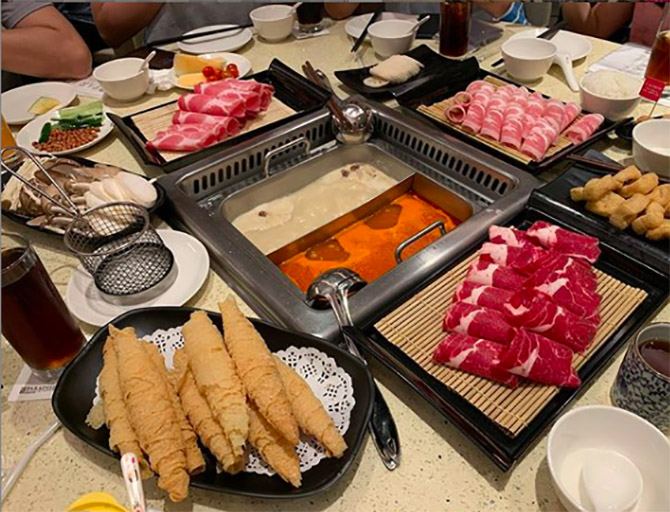 176 Orchard Rd, #05-15/16, Tel: 6235 3557
Opening hours: (Mon-Sun) 11.30am-6am
Shang Pin Hotpot
There are some similarities between Shang Pin and HaiDiLao — to which the former could be a better alternative if you're getting weary of the queues. What this spot offers is a pared down space sans the award-winning service, but makes up for it with the spread and soup bases.
Known for: A cheaper and more accessible alternative to HaiDiLao.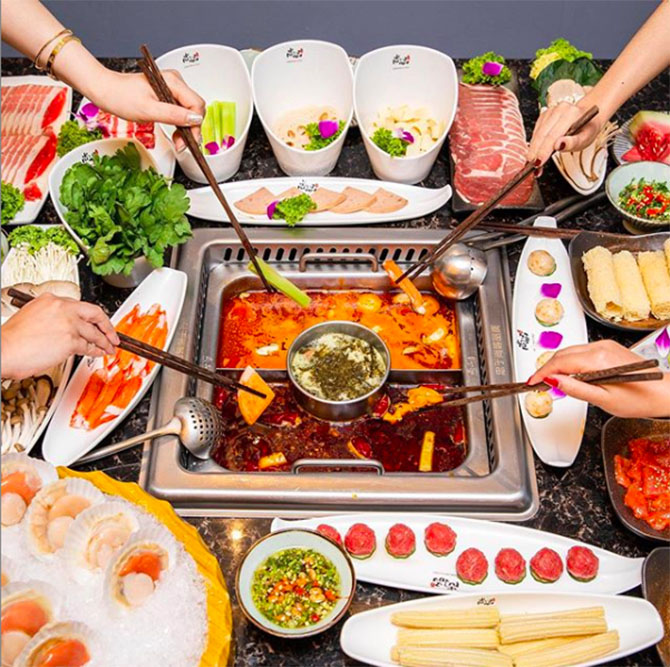 6 Raffles Blvd, #02-102/102A, Tel: 6565 7666
Opening hours: (Mon-Sun) 11.30am-5am
Da Miao Hot Pot
If you are craving mala like everyone does these days, Da Miao Hot Pot signature special spicy soup will do just the trick. Those that can't handle heat can opt for a beauty collagen soup instead, which is also something you can get at Da Miao. Apart from the gratifying meal, exclusive cultural performances and opera shows will make a special appearance every evening during the Chinese New Year.
Known for: Containing more than 20 herbs and spices, the Da Miao Special Spicy Soup is a must-try dish for all customers. Why you ask? Well this dish is being credited as one of the most authentic mala soups in all of Singapore. Impressive, indeed.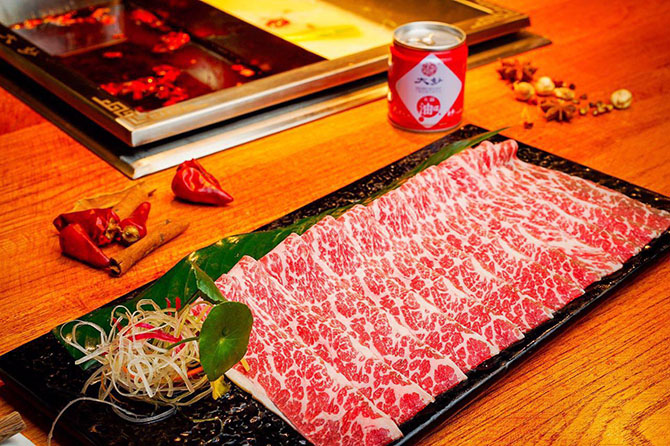 3C River Valley Rd, #01-11, Tel: 6250 9969
Opening hours: (Mon-Thurs) 11.30am-10.30pm, (Fri & Sat) 11.30am-3am, (Sun) 11.30am-10.30pm
Xun Wei Hot Pot
At Xun Wei, authentic Sichuan offerings come into play. Their beef is pickled with spice and pair in tandem with the sour nature of the tomato broth here. Also, expect the typical favourites like pork bone and mala bases. They also make it a point to charge each soup as the price for a person's pax. Which sums up to be a pretty good deal.
Known for: Exotic cuts like fresh aorta and Sichuan black tripe for those game for a change. All they need are a quick few minutes in the pot.
28 Liang Seah St, Tel: 8869 8384
Opening hours: (Mon-Sun) 11am-2am