When it comes to beauty tools, we want them to be accessible; easy to handle; and effective. Unfortunately, this trifecta is hard to come by because the technology is expensive and can be difficult to amalgamate into a single product. Raise your hand if you have ever complained about your hair straightener for not being hot enough. Raise your hand if you failed to drag your straightener towards the mirror because the cord was too short. Yeah, we can already imagine an ocean of us with our arms in the air. Not to worry, though — as it turns out, there are exceptions in the beauty sphere. Of which, we have gathered for you to browse, below. Shop away.
Dyson Corrale
Let's talk about this cult-favourite. Dyson devices have become an overnight sensation, and it's clear to see why. The Corrale, in particular, proves popular as it heats up within 30 seconds while also regulating the temperature every 15 seconds to avoid frying your locks. The flexible alloy heating plates are designed to conform to the width of the hair, which makes it suitable for use with regard to thicker, curly hair as well as thin, frizzy hair. The colourful styling tool also provides 30 minutes of continuous usage after one full charge (70 minutes), which truly just sweetens the deal.
View this post on Instagram
GHD Unplugged Cordless Hair Straightener
The hallmark of healthy hair is the shine — picture glossy tresses billowing in the wind, à la a bad early 2000s commercial. This nifty tool by GHD allows you to achieve just that with a dual-zone ceramic heating technology that maintains the temperature at 185ºc for optimal and healthy-looking results. The ceramic plates are snag-free and deliver about 65 percent shinier hair as proven in their clinical tests. Hey, if Victoria Beckham is a fan of this, you know it's good.
View this post on Instagram
BaByliss 9000 Cordless Straightener
The last thing we want is the uneven texture when it comes to our hairdos. The 9000 uses patent heat technology that ensures consistent results every time. The straightener has three adjustable temperatures (160, 180, and 200ºc) which gives the user the liberty to choose how hot they want to go. It should be noted, however, that reviews do point out that the tool runs out of battery faster than advertised and takes three hours to charge it fully.
View this post on Instagram
Balmain Limited Edition Cordless Straightener
Now, you might be wondering: "What does a fashion brand know about hair?" And to that, we say take a look at the runways. Models are constantly changing up their looks to match the ensembles, so a fuss-free and effective tool is a godsend when working with 50 models at a time. Like the BaByliss, Balmain's rendition has three temperature settings that promise to achieve a sleek and silky look. Plus, it looks really chic in the House's signature black and gold colourway.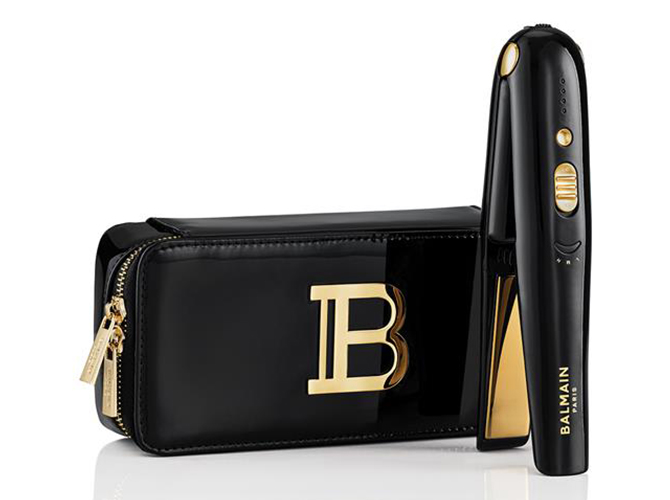 Braun Satin Hair 7 BR750 Brush
Here's a slight twist on the traditional heatless straightening tool. This bad boy from Braun utilises ion technology throughout the natural bristles, allowing the brush to smoothen and control frizziness with just a few strokes. Do note that there will be a soft hissing sound when the machine is turned on, but that's how you know the ions are being released to do their thing.