Sun's out, buns out! Taking a dip at the pool is the perfect way to cool off from the scorching hot weather. And yes, while you'll be able to clock in some quality reading time as well as snap a few Insta-worthy shots, submerging in chlorine-rich water for too long comes with a host of side effects. So let's be wary and take the necessary precautions. Ahead, we'll take a closer look at what exactly chlorine is; give a rundown of its negative effects; and dispense of some tips so you'd know how to keep your skin safe from it.
What is chlorine and what does it do, exactly?
Chlorine is made of a combination of chemicals that are widely found in swimming pools. It contains hypochlorous acid and hypochlorite ion, which help to eliminate bacteria and microorganisms in the water. Chlorine does this by oxidising cells to make them harmless to people wading about in pools. What's more, it also inhibits algae growth. So, it's a powerful weapon for keeping the water virus-free. However, chlorine causes many side effects. Long story short? Submerging yourself in pool water for a lengthy duration will take its toll.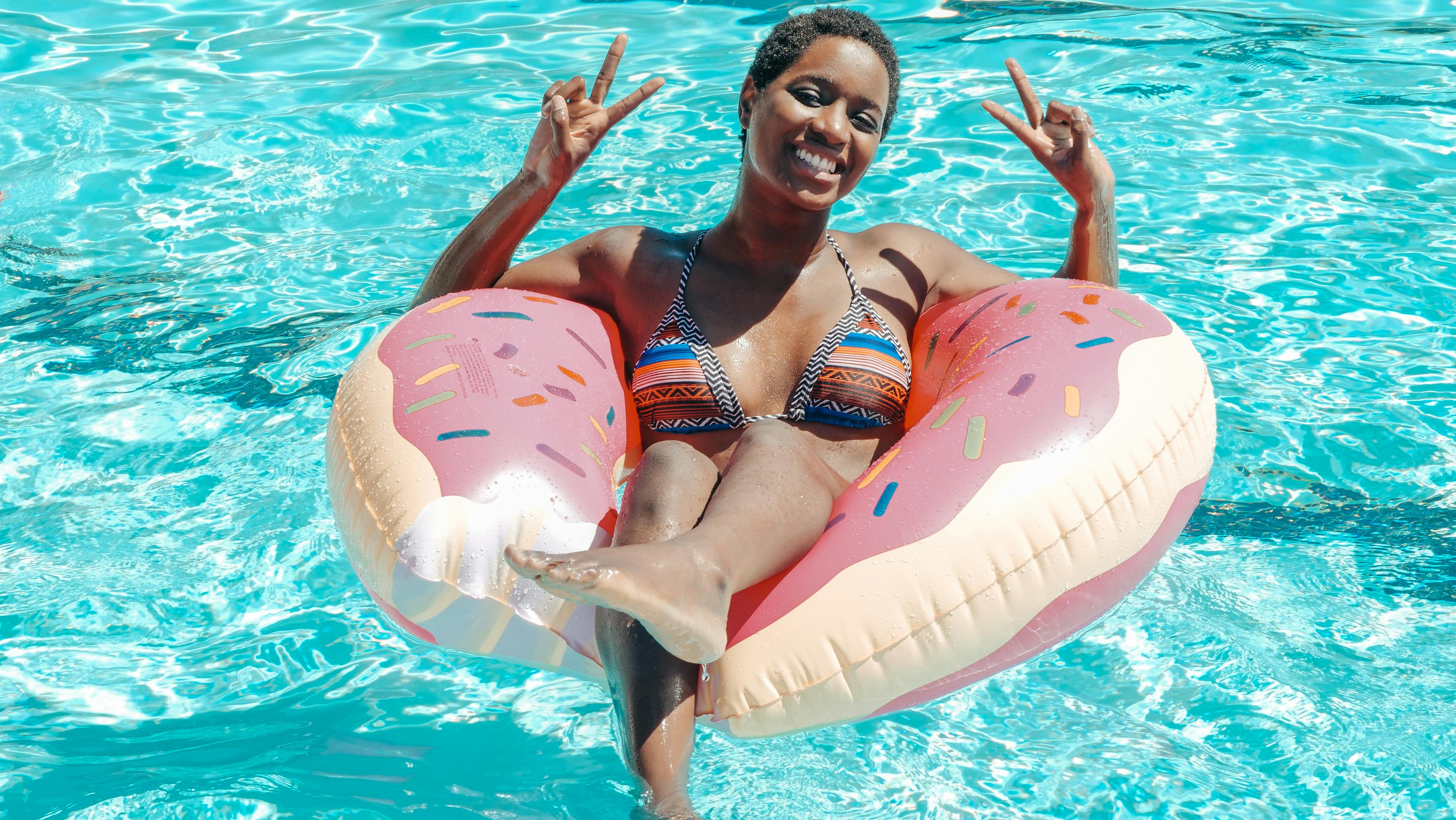 What are some of the harmful effects of chlorine?
Dry skin: Chlorine enters your skin through open pores. Overtime, it damages your skin by depriving it of oils that keep the outer layer healthy and moisturised. This dries out your skin, causing it to become itchy and irritated. In turn, it also leads to premature ageing in the form of visible lines and wrinkles.
Rashes: Patches of red and inflamed skin (which may develop into blisters and hives) can appear on the skin surface. This is considered irritant contact dermatitis.
Split ends and damaged strands: When chlorine gets between the hair fibres, the chemical crystallises in the hair shaft and separates these fibres. This damages your hair's structural integrity, resulting in roughness.
Alters the colour of dyed hair: Chlorine will bond with artificial hair colours and draw it out quickly. For those with bleached tones, your hair may turn green.
Loss in hair shine and flexibility: Chlorine strips your hair of its natural oils, making your strands weak and brittle. It also dries out your cuticles which results in limp and lifeless tresses.
Brittle nails: Your nails can absorb water too, and chlorine will similarly deprive them of oils which leads to dry and brittle nails.
Aggravate existing skin conditions: Those suffering from eczema may see their symptoms getting worse when they expose themselves to chlorine.

How can you protect your body from chlorine damage?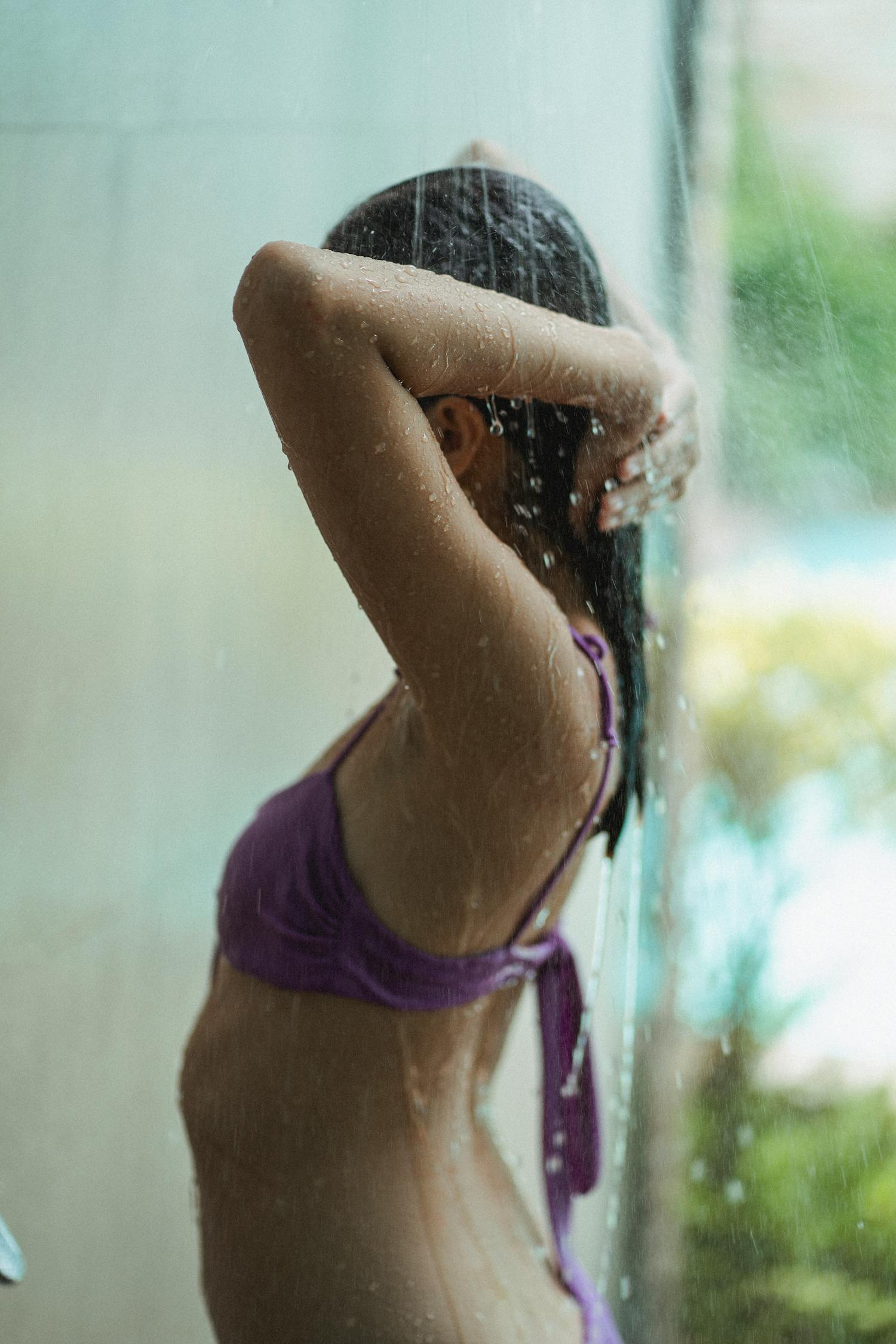 First things first: before swimming, be sure to soak your hair in regular tap water. Then, apply hair oils or leave-in conditioners, because filling your hair with hydrating oils reduces the spaces in cuticles that chlorine can get into. An alternative is to put on a swim cap. As for your talons, apply hydrating base coats and slather 'em cuticle oils to minimise drying-out and damage.
Ditto as to your complexion. Drink plenty of water to keep your skin as hydrated as possible. Once you're out of the pool, shower thoroughly to get rid of any residue on your skin. Don't use hot water because the steam will open your pores and cause the chlorine to penetrate deeper before you have time to wash it off. After rinsing, moisturise your skin with body lotion containing ceramides and alpha hydroxy acid. This will hydrate and restore the pH balance of your skin. Focus on areas where the skin layer is the thinnest: elbows, under the eyes, chest, shoulders and backs of your hands.