Bite-sized beauty comprises short and sweet reviews on much-hyped items within the beauty realm.
Here's the thing: I haven't been doing much with my lashes lately. Call it complacency, or perhaps just laziness accrued from the convenience of extensions in the months past — but they have been (largely) left to their own devices since March. With a jam-packed schedule preventing me from getting my routine touch-up, I've resorted to a light coat of mascara and nothing else. It's hardly ideal, seeing how I have grown used to the sight of fluttery, gravity-defying strands. And so, I've been looking at nifty alternatives to last me 'till my next appointment — think volumising formulas; growth serums; and, as of late: heated lash curlers.
It is as it sounds. Appearance-wise, it resembles a tiny comb of sorts, with microscopic "teeth" delicate enough to separate and lift even the most fragile of hairs. Its ingenuity lies in its heating component, where a push of a button generates just the right amount of warmth to boost flat lashes. Its effects are evident within seconds of use; a far-cry from the days of old where I'd have to press and pump my curler with rigorous force to reap any results.
The most impressive of the lot proves to be Chella's Heated Eyelash Curler. Powered by AAA batteries, I was particularly fond of the fact that it required no charging — a gripe I often have with USB variants. It took only 60 seconds to get to an optimal temperature, where it felt warm-to-touch but not blistering hot. For a perfect curl, I recommend aligning it to the base of your lash, rolling it in an upwards motion, and holding it there for 10 seconds.
Once that's done, I like to brush the "comb" portion through the strands to untangle and define them. It's just as effective as mascara, but without the stress of potential smudging, smearing, and more. Another plus point: it has barely any heft to it, and takes up close-to no room in my makeup bag. How thoughtful. Alternatively, you could always invest in a spoolie, set your hairdryer on it, and go to town, but — well, why go through all that trouble?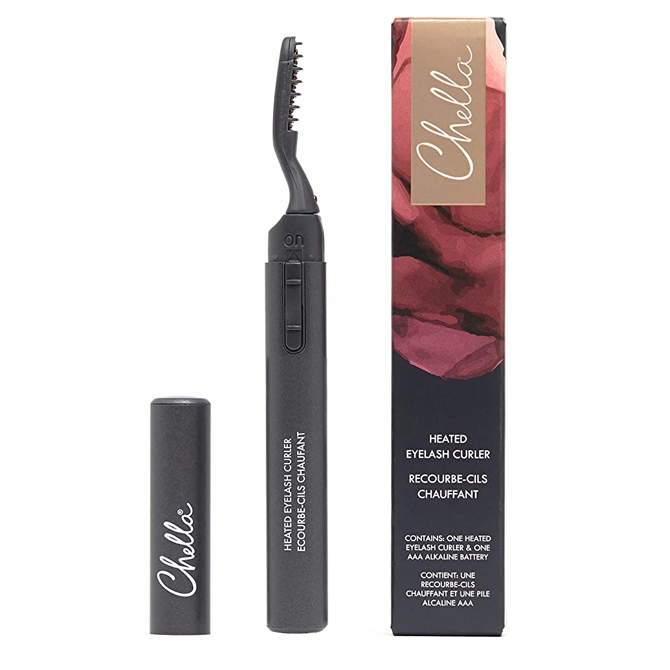 Buy the Chella Heated Eyelash Curler here.