Samuel Cheong, Premium Food and Berverage
1. Can you please briefly describe what your role is / what you do for a living? 
I am a Senior Coffee Bard in Nespresso. As a bard, my role is centered around providing an impeccable brand experience for our customers. This can come in many forms, from conducting a Coffee Masterclass to creating indulgent coffee recipes for events. In more recent times, I have also been involved in creating video content to showcase our latest machines and coffees. Other than that, you can often find me at the boutique engaging with customers, where I share insights on coffee through storytelling and facilitate hands-on demonstrations for our machines.
2. What led you to choose your current career path? 
I would say that my career path is one that is paved by a series of unexpected decisions. At the same time, it is also one that is very much fueled by passion.
After graduating with an Electrical Engineering degree, I decided to work in a newly-opened cafe while searching for a full-time job. I had no prior F&B experience and was hired mainly to help with marketing-related activities, such as brainstorming for promotions, running the cafe's social media accounts, and re-designing the cafe posters.
As traffic began to pick up in the coming months, I assisted a lot more with the front-of-house activities such as taking orders, cashiering, clearing tables and washing cups. At that time, the cafe did not have a full-time barista and was relying on several part-time baristas who could only work on an ad-hoc basis. I remembered being intrigued by how each of them would always calibrate the machines, brew the coffee, steam the milk with precision and, lastly, create beautiful latte art just by pouring. I saw that as an opportunity to learn something new and approached them to teach me. Taking the best of what was imparted to me, I practiced diligently.
The creative part of me experimented with different forms of coffee art, recipes, and presentation techniques, whereas my engineering side would spur me to delve deeper into the science behind coffee such as the origins, processes, aromatics and flavours. It was during this journey that I discovered my passion for coffee. Eventually, I acquired the necessary skills to double up as a full-time barista, while juggling marketing duties.
A year later, I got a recommendation to join Nespresso where I started out as a Coffee Specialist. This is where I reinforced my passion in coffee and found simple fulfillment in my day-to-day exchanges with the customers, be it to share knowledge, understand their needs or to go the extra mile in providing exceptional service.
2. How do you feel about being in a career pathway that others / society deems to be 'conventionally successful'? 
The definition of "conventionally successful" can be quite subjective depending on the circumstances or the people you associate with. Growing up in a typical Singaporean (or Asian) family, parents often aspire for their child to become doctors, lawyers, engineers or accountants. That would be their definition of "conventional success". You can probably imagine the resistance and constant questioning I got from my family (both immediate and extended) when I chose to "squander" my Engineering degree to work in fields such as F&B and Retail, where the remuneration was often not as high, with irregular hours, lots of standing and quite a bit of manual work.
Fast forward to today, after many years of interacting with my regular customers (of whom many are doctors, lawyers, engineers or accountants), I am happy to know that I have influenced the way they enjoy a cup of coffee and facilitated them in discovering new ways to elevate their coffee moments, based on their taste and preferences.
Do you think your life has been easier or harder based on the type of career you've chosen or caliber of organisation you work for? Any myths you can dispel about your career choice?
My initial years were definitely harder. However, being in Nespresso for many years, I am thankful that the organisation has given me plenty of opportunities to pursue my passion for coffee, explore new routes and take on exciting projects.
One of my most memorable experiences was visiting coffee farms in Indonesia, where I got a better understanding of how Nespresso works with the farmers to not only improve the quality of coffee, but also to sustain the communities and climate.
There's this myth that I get free flow of coffee (laughs), which is not true. However, I do occasionally get to drink (coffee) on the job, mainly when I am conducting classes or doing a live presentation.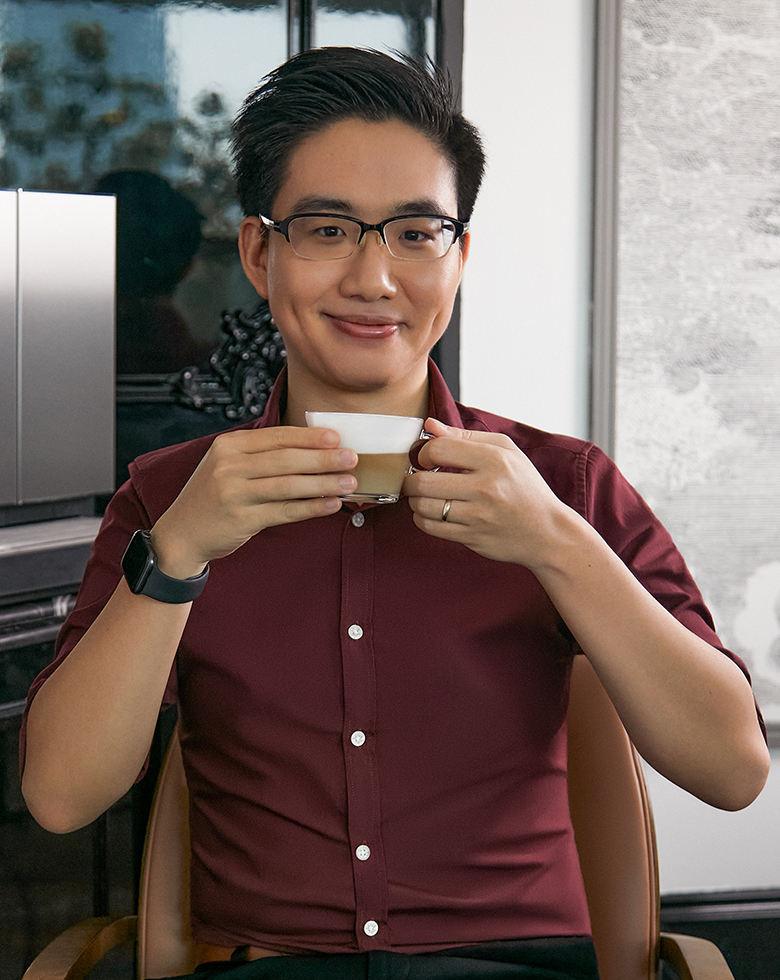 4. How has your chosen industry changed / evolved over the years? Have the benchmarks of 'success' in your industry also changed in your opinion?
The coffee industry has certainly evolved significantly over the years. The 3rd wave coffee movement has seen the emergence of many connoisseurs who consider coffee an artisanal product, where the emphasis is on high quality beans and technical expertise in both processes and brewing methods.
Where I am right now (at Nespresso), I would say that we have been successful in these aspects. Being involved in the entire coffee chain from cherry to cup and constant innovations in brewing technology allows our consumers to consistently brew high quality cups of sustainably sourced coffee, all with the touch of a button.
5. How do you define success for yourself both within and outside of your career?
My personal definition of success (both within and outside my career) is deeply rooted in the Japanese concept of "Ikigai", loosely translated to mean "finding one's true purpose".
"Ikigai" is achieved when one is able to find the perfect balance between doing what you love, what you are good at, what the world needs and what you can be paid for.
Of course, there are also various levels of "Ikigai" to strive for. This can be the pursuit of knowledge and technical mastery to become better at what you are great at or finding more ways to positively impact others. 
6. What are the three skills you think millennials require today to truly be successful?
Adaptability, Interpersonal skills, and Determination.
In this fast-paced and ever-changing economy, the knowledge, and skills you possess now might not be as relevant in a few years. Being adaptable means that you are always finding ways to build up your current skill set or pivot your expertise if needed. It is also the ability to quickly adjust to changes in working environments (be it people or location) and continue working on your goals.
Possessing great interpersonal skills is crucial in this increasingly connected world. Many people are good at what they do but often neglect soft skills such as active listening, patience, empathy, and conflict resolution. Only by mastering these skills will you be able to become a more effective team leader/member, which will ultimately lead to improved productivity for everyone.
They say that when there is a will, there is a way and the way I see it, determination is the will to succeed. Perhaps as by-products of our current education system, I believe many associate a certain kind of stigma that comes about with failure. This fear of failure can often prevent one from even attempting to try something new or to explore other horizons. My advice is to not be afraid of falling, learn from your experience (or from a mentor), pick yourself up and start again. Repeat as many times as necessary until you manage to achieve what you set out to do.
This piece is in partnership with Nespresso Singapore and Riviera, The Restaurant.