You might be able to return or refund a bad shopping decision, but you can't take back what you've consumed. And with the hard work that we get up to in our intensive barre and HIIT sessions, every bite counts. Meaning, when we actually set aside meals for indulgence, it has to actually be mind-blowingly delicious. Well to save you from that disappointment, we have very spontaneously gone out, to scour, taste, and ingest a myriad of foods to streamline a list of five from our city's thriving food scene this month. Some of them might be timeless classics that we've recently rekindled with (as with any old flame), while others are new chart-toppers that have made our insides delight with glee. Here's our picks for the month.
1. Seafood paella from Tapas 24
No meal at a respectable Spanish haunt is ever complete without a huge searing pan of paella, and there's nothing to nitpick about Tapas 24's paella de gambas. It was the right mix of cloying, with every grain immersed in seafood stock, and livened with fresh prawns. Best to share amongst the slew of tapas dishes that you should already have on the table.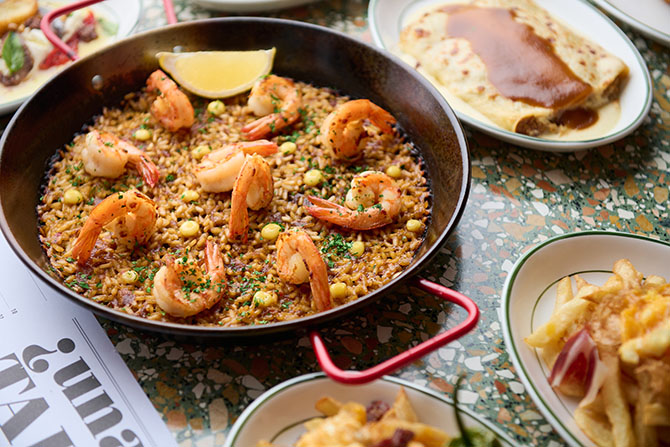 60 Robertson Quay, #01-04, Tel: 6513 6810
Opening hours: (Tues-Sat) 12pm-11pm, (Sun) 11am-11pm
2. Bento from Saint Pierre
At $220 a box, this isn't any ordinary bento. It comes 2-tier and features 18 different items, delicately enclosed in squares like a present. You'll find the same top-of-the-line ingredients while dining at Saint Pierre: think Hokkaido hairy crab, N25 caviar, violet artichoke, black winter truffle, 36-month comte cheese, and more. The magic lies in its dish shining in its own even while confined to a uniformed size. This really goes to show, nothing can faze our city's 2-Michelin restaurant, not even a takeout box.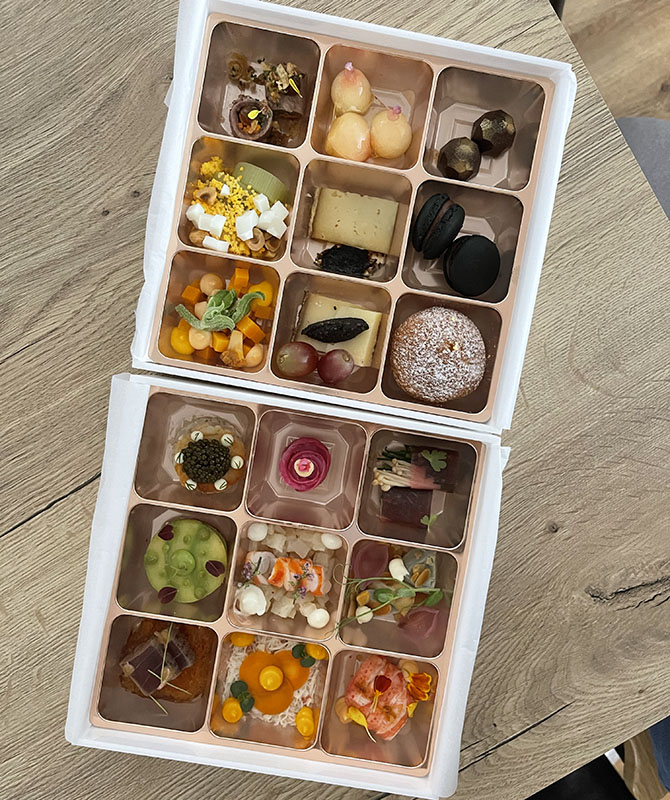 Order here.
3. Red prawn tartare from Osteria BBR by Alain Ducasse
The great thing about Osteria BBR by Alain Duccase is that you can go from casual to gastronomical, depending on what tickles your fancy. If you're feeling a little indulgent, call for the red prawn tartare, atop of a jelly made of prawn broth, and joined with creamy buffalo mozzarella and a sizable dollop of Kristal caviar. Albeit excessive for a starter, but there's certainly no room for regret where the elements mesh together, while opening up your palate for more.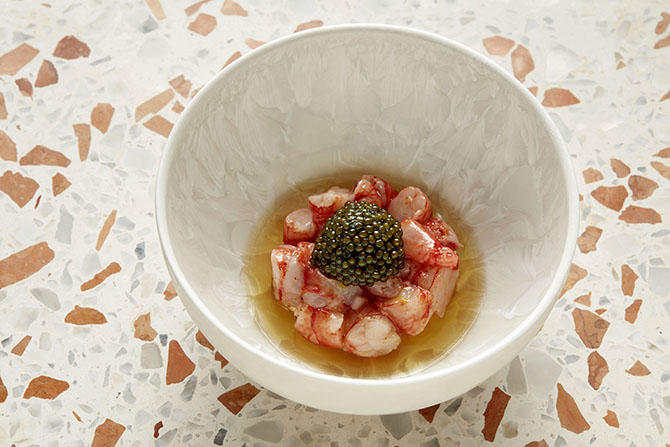 Raffles Hotel Singapore, 1 Beach Road, Tel: 6337 1886
Opening hours: (Thurs-Mon) 12pm-2.30pm, 6pm-9.45pm
4. Babi assam from Damian's Cookhouse
Good news, the revered Damian D'Silva has an interim pop-up concept before announcing his next move. Available for takeaway and delivery, you can order a Heritage Feast Bundle, perfect for a famished group of four. If you need more, a la carte dishes can be added with the purchase of the bundle. His babi assam ropes a mix of pork ribs and pork belly, laden with fresh and dry chili, shallots, belachan, and candlenuts. The flavour piles on further with tamarind and salted vegetables — to the point where the meat bears a subtle hint of smokiness.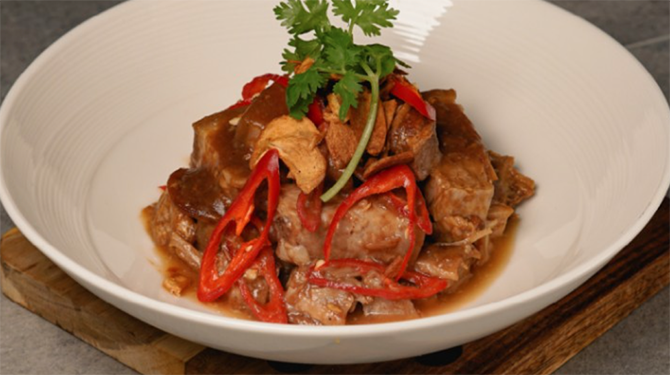 To order from Damian's Cookhouse, click here.
5. Eggplant dip from Simply Chili
There's always merit in something that's homemade. Especially if it's made out of real food ingredients, without the preservatives or addictives. Simply Chili does just that with its array of chilis and dips, where you can savour on its own or used to enhance a dish in a recipe. Our fave happens to the the eggplant dip with a spiced version spiked with charred chili. Pair it with chips, crudites, or freshly made sourdough and this one would make for a tasty arvo treat.
View this post on Instagram